[Otaku's @ Home] #23 Hello Kitty Crazy(2/3)
Q/A with the Owner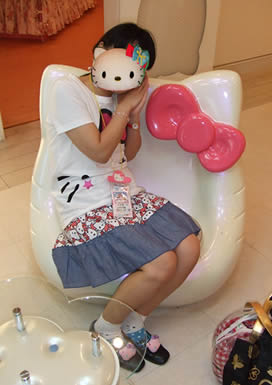 ■Name Asako
■Occupation housewife, employee
■Otaku History About 30 years
■Boyfriend – Y/N? Married.
■Favorite genre Hello Kitty
■Favorite character
Hello Kitty, Mimmy
■Reason for becoming otaku?
From as early as I can remember! Before I knew it I was in love with Hello Kitty.
■What are your thoughts on the latest otaku boom?
I'm not sure if "otaku" is the right term for it, but having something you like, something to be passionate about - it makes life all the more fulfilling. I think it's a good thing.
■Sites you frequent most
Sites related to Hello Kitty
■Word or phrase of the moment
Nothing in particular. Hello Kitty's favorite word is "friendship."
■What are you hooked on at the moment?
Hello Kitty, of course! Especially DJ Hello Kitty
■The next thing you want to buy?
DJ Hello Kitty plush toy (at the moment it's not available in stores, only as prizes in games centers. I'm trying my hardest to win one but I'm not there yet. If it goes on sale I'll be sure to buy one.)
■How much have you invested so far? My secret.
■What does being an otaku mean to you? 
It means being able to live a fulfilling life because you get to enjoy the thing you're most passionate about every day. I wish there was a better term for it than "otaku."
■How do you budget your monthly earnings?
I use my allowance on Hello Kitty.
■Last word
Hello Kitty is my life partner; I couldn't live with her. Being surrounded by Hello Kitty everyday is bliss.
Hello Kitty fansite
http://www.kittychan.info/
Check out DJ Hello Kitty spinning the decks