Ramen Danbo - Hakata Nakasu Branch (暖暮 博多中洲店)

Ramen Danbo - Hakata Nakasu Branch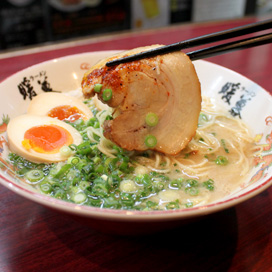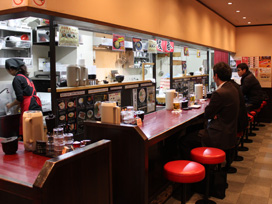 Cooked over high heat with pork bone and alkaline water, the broth smells as delicious as it tastes.

The simple but delicious umami from the pork in infused in every strand of the noodles, giving it a distinct flavor. With as much spice as you want at your disposal, this is a broth you just don't get tired of and can switch up whenever you want. This is a great place that let's you decide not only how much spice you want in your broth but also the thickness of it!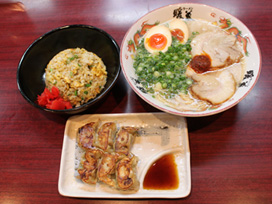 [Menu]
Ramen…¥600
Char siu Ramen…¥700
Hanjuku Nitamago Ramen…¥700
Negi Goma Ramen…¥650
Rekka Ramen…¥650

Kaedama (extra noodle)…¥150
Mentaiko Gohan…¥250
Char siu Takana-don…¥250
Hitokuchi Gyoza…¥300 (8 pieces)

Left picture: Hanjuku Nitamago Ramen with "Side Menu B" ¥400 (small fried rice & Hitokuchi Gyoza 6 pieces)
Ramen Danbo - Hakata Nakasu Branch (暖暮 博多中洲店)
Address: 4-7-20 Nakasu, Hakata-ku, Fukuoka City, Fukuoka Prefecture
TEL: 092-282-3488
Capacity: 14 Seats
* All the information is as of January 2014.
Related Articles