Minzu Ramen (珉子ラーメン)

The history of Kitakyshu ramen, this restaurant was established 60 years ago!
Embodying the history of Kitakyushu ramen, this well established restaurant has a history that stretches back 60 years. Boiled with just pork bones, the soup is surprisingly mild, yet rich at the same time. And with such a gentle flavor, it is a dish that you could even enjoy every day. Committed to serving excellent food, they adapt the firmness of the noodles to suit the season. The owner likes to make sure diners enjoy their meal and leave full. Visitors will be happy and surprised to see the volume of ingredients used in the dishes served.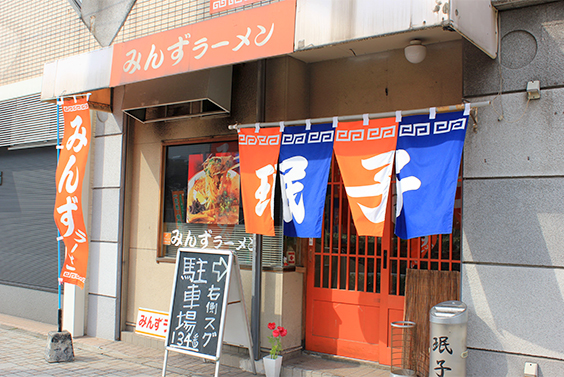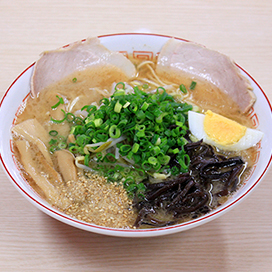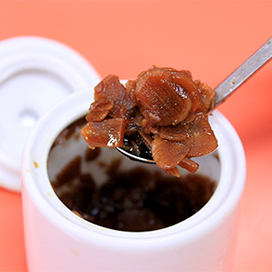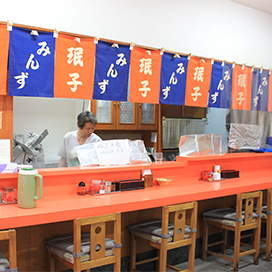 Minzu Ramen is a well-known, celebrated restaurant that attracts many visitors from afar. You might expect a heavy dish going off the color of the soup, but it's actually quite light, which is a bit unexpected. But once you've started digging in, a gentle rich quality spreads throughout your mouth. It is an awesome surprise you have to experience at least once!

If there's a day you're looking for some extra stamina during the summertime, then their garlic and honey "Special Ramen" is a must!

Make sure you don't forget to try the garlic slices, which are pickled in soup stock or the red ginger, that you can find on the table. They are Putting some in their original ramen really adds some punch to a gem of a dish, which is delicious served with an onigiri (rice ball) instead of tsukemono (pickled vegetables).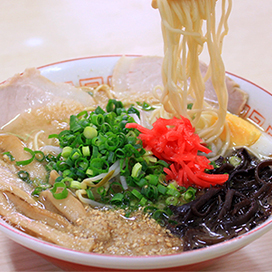 Menu
- Minzu Ramen (みんずラーメン) … 650 yen
- Special Ramen (特製ラーメン) … 700 yen
* Large serving… extra 100 yen
* Topped with slices of roasted pork… extra 250 yen
* Large serving of negi (spring onion)… extra 100 yen
- Gyoza (dumpling)… 350 yen
- Onigiri (rice ball) (1)… 100 yen
etc.
Minzu Ramen (珉子ラーメン)
-Address: 1st Floor Maison Pom, 1-11-18 Nakashima, Kokurakita-ku, Kitakyushu-shi, Fukuoka-ken
* If accessing from Fukuoka, get off the Kitakyusyu Expressway at the "Otemachi IC."
-Telephone number: 093-551-5773
-Number of seats (capacity): 17
-Business hours: 11:00-15:00 (weekdays) 11:00-15:00 and 17:00-20:00 (weekends and national holidays)
-Closed: Monday (open if it is a national holiday)

* All information correct as of April 2016. Strong> span>
Related Articles