Final Volume, Special Interview with Xiao Xiao Bai(1/2)
In "A Romantic Fukuoka Date with Xiao Xiao Bai ❤," we visited a lot of date spots throughout Fukuoka. To bring the series to a close we caught up with Xiao Xiao Bai for a special interview! Join us as we get a glimpse of Xiao Xiao Bai's private life, and find out how he found the photo-shoots, as well as where he usually goes on dates! Be sure to check it out!
I would love to have a peak inside a Japanese-style detached house!
Q. What have been your impressions from your trip to Fukuoka?
This was my first time in Fukuoka Prefecture and it was an even more charming, lovely place than I had imagined! Everything I saw seemed so fresh and new, even just gazing out and taking in the Fukuoka skyline was super enjoyable. I also really experienced first-hand that Fukuoka is a place full of delicious food. Motsu nabe was something I ate that I just wanted to keep on eating!
Q. Out of the places that you visited, was there anywhere that particularly impressed you?
I was really taken with the "Kazariyama." I heard that they are traditional features of the Fukuoka summer that you can only really see for a limited time during July, so I was very excited to get to experience them. Seeing them in real life, they were much more impressive than I had imagined. They are decorated with historical figures and motifs. Being a history lover, I simply did not get tired of looking at them. I was even given some praise for being more familiar with Japanese history than some Japanese people.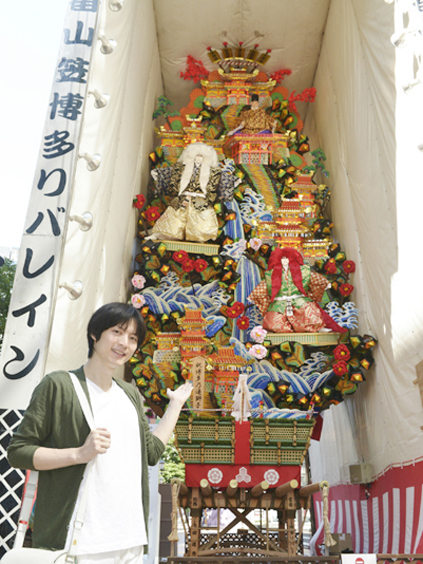 Q. Did you enjoy walking through the streets of Fukuoka? You currently live in Shanghai, what kind of differences did you notice between the two places?
There's less high-rise buildings and skyscrapers. I think Japanese detached houses, like the ones I've seen so many times in "Doraemon" or Japanese dramas, are so cute! I would love to go inside one to have a peak someday! The school uniform that students wear was also something that stood out. I even so groups of kindergarten kids wearing school uniform. Kindergartners in China don't usually wear uniforms, so this was something new to me, and really kawaii!
Q. During your trip you did some cosplay photo-shoots in a few different places, such as cosplay studios and even at Kokura Castle. Is there a big difference with photo-shoots in China?
In Japan, aside from designated locations (places that have given their permission for shoots), you are not allowed to take photographs wherever you like, and so I felt so lucky to be able to take some cosplay photographs at Kokura Castle during this trip. And I was really impressed with the level of attention and detail that had been paid to creating such realistic, lifelike backdrops and settings at Cosplay Studio Booty. I was able to take some cosplay photographs as Tokiya Ichinose from "Uta no Prince-sama" and the setting in the studio was perfect, absolutely spot on! If we do a photo shooting in China, we might go somewhere like a karaoke bar (lol)!
Q. During the photo shoots you tried on a "yukata" and "hakama" for the first time, how was that?
The "hakama" is something that I've seen in anime's, but it's something I don't really know a lot about, so wearing one was a great opportunity for me. I like kimonos so much that I even have 3 at home, but a kimono and hakama look and feel totally different!