Gundam Bar "ODESSA"

"Mobile Suit Gundam," as I'm sure many of you are already aware, is a cult anime series that's said to be the real pioneer of the giant robot era of mecha anime in Japan. The series first aired in the late 70s (1979 to be exact) but has since spawned numerous sequels and spinoff series. The Gundam franchise has now grown to such an extent that it includes multiple television series and movies, manga, novels, toys, video games and…bars!?
This is "Otaku"oka - Part 3 - Gundam Bar "ODESSA"
Apart from a small black-board out the front of a very non-descript building telling me the place I seek is somewhere to be found on the third floor, there's not much else by way of advertisement to guide this lonesome traveller on his way. But as I arrive on 3F and come across a dimly lit hallway plastered with numerous posters from various Gundam series, I immediately know I'm in the right place.
● Gundam posters lead the way to the bar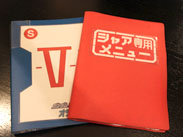 ● Gibberish (aka "Gundam-speak") menus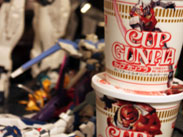 ● Gundam cup-noodles!
I open the door to the bar expecting to hear the customary "irrashaimase!" (Welcome!), but instead I'm greeted with, "Sieg Zeon!"…? – A slogan from the anime series as I'm informed later on (meaning, "Victory to Zeon!"…).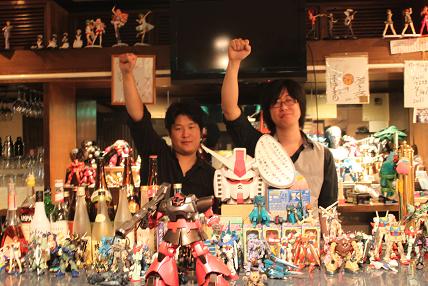 I really didn't know what to expect upon entering this place, but the atmosphere I found, was surprisingly laid back. The bar is simply littered with Gundam figurines – approximately 600 in fact – only 10% of which were acquired through the purchase of the management! The rest, I was told, were brought in by customers and regular patrons and donated to the bar. There's also a TV playing Gundam episodes and a karaoke set-up in the corner for when customers want to belt out a tune or two from the series.
.

Feeling a little parched I asked to see the drinks menu but soon discovered literacy counts for nothing at this establishment. If you're as ill-versed on the world of Gundam as I am then you're better off just asking the staff to recommend something because everything on the menu is in Gundam-ese! The manager mixes a drink for me, pauses before handing it over and then begins reciting lines from the particular episode/scene in the series that the drink was named after. There are a variety of items on the menu that are labelled as "serifu tsuki," meaning they come with a brief recital from the anime series by the staff when you order that particular item. Cool or embarrassing? You decide.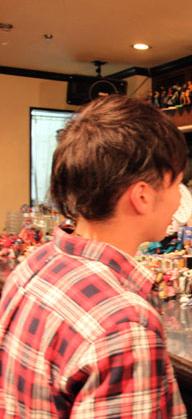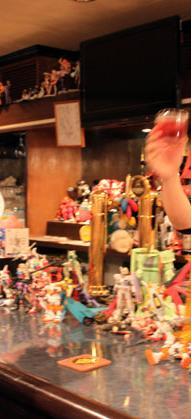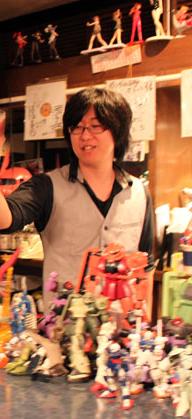 ● The bartender brought me a "Char's Counterattack"...650 Yen (approx. $7)
The Gundam bar is probably not for everyone, but if you're a diehard fan of the series you're bound to get a kick out of it. Even it's not you're thing though, you could always go along anyway and chalk it up as another "wacky Japan" experience!
Bar Odessa INFORMATION 
◆Table Charge: 350 Yen
◆Enquiries:092-713-5035
◆Opening Hours:18:00~2:00
◆Access:
Subway: from Tenjin Station - 10 min walk
Bus: from Hakata Station take the Nishitetsu bus to Tenjin - 10 min walk
大きな地図で見る

Dan PROFILE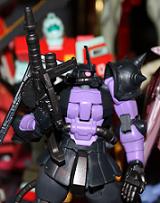 ● Asianbeat translator and editor
● Post-grad university student
● Resident of Fukuoka for nearly 2 years
Every couple of weeks the "international crew" (myself included) at asianbeat will report an aspect of Fukuoka that we as non-Japanese residents find interesting or unique. If you live in Fukuoka and you happen to see us out and about don't be afraid to come say hi!
● twitter
http://twitter.com/nabe_dan/
More "This is Fukuoka" coming SOON!
PRESENTS
All the info. on asianbeat's present campaign!