Marine World Umino-nakamichi(1/24)

There's all kinds of sea life to discover at "Marine World Umino-nakamichi!"
Ulan's Report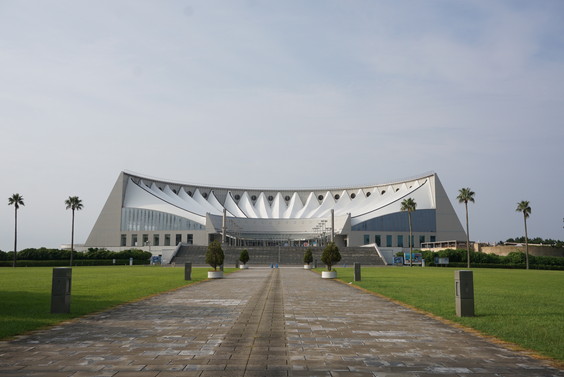 "Marine World Uminonakamichi" is an aquarium in the east side of Fukuoka. This was my first visit and I was surprised by the size of the place and how beautiful it is! The design of the building is really cool and modern, and inside you see so many fish at every turn! The aquarium is located right beside the sea, which makes for a beautiful view! I love the sea, so I tried to have a little walk around the area.
After a stroll along the beach, we headed straight for the aquarium. Inside, there's not just lots of fish to see, but you can also catch the dolphin and sea lion shows! After we finished exploring inside, we headed outside to take a closer look at the dolphin show pool.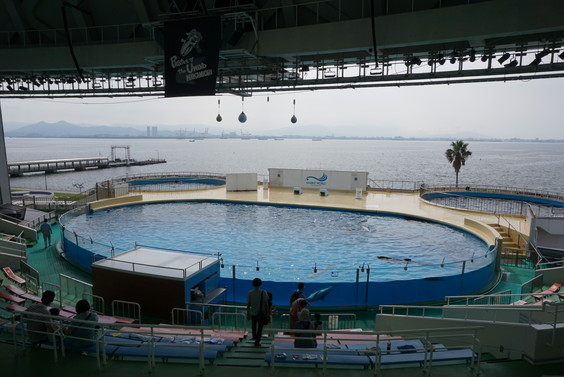 Before you head back home make sure you don't forget to pick up a souvenir! There're two shops, one at the entrance and one at the exit, selling all kinds of Marine World merchandise. From key chains, to stuffed toys and figurines, all the items are so kawaii!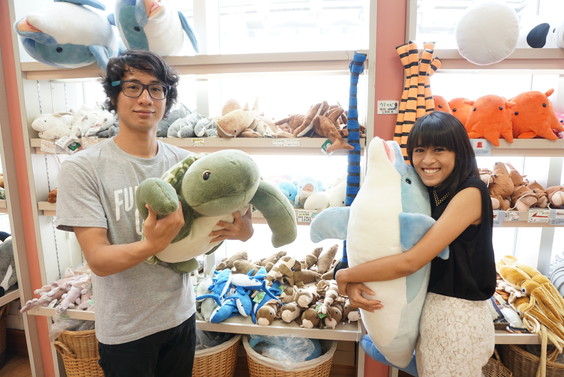 Aril's Report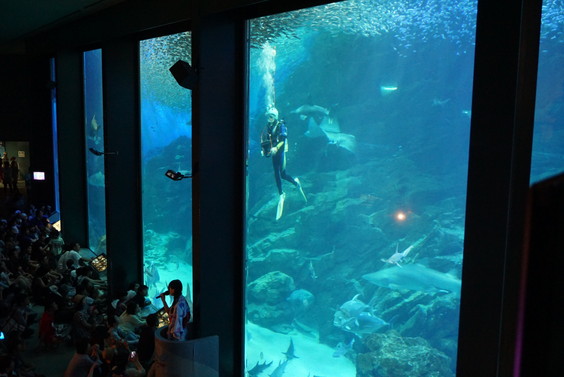 Based in Northern Kyushu, Fukuoka has lots of tourist hot-spots that make the most of sea close-by, and "Marine World Umino-nakamichi" is one such place! This is somewhere that you can see a huge variety of fish. There's diverse sea life inside, including sharks, sea turtles, stingrays and dolphins. The attraction that I would most recommend inside Marine World is the "Aqua Live Show." Also, the divers swimming inside the huge panoramic tank and the cute fish frolicking around really made an impression on me.
INFORMATION Marine World Umino-nakamichi
The theme of the exhibition on display is the "Tsushima Current," which is the name of the coastal water that flows alongside Marine World Umino-nakamichi. Inside, visitors are given the chance to see 30,000 sea creatures (from across 450 different species) that originate from as far away as the tropics, to temperate zones and polar seas. At this "Science Museum of the Sea," both adults and children alike can come into contact with the ocean and the creatures that live there, expand their knowledge about the sea and have an enjoyable time, all while learning about the importance of the natural world.
- Opening times:
1st March - 17th July: 9:30 - 17:30
2nd May - 6th May: 9:30 - 21:30
18th July - 31st August: 9:00~21:30
1st September - 30th November: 9:30~17:30
1st December - 29th February: 10:00~17:00
23rd December - 25th December: 10:00~21:00
- Entrance fee:
Adult: 2,160 yen
Junior high school student: 1,180 yen
Elementary school student: 820 yen
Young children (Above 4 years old and up to elementary school age.): 570 yen
※Group discounts are available
- Website:
http://www.marine-world.co.jp/
- Address:
18-28, Saitozaki, Oaza, Higashi-ku, Fukuoka-city
- Telephone:
092-603-0400