[Report from Kobori in Bangkok] Maid Cafes Make Their Way to Thailand!
Two months into opening the first ever subculture cafe to make its way to Thailand, business is booming
Tokyo's Akihabara - the area that birthed the concept of maid cafes - the first of which being "Maidreamin" - has recently made its way to Bangkok under the name "Gateway Ekamai Shop" which has been in business for a little under a month. It is the first official subculture cafe to ever hit Thailand. Stuffed to full capacity day after day, this venture falls nothing short of thriving.
"Maidreamin: Gateway Ekamai Shop" is located inside the "Gateway Ekamai" shopping mall that's connected to overhead railway BTS Ekamai Station (Skyline) on Bangkok's Sukhumvit Road. One Sunday in June I decided to check out the popular store for myself.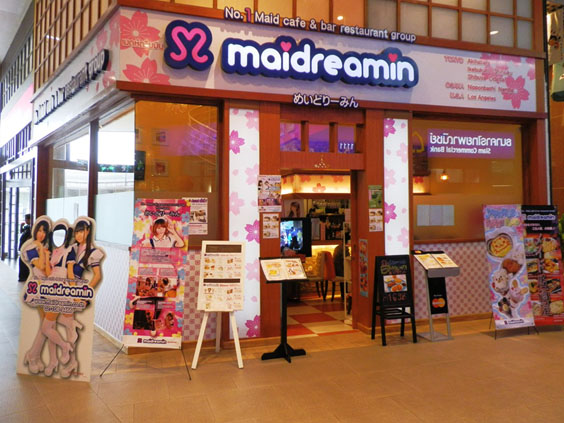 The Bangkok "Gateway Ekamai shop" is now the first international branch for "Maidreamin."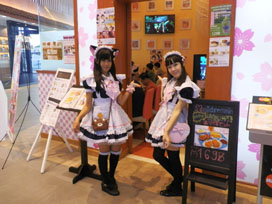 The store opens at 11am, and as the Thai customers waiting outside to go in enter one by one, they are greeted with cute choruses of "Irasshaimase!" from the maids. Almost in the blink of an eye, the 24-seat regular seating area and the 10-seat VIP area on the second floor were at capacity. The majority of the customers looked to be in their teens and early 20s.

The most popular item on the menu is the "Curry Omu-rice" at 250 Baht (approx. 800 Yen).

The maids will also come around and personally draw you a picture in ketchup on top of your omu-rice that looks like it's floating in the center of the plate, atop the soup-like curry roux. And, as the maid draws away she chants, "Oishikunaare!" ("be delicious!").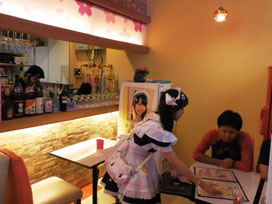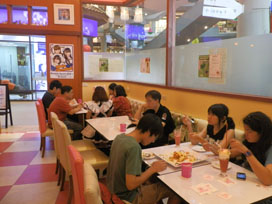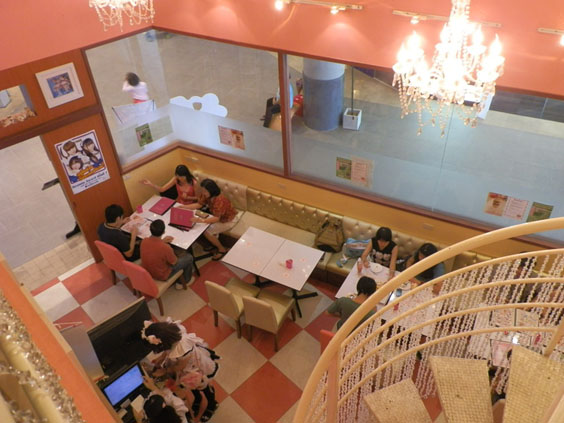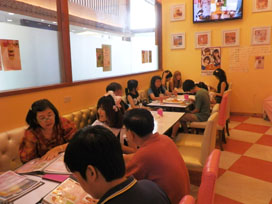 One of the popular items on the drink menu are the "cocktails" that the maids actually shake right in front of you. There are also non-alcoholic cocktails on the menu, so even non-drinkers can enjoy this service. They're even able to make drinks by request.

When you want to add something to your order, there's a rule where you have ball your fists, hold them to your head like a cat and call out "Nyan nyan!" ("meow meow"). It's embarrassing at first, but once you get caught up in the atmosphere, "nyan nyan" just seems to come out naturally!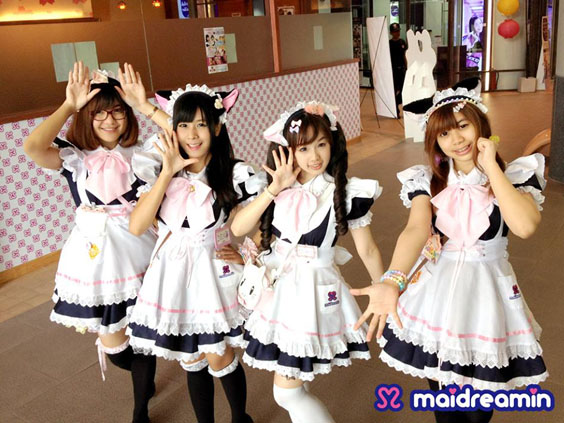 The store has roughly 20 maids and about one third of them can speak Japanese. Fukuoka is yet to get its own "Maidreamin," but its probably just a matter of time before they do. Until that happens, why not come to Bangkok and check out our very own "Maidreamin" maid café for yourself?

Entry fee is 50 Baht (approx. 150 Yen) per person, per hour. Food and drink not included. Alcohol available. Opening hours: 11am–10pm, 7 days/week. Enquiries: 02-108-9466 (Thailand).
Related Articles
Overseas correspondent Kobori PROFILE

Former newspaper journalist who ventured alone to Bangkok, Thailand, in November 2011. Regularly employed by Tokyo Shimbun (Chunichi Shimbun Tokyo HQ) and TV Asahi in the local news department. Was in charge of Section 2 and 4 of the Metropolitan Police Press Club for a total of four years. Originally a police reporter but also covers a variety of fields, including politics, economy, society and culture. Currently writes for web magazine "anngle"
http://anngle.org/
– Asian news and info from a Thai perspective.
PRESENTS
All the info. on asianbeat's present campaign!