[Report from Kimito in Shanghai] Issey Miyake's "BAOBAO bag" is still all the rage in China!
It's said that as much as 60-70% of purchases of the bag are made by non-Japanese!
Walking the streets of Shanghai, a day doesn't go by without you seeing at least one Japanese designer bag.
The "BAOBAO bag" is a item from Issey Miyake.
With a geometric design made from a combination of triangles, it is said that as much as 60-70% of purchases of the bag are made by non-Japanese. It has proved particularly popular in East Asia, with China leading the way in sales, followed by Thailand and Korea.

Launched more than 10 years ago, the bag initially garnered attention for being used in public by a Thai princess. It then became popular with Thai Airways cabin crew, and now can be seen throughout Asia.

The depreciation of the yen has had a huge impact (on its sales), meaning that it is now 40% cheaper to buy this bag in Japan than it is in China. This has in turn brought about an increase in the amount of Chinese tourists purchasing this item during their travels to Japan.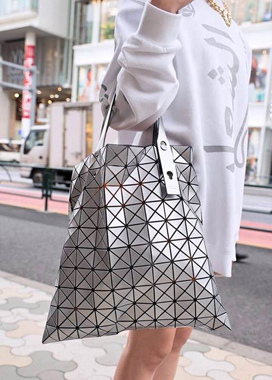 At the same time, with many people also buying the bag in one of the 6 official Issey Miyake stores in China, it seems that BAOBAO bag sales are increasing in both countries.

In China, items such as the BAOBAO bag are now categorized as "轻奢品 Casual high-end brands," and have become increasingly fashionable over the last few years.
Rather than super high-end brands such as VUITTON and CHANEL, it seems that 轻奢品 brands, which are in the slightly lower price bracket, that have a unique and personal touch are likely to go down a storm. (But of course, super high-end brands also remain popular and in demand.)

The double whammy of the depreciation of the yen and the rising price of domestic Chinese products, has resulted in "casual high-end brands" coming to be seen as more reasonable.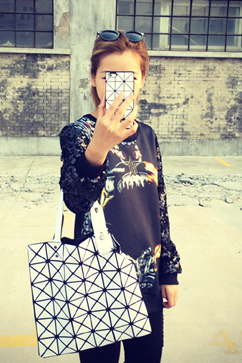 4 years ago 1RMB was the equivalent of 12yen, whereas today 1RMB is 20yen. That is to say that, 4 years ago 24,000yen was 2,000RMB, but today is only 1,200RMB. Therefore, these days expensive products are more accessible for Chinese shoppers.

From now on, it seems that individual, original fashion items in the price range of 20,000 to 50,000yen, which are fun and have a sense of style about them, are sure to become a hit in China and rapidly gain popularity.
Overseas correspondent Kimito PROFILE

As a means of connecting China to Japanese fashion and cultural trends, has set-up showrooms, online stores and select shops in Shanghai. Has also strived to promote and increase awareness of Japanese brands in China. Hosts numerous DJ events throughout the year with friends in Shanghai. Has gained popularity and won fans in the process. Conducted numerous interviews and reports across a range of media, including Chinese TV, magazines and websites. Based in Shanghai since 2008.
Instagram :
@kimito
Twitter :
@kimito
Related Articles