[Report from Robin in Hong Kong] Gundam Docks at Hong Kong
Everyone is beyond excited about the huge Gundam figure of Zaku, standing at a whopping 6 meters!
Not only in Hong Kong but Japanese anime has become such an intrinsic part of Asian culture. Now, however it is the live-action counterparts to the characters that has taken this part of the world by storm.

This past summer, Hong Kong's Times Square was transformed into one of the world's largest "Gundam Bases." Under the event name "Gundam Docks at Hong Kong," in collaboration with Bandai (Hong Kong), the Hong Kong shopping mall, Times Square has been bedecked with large-scale Gundam models.

The main attraction of the event was undoubtedly the RX-78-2 Gundam vs Zaku II models created one-third to scale, brought to life with a devoted care. This scene in the Gundam world was drawing visitors in with a perfectly recreated scene wherein Amuro Ray navigates RX78 and his old rival Char Aznable maneuvers Zaku II though the battlefield up in space was faithfully recreated. It's seems so real that it makes you feel as though you've stepped into the Gundam universe itself! In addition to this, there is a spectacular light show held every day and the flashing lights along with sound effects convert Times Square into a big screen, throwing you into a super-dimensional realm.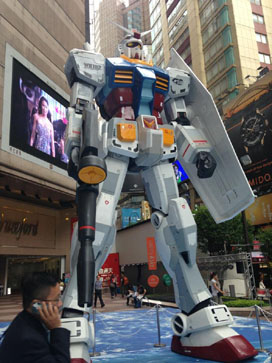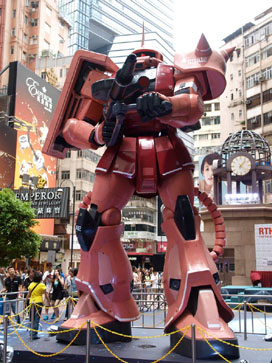 At the very center is a life-size 3D model of Green Zaku standing at 1.8 meters tall. You can enjoy looking at these figures at a very close distance and can even buy their standard-size Gundam plastic model counterparts. During the time these models were on display, one after another cosplayers would come make appearances as Amuro Ray and Gundam self-defense troops and sometimes even Char Aznable and pose for photographs with other visitors.

Another popular attraction was the 10 meter long Gundam space battleship -- White Base (which provided replenishing materials for the Gundam warriors) -- at the lobby on the second floor, anchored on the ceiling. This was the first of its kind set out on display. Related Gundam plastic models and goods were also arranged around it.
Celebrating the Angel Creamy Mami's 30th Anniversary!
For those born in the 80's, the magical angel Creamy Mami, will probably bring back some childhood memories.

The original author, Takada Akemi came all the way to Hong Kong for the opening ceremony. With various themes, such as Doraemon and U900, this restaurant is definitely worth a visit.

The restaurant has even renewed its menu and you can enjoy the adorable Creamy Mami to the fullest.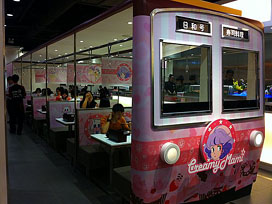 Astro Boy in Hong Kong
The extremely popular Japanese robot, Astro Boy also made an appearance in Hong Kong in giant from. Four figures standing at 5 meters were erected and displayed at the shopping mall "apm" in honor of the animated TV show "Astro Boy's" 50th anniversary. Crowds of people came for a look and to take pictures. Furthermore, other areas was sectioned off as the "100 takes on Astro Boy" or "The Birthplace of Astro Boy: The Laboratory of Many Mysteries."

This event is said to be the first Astro Boy art event that was created in collaboration with the Japanese brand designers studio "Kikan Gentei no Pop-Up store," which mainly exhibited and sold goods featuring the 50th broadcast of Astro Boy.This boom can only be attributed to Astro Boy.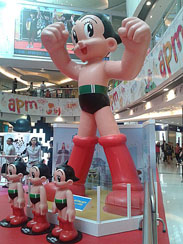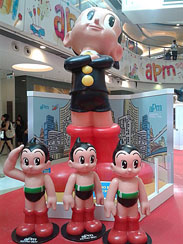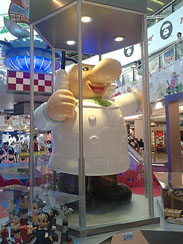 Related Articles to Gundam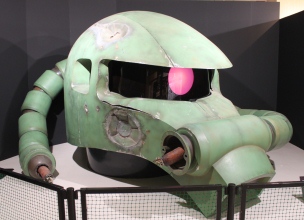 Overseas correspondent Robin PROFILE

Born in Hong Kong
RTHK DJ
Main DJ on the 16:00-18:00 program Teen's Choice
Teen's Choice 「Teen 空 海 闊」 introduces Japan and Japanese pop music.