[Robin's Hong Kong Report] Kumamon in Hong Kong is proving popular as ever!!
Huge promotions have been taking place in Hong Kong's convenience stores!
Until just a few years ago there was not many people in Hong Kong who knew the name "Kumamon," but these days its seems that wherever you go in Hong Kong you are likely to see the famous Japanese mascot!
Japanese culture has had a huge impact on Hong Kong, in fact Japanese anime and manga instantly gain popularity as soon as they come it out!
So, exactly what kind of characters is it that the people of Hong Kong fall in love with?
When it comes to gaining popularity over here, a cute appearance is the most important thing. Also, the personality of a character is really crucial. And it is fair to say that Kumamon more than meets these criteria. Kumamon not only looks cute, but radiates a sense of familiarity and warmth to people. With a lovable face on top of a bug cuddly body, Kumamon has a unique quality that can't be matched. On the Internet, there are countless articles about Kumamon, where you can find this adorable character doing all kinds of fun and crazy things, such as dancing and bungee-jumping! Kumamon's appearance in convenience stores in Hong Kong just goes to show how popular the bear has become!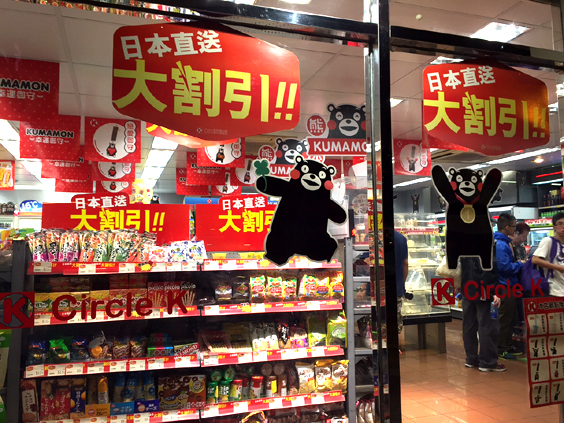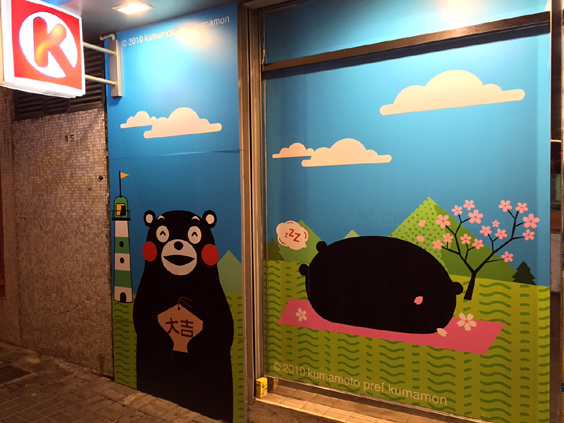 Just as is the case with Japan and Taiwan, prize giveaways (competitions where customers can win gifts) are very popular in Hong Kong convenience stores. For a limited period of time there are certain popular characters that appear on the counter of the store, there are various presents available, and what you can get your hands on depends on the price of what you purchase. With the promotions that have been held up until now, a number of characters have been displayed in convenience stores that customers can try and pick up, including characters from Dragon Ball, Dr. Slump Arale-chan, Disney, as well as Pikachu. Recently, in this campaign, in which the friendly Kumamon makes an appearance, aside from just providing good fortune for the store and people in it, Kumamon has also helped ensure that the products on sale, which have been shipped over from Kumamoto, have sold out as soon as they've hit the shelves!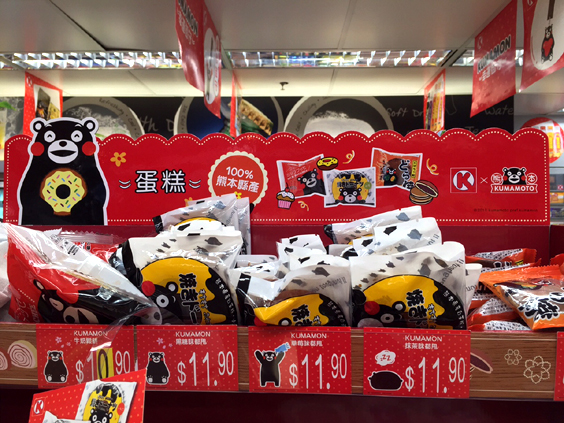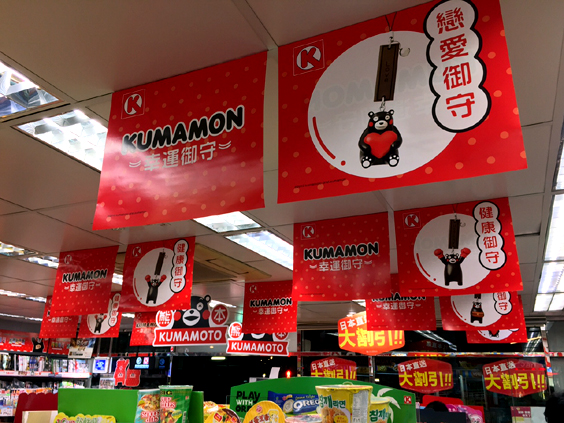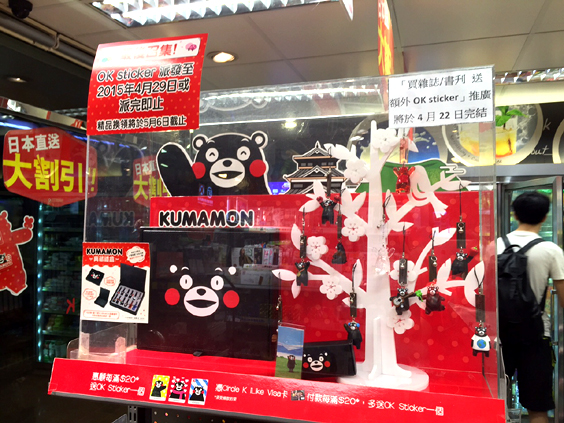 (Photo:香港樂富OK便利店)
Aside from appearing in convenience store promotions and other events, Kumamon also bears the responsibility of being a Kumamoto Prefecture tourist attraction. Kumamon has not only contributed to an increase in sales in convenience stores, but has succeeded in providing customers with tourist information about various places within the prefecture, such as Kumamoto Castle, Yachiyoza (a famous theatre in Kumamoto), Komezuka (a well-known volcanic hill), as well as Mount Aso.
Tissue packets, that are exclusively sold in convenience, have a special Kumamoto tourist destination card inside them, and if you collect 20 of them you can enter a lottery and have the chance to win a trip to Japan.
Winning the lottery, and getting a free flight to Japan is pretty rare, but in any case the people of Hong Kong have excitedly taken to this lovable character, and have been decorating their homes, as well as their cars with Kumamon cushions and accessories. It has also been said that simply looking at Kumamon is enjoyable and can reduce stress.
The charm and appeal of Kumamon will no doubt continue to draw in fans from across Hong Kong!
Robin
Related Articles
External Links
Overseas correspondent Robin PROFILE

Born in Hong Kong
RTHK DJ
Main DJ on the 16:00-18:00 program
Teen's Choice 「Teen 空 海 闊」 introduces Japan and Japanese pop music.