[ICON] Tomotaka Takahashi - about robot development that creates culture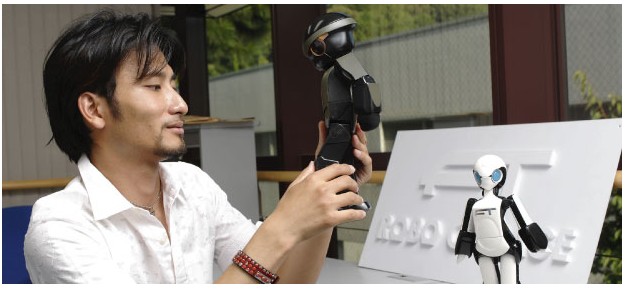 【Interview】
asianbeat speaks to Tomotaka Takahashi
about robot development that creates culture
Robo Garage Owner / Robot Creator Tomotaka Takahashi

You can find Japanese robot technology throughout the globe. However, one robot creator who is drawing attention throughout the world is Tomotaka Takahashi. He doesn't make military or industrial robots, or so–called machine robots, but he talks of the appearance of robots that creates "culture". Robots that are like Astro Boy, who share their everyday life with you like friends
They are machines, but like humans……
Takahashi san, why did you want to become a robot creator?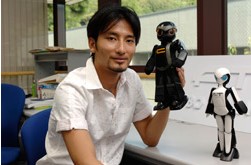 Takahashi :  Ever since I was young I liked making things. As a boy I made all sorts of things. When I was in university I made a fishing reel and tried to sell it, so I wanted to get a job in a fishing tackle maker. For better or worse, I didn't get the job I wanted, so I decided to go back to university and started working on robots as they are, in a way, the ultimate "thing" to make. Back then, to the average person, robots were too mechanical, and they looked like a wriggling mass of metal. That is when I thought I wanted to make a cool robot, one that I would want to have.
You flagship robot is the Chroino, and it is very popular in America.
Takahashi : Conventional two-legged walking robots could only walk with knees bent. But they looked strange, like an old man with a crooked back walking. So I developed Chroino which could walk without constantly bent knees – a style of walk I named the "SHIN-walk".
Thanks to this natural walking style and the friendly design, American magazines such as TIME and Popular Science gave it a big rap. This is what I wanted to make, and get the balance right – it is a machine, but it is sort of human, it is cool but kind of cute. That is the balance I was looking for. That is the kind of robot I want to create.
Your lectures are as popular as your robots!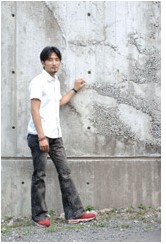 Takahashi : In the near future there will be one robot per household or even one per person. Either way, I believe the age of the robot will come. And when it comes, I believe the consumers will be the children and students of today. I believe that if that generation gets to see the design and concept of my robots now, they will become future customers.
Lectures in Japan and America tend to turn into a technical review. However, in countries like India and Brazil the audience gets really excited. I think this shows that those with no preconceptions about robots are more open to the idea of robots being a source of "entertainment".
Robots are entertainment!?
Takahashi : Yes indeed. It's entertainment that makes your life fun. In Japan people tend to think, "I would buy one if it cost this much", or "What kind of housework can it help me with", looking at robots as if they are a "household appliance" type of technology.
The robot I envisage is an entertainment tool that can bring you your dreams and desires, like a high quality home theater or audio device. Not being sold as an item at electronic stores, but at a store that has an air of luxury and expectation – something like a Lexus dealership.
Take a look at PCs and cell phones. The momentum behind their popularity was the expectation that "I can do so many fun things with this. Price and functionality were second in line. Then, after they swept the country, a whole new culture of texting, chatting and online shopping was born. In the same vein, if robots don't become a tool to create a new lifestyle, there won't be a demand, and they won't be able to fulfill our dreams. This is why I am particular about creating pop design robots.
It's not just technology, but design is also important.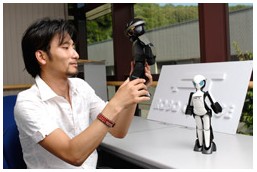 Takagasi :  If an industrial product has a poor design, the quality is usually poor as well. But if you pay attention to planning, you are bound to have a decent design. Products with poor design are usually the result of bad design planning. I am very particular about design and how I present my products.
I get many offers from science museums throughout the world who want to display my robots, and I am thrilled with that. However, I would rather display them in a modern art museum.
Rather than explaining how the computer controls the movements of each motor, I would rather do something fun like a dance performance collaboration.
Finally, when do you enjoy your work the most?
Takahashi :  It is when people come to me with information and ideas. I get to meet many unique people, anybody from those who will bring new project ideas to management and even musicians. All kinds of information find its way to me and it leads to the creation of new ideas. I then get the feeling that I can do something new.
<PROFILE>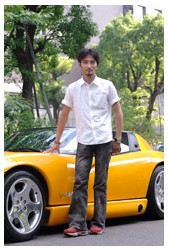 strongTomotaka Takahashi
Robo Garage Owner / Robot Creator
Born in Osaka in 1975. Graduated from Ritsumeikan University in 1998, then entered the Engineering Department of Kyoto University. When studying at the school of Physics Engineering Mechatronics Laboratory invented a two legged walking robot, and won the Grand Prix Prize at the Kansai Techno Idea Contest. After graduating in 2003 he established Robo-Garage, the first venture business to sit up in the Kyoto University Venture Incubation center. In 2004 his Chronio robot was selected by Time Magazine's "100 Coolest Inventions", as well s being chosen as one of the "33 People Who Will Change the Future" by Popular Science magazine. His renowned works include Chronio, FT, VisiON, Manoi PF01 and EVOLTA. He is currently a visiting professor at the Osaka Electro-Communication Universtiy and an advisor at the Tokyo Technology Communication College.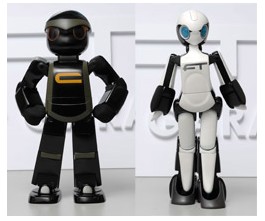 <WORKS>
Left / Chronio(=Chroino)
Right / FT(=Female Type
)
Chronio – chosen by Time Magazine in its "Coolest Inventions 100". A futuristic robot with its human-like walking capability "SHIN-Walk" (patented). The FT (Female Type) has a flexible walking style based on the SHIN-Walk. Can walk like and turn gracefully like a model, giving it a feminine appeal.