[ICON] DANCEROID - The Next Wave of Pop Idols Born of a New Generation(1/3)

[L→R: Ikura, Maamu, Yuzu Hime, Aikawa Kozue]
The Nico Nico Douga video sharing website has made a rapid rise and is still growing. One of the popular categories on this site is "Odotte-mita" (I tried this dance). DANCEROID is a dance group that was formed in 2009 specifically to appear in this category.
People are split into those who know them and those who don't. But for those who do know them in the world of Nico Nico Douga their presence and world view have made them a popular charismatic group. According to the leader, Itokutora (AKA Ikura), the number of views in the "Odotte-mita" category will soon pass 3 million. The other members that make up the quartet are Aikawa Kozue who dances "Luka Luka★Night Fever," Mamu and Yuzu Hime. With an average age of 21 they have already toured America, Singapore and Shanghai and have taken the position of representing Japan's next generation of pop icons.
In their teens they grew up watching Nico Nico Douga, so I suppose you could say they are part of that new generation. We asked them how they rose to this position and what they think of their status. This interview might just give an insight into what direction Japan is heading.
We invite guests to events we organize and it's like one big party (lol)
asianbeat (ab): Could you please tell me your names?

Itokutora: Yes, I am DANCEROID's leader, Itokutora (written "I" and "KU" and "RA"- pronounced "ikura")
Maamu: I'm Maamu
Aikawa Kozue (Kozue): I'm Aikawa Kozue
Yuzu Hime: I'm Yuzu Hime.

ab: How did the unit start out?

Ikura: DANCEROID started out when we uploaded a dance video to a VOCALOID song on the Nico Nico Douga site's "Odotte-mita," so we just took the name VOCALOID and changed it to DANCEROID. That was just over 2 years ago.

ab: How did you all meet and how did you arrive at your current style?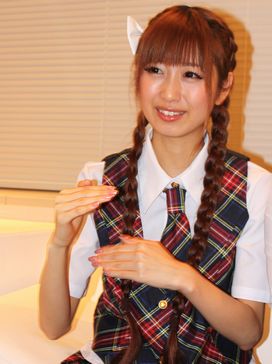 Itokutora: I was asked to be in an "Odotte-mita" DVD, and at the time I asked Aikawa Kozue and another dancer, Minka, who were both performing on Odotte-mita to join me and form a group. But Minka has since "graduated" from the group. After that we held auditions and Maamu and Yuzu Hime joined. That's how the unit originated. Our agency always wanted to make a DVD of "Odotte-mita" dancers, and that's how the group came to be. At the time of the audition 3 new members joined the unit, but at our last solo concert in July one "graduated" and now we are a 4 member unit.

ab: What kind of dance do you perform and where?

Itokutora: It is mostly live concerts and we also make DVDs. Back when we had 5 members we released 2 DVDs, and we are hoping to release another next year with our current 4 member lineup. In addition to the DVD, Yuzu Hime has designed our original DANCEROID uniforms and goods. We have also uploaded a number of dance videos as DANCEROID on Nico Nico Douga and YouTube. We also perform at fashion shows and dance at game events. At the events that we organize we invite "Odotte-mita" dancers and also some other guests and it's like one big party (lol).

ab: What kind of people do you invite from "Odotte-mita" ?

Itokutora: We ask famous personalities from "Odotte-mita" to join us. For example there is a famous song on "Odotte-mita" called "Chirno no Perfect Sansu Kyoshitsu" (Chirno's Perfect Algebra Class), and we have asked the choreographer kuu.-san, Kyoufu-san, and others including a unit made up of the twins Wota no Musume/Meshi Tsukai.

ab: Who does the choreography?

Itokutora: It is mostly done by MTP sensei, but Kozue did the choreography for "RiRiRiRi★Burning Night" and "FirstKiss," and I did it on Toho Project's "Miracle∞Hinacle" on the DVD with the 5 of us performing. As well as 3 tracks on the DVD. I should also mention that Kozue's hallmark piece is "Luka Luka★Night Fever."

Kozue: But that is before DANCEROID got together and it was just a hobby. Since then we formed the unit and the person who composed "Luka Luka★Night Fever" just happened to belong to the same agency. That's why most of DANCEROID's music has been provided by samfree. Various other Vocalo P's (Vocaloid song producers) compose for us too, though.

Itokutora: Basically, the Vocalo P's compose original music especially for DANCEROID. When we were a 5 member unit and released the DVD, the vocals were done by a female vocalist from Nico Nico Douga. We are an idol group that doesn't sing so we got someone else to do the singing while we danced.
The Shanghai fans went so crazy they stormed our rooms backstage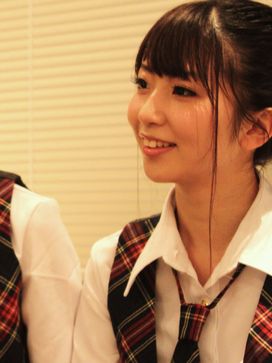 ab: Which overseas countries have you toured and what was the reaction in each place?

Itokutora: Up until now only Kozue and myself have been overseas. We have visited Singapore, LA and San Francisco in the USA and Shanghai in China. The reactions have been different in each country.

ab: Which place had the best response?

Itokutora: The reactions were just so different it's hard to pick just one, but I think the American audience really got moving.

Kozue: Shanghai was the biggest shock for me!
Itokutora: In a way Shanghai had the craziest fans; they tried to storm our dressing rooms backstage wanting to take photos with us – which was great – but they wouldn't leave and camped outside the door. We couldn't even go to the toilet (lol).

ab: Were those events for video games or anime?

Kozue: Most are cosplay or Hatsune Miku events.

Itokutora: In LA we performed at the Mikunopolis Hatsune Miku event. In Singapore Hatsune Miku appeared in 3D on a transparent screen so we were at that live event to perform as the curtain raiser. It was a huge hall but there was a specific angle range that you had to be within to view Miku and the 7000 tickets sold out. In that atmosphere I remember being very nervous and the jet lag was pretty rough too (lol).

ab: How many years ago was that?

Itokutora: It was a few months ago. The new member joined one year ago but at the time 2 of us were selected to go. But all 4 of us would like to go overseas this year – is that asking too much?

Kozue: The fans in America and Singapore try their hardest to do all the wotagei they know. Seems they learned it from Japanese wotagei videos.

Itokutora: They even have cyalume (glow sticks). Each country has its own unique flavor. Some people overseas who upload their own videos watch us too, and I think it's fantastic that we can go to their country, dance on stage and meet them in person. I hope to meet as many fans in as many countries as possible.