[ICON] Isogai Ryuko, Oyama Masashi and Kitadai Takashi - Three Young Up-and-Coming Actors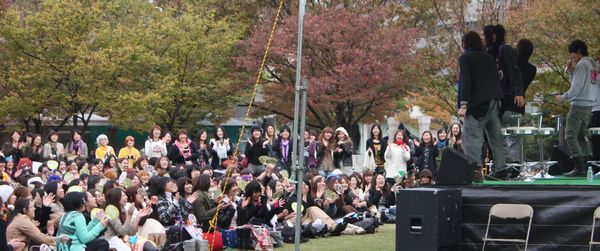 asianbeat meets 3 hot actors
Actors appear in variety shows and promote their own TV dramas and movies.
It is something that has been seen in the past, but recently has become more prevalent.

With the dramatic drop in the number of sponsors leading to cuts in production costs, young up and coming actors have used the hard times to their advantage. We talked to 3 of these new-generation actors.

Kitadai Takashi
Isogai Ryuko
Oyama Masashi

These three have built up a group of fanatical followers, and through the musical "Tennis no Ojisama" in which they performed together, have held joint campaigns and very interesting talk shows.

They are not just good talkers, but each have their own role and develop their conversation into a real entertaining talk show, just like comedians!

In the asianbeat festa Vol 3 Cosplay and Dojinshi Flea Market held on November 15, they showed just how good their talk show was. We caught up with them afterwards.

Click here for the asianbeat festa Vol 3 Cosplay and Dojinshi Flea Market
I can really relate to cos-players!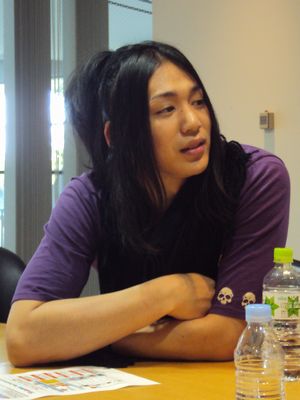 AB: Today's event really got the crowd going. You three seem to just click. 
Oyama: Yes, we click :)
Kitadai: I think our experience on stage has a lot to do with it – but then again, our stage characters are very different. This event brings out more of our real personalities. It's great fun.
AB: It was a Cosplay event, and the Cosplayers all want to take on a character's persona. As actors can you relate to that?
Isogai: I sure can!
Kitadai: Yeah, me too. It looks like so much fun. I would have liked to be there longer.
Oyama: We all wanted to join in, but if we were going to get into cosplay we don't want to do it half hearted – we want to do it properly. We can really relate to them.
Kitadai: I want to be Zoro from One Piece.
Isogai: You would make a good Zoro. I want to be a big version of Chopper.
Oyama: I want to be Sanji :).
AB: I see. Speaking of manga, which do you like?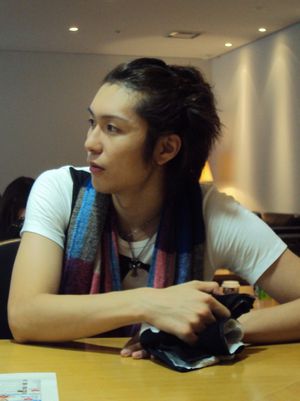 Isogai: I like "Saint Young Men" and "Vagabond". They are my bible.
Kitadai: My bible is "Slam Dunk". I was so thrilled by the scene in the final episode where Rukawa and Sakuragi give each other a high five that I found myself standing and giving a shout of joy in class :)
Oyama: Recently I like the gourmet manga Toriko.
AB: It seems you read a lot of manga. What is your impression of Fukuoka?
Isogai: Actually this is my first trip to Kyushu. I'm sorry to say that I couldn't even place Fukuoka on the map. However, the fans have given me a very warm welcome at the event and it left a strong impression. I felt really happy.
Kitadai: My image was that Kyushu men are really passionate. I like passionate people. Maybe I have Kyushu blood running through my veins, and that's why I like them.
Oyama: Yeah. I can see why they have the image of being real men among men. Also, the food here is great. I haven't had time to check the place out this time but I will definitely come back.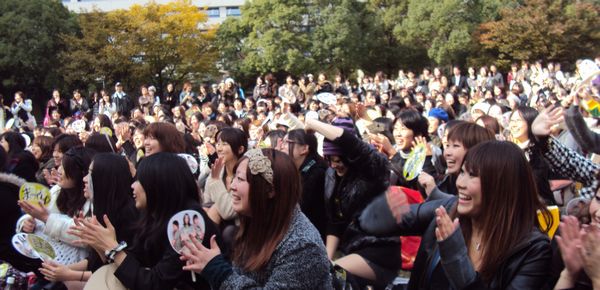 We three are friends and rivals at the same time. Competition helps us grow.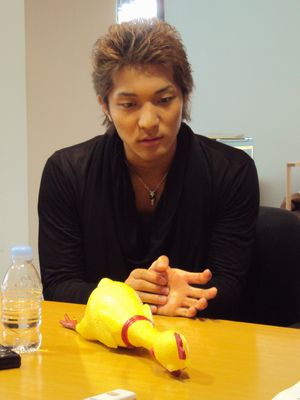 Can you tell us what the future has in store for you as actors?
Isogai: Of course I will continue working on stage, but I am very interested in film. I would like to try my hand at it.
Oyama: In contrast, I would like to concentrate on the stage.
Kitadai: The Musical "Tennis no Ojisama" that we all performed in is our starting point. We had support from many people and were able to do all kinds of work. So I think it would be great if we could all go forward in our different fields, and then get back together – that would be great. Until then, we will compete – as friendly rivals of course.
Oyama: You put it so well. It's the truth.
※1Saint Young Men is a manga from the magazine Morning 2. It is the story of Buddha and Jesus, who come down to Earth on their holidays and live very normal lives in a small apartment in Tokyo, under the name "Sei" (means "Saint" in Japanese).
※2 Toriko appears in the Shukan Shonen Jump magazine. Gourmet Toriko travels the world in search of gourmet food.