[ICON] FPM Tanaka Tomoyuki - A DJ Making His Mark on the World Stage(1/2)

DJ and producer Tanaka Tomoyuki (aka FPM) has carved an illustrious career for himself in the dance music scene, boasting successes both at home in Japan and overseas.
His career stated in Kyoto when he organized a party, and his performances have spread not only to the four corners of Japan, but to over 50 cities throughout the world. He has recently made inroads into Asia and it is not an overstatement to say that he is Japan's foremost DJ. What did it take for him to make it this far? How did he get there? And what does he think about that unavoidable problem - The Entertainment Business Act? As he takes on the mantle of representing Japan in his overseas quest we asked him about his perspectives and current projects.

*Entertainment Business Act =【Act on Control and Improvement of Amusement Business, etc.】
The law governing the operation of entertainment establishments including cabarets, dance halls, and pachinko parlors, and sex establishments like "soaplands" brothels with prescribed regulations and penalties.
The former Entertainment Business Act was enacted in 1948 and was revised in 1979 and title amended to the present name.
Sharing info on the web has led to many DJs playing the same kind of music
asianbeat(ab):Tanaka san, what got you started as an artist?

Tanaka Tomoyuki(Tanaka):When I was a teenager in Kyoto, I was in a band. At about the same time after I finished high school I had a part time job washing dishes at a famous disco. That is where I first heard of DJ work, and like anyone I wondered what they were doing putting the headphones to their ears (lol). Before long I organized my own events in Kyoto. I got guests from Tokyo to come, and Tei Towa, who was based in New York at the time spread the word in London, Amsterdam, and Berlin that there was a cool DJ in Kyoto, and thanks to that, DJs from all over the world came to Kyoto. That is how my musical career started as FPM, it was all thanks to him. At first it was just a gathering of friends, but it gradually grew and soon became the biggest party in Kansai.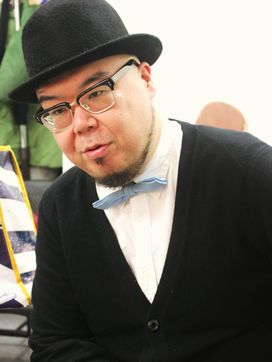 Then when I was working for a magazine doing editing, a DJ from Berlin told me that "If you want to make music why don't you release it on my label?" That's how I made my debut in Europe before Japan! It was pure luck. But that has put me where I am today.

ab: You have been involved with the Japanese dance music scene, how has it changed?

Tanaka: I started traveling around Japan frequently back in about 1998, so I have been watching it for about 13 years. Perhaps I am the only DJ to have conquered all 47 prefectures (lol). This has allowed me to see many different cities, and back when the Internet was in its infancy, and regional DJs had their own individual musical color. But now the Internet allows everyone to share information and I feel there are so many DJs who have the same kind of playlists. That is the downside of the Internet. I still think regional Japan is better off with a special identity. Perhaps, as I often try to do, we need to shut out the waves of information that come online. This and the Entertainment Business Act are both serious issues.

ab:You say that regional Japan is losing its unique identity, perhaps you're right.

Tanaka: Looking at the titles and lineups at events, I can predict what tracks the regional DJs will play. Back in the day it was impossible for us to do that. I think those who came from the big cities thought it was strange. I think it is important to have your own style and develop it.
There is a lot of negative news about Japanese in Korea for political reasons, but at the clubs we Japanese are respected
ab:You have made it as a DJ in many Asian countries, what is different to Japan?
.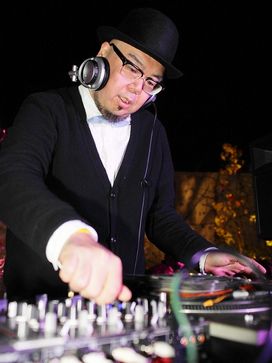 Tanaka: Overseas there are some towns that have respect for DJs and club culture, and there is a strong connection to mainstream society. In Japan DJs tend to be viewed in a negative light, but in London, Spain and Sweden DJs are treated like superstars – the culture is so different. Japan is probably a good market for overseas DJs, but the Entertainment Business Law issue is still a hurdle and gives Japan a distorted image overseas. However, looking at today's big weekday event (
2011.12.20 IN CIRCUS
) I think you can say that Japan is a developed club-scene country.
ab:Are there any overseas countries in particular that are on your radar?
Tanaka: Recently I have been going to Asian countries a lot, and Koreans in particular have respect for Japanese DJs. Over the past 10 years they have been inviting us to come over quite frequently.
Japan is experiencing the "Hanryu" (South Korean Pop Culture) boom, but before this there was a Japanese DJ boom in Korea, and it hasn't waned. That's great. Also I have been going to Shanghai, China and it's fun too.

ab:How do they rage at dance parties?

Tanaka: I have been going there for about 7 or 8 years, and when I first went there I had no information on what it would be like, expecting about 50 people to turn up, but when I got there it was a 3000 strong party! When we do a party there you always get 3000 to 5000 people coming, it's unheard of in Japan. The respect the Korean party-goers pay to Japanese artists is fantastic. This is why I say that there is a lot of negative news about Japanese over there for political reasons, but you often hear from producers over there that at clubs they respect Japan.

ab:How often do you go to Korea?

Tanaka: At one time I only went over for big events, but in 2012 I plan to play at a big club similar to ageHa called ELLUI four times. Some DJ events attract up to 20,000 people with famous overseas artists appearing, but among them Japanese receive equal respect. If it were an event in Japan where overseas artists appeared we local Japanese DJs wouldn't attract much attention, but in Korea it is different.