[ICON] Sakura Inagaki Saki - The Kawaii Comedian with Bite(2/2)
I realize relationship with people is very important thing.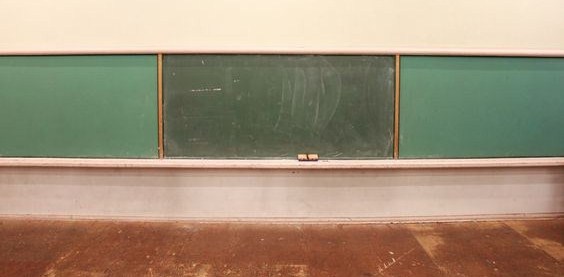 ab:When you got the offer job of "Rokemitu", How did you feel it?
Inagaki:The circumstances that I got this job "Rokemitu", I was called to coffe shop to have a interview next Yoshimoto company. So I thought
this must be a program of showing my commedy show like "Arabiki-dan".
But it was different contents I expected.
When I went there there were TV producer of Yoshimoto and higher-ups of Mainichi Broadcasting System.
And they offered me the job without having much information at that time.
I was beside myself with joy when they offered me like "I got the new job~!!"
But They asked me to promise them not to run away from this job to the last!
I felt a question for his words but I'm young commedian that I don't have much experince so I got this job.
The first day of "Rokemitu" came without details of appointed day...
ab:Was there any full of hardship thing in this project "Rokemitu"?
Inagaki:This program started 3years ago, I didn't have name value more than now. So Everybody looked at me like an eccentric person when I walked around with cosplay of "Evangelion".
Sometimes I was picked a quarrel with bad boys because they thought
We were shooting adult program.
I again realized it's so hard to do this with this cosplay.
And the first day I had to ask stranger to stay their home for free
even I had never visited and talked!
Now I get used to talk to strangers but I was shy of strangers at that time. It was very hard thing for me.
I was depressed when they refused my favor to stay night for free
but sometimes very kind people appeared and treated me nicely!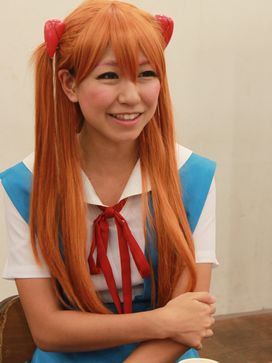 ab:Did you have a big change of herat When you start this show?

Inagaki:I could be a little bold for everything. It was good experiece for me that I could feel relationship with people is very important thing.

ab:Could you tell the high spot of this DVD?

Inagaki:I think Everybody don't know Shikoku prefecture in datail but they has a lot of places to visit. For example The group of dolphin i saw by chance When I went to see whale watching.
I was brought up in a city so that There were many experience never I had before.
In truth, I got many report from audience that They went to Shikou after they watched the show.
Then I saw many people and They treated us nicely and kindly and helped us very much! So this is commedy DVD but not only commedy DVD.

This is moral DVD, I think you should see an elementary school!! I want elementary students to understand there is alot of hard thing in the world, but you can feel kindness through people.
I always challenge with my favorite motto"I don't die anyway"in mind!!
ab:Do you have anything you are into now or you are pay attensiton to?

Inagaki:I bought play-station 3 lately,And I'm into playing the game"Ryuga-gotoku"!!But not new one, i started from No.3.
That game was entirely different I imagined, for example raise"Kyaba-jou", can't advance if I can't find a dog!! When I can start fighting!! I pretty like game, sometimes I goto game center close to Yoshimoto to reduct stress.I go there to play my favorite fighting game.I got huge influence from my big brother, so that my cosplay of Evangelion comes from.

ab:What is your favorite motto?

Inagaki:I have my favorite motto in my mind. My favorite motto is "I don't die anyway".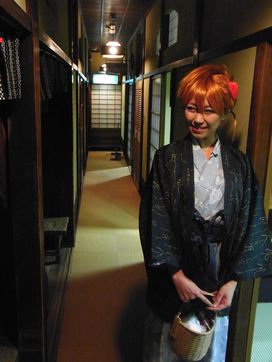 I was brought up in Kobe which had Great Hanshin earthquake.I lost many friends and school teacher at that time. That thought may come from there.

ab:Do you mind to try in Asia?

Inagaki:Actually I really care where Evangelion is known to in Japan. In fact
France has a culture of cosplay so that Japanese animation is very popular there!
So sometimes I was said "Asuka~!!" from strangers!Someday I want to hang around with this cosplay!
Please don't have a prejudice and see Evangelion!!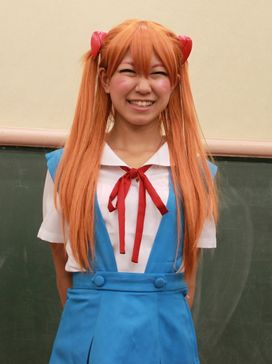 ab:Please give a reader of asianbeat message simply!

Inagaki:Although there are people who knows me or don't know me,Please see the "Evsngelion" at once.
I use evangelion to my joke material,So I think you can enjoy my show
if you see Evangelion first!.
Of course this is for younger generation but please don't have a prejudice and see Evangelion!!

(collecting data :2010.October.27)
[INFO]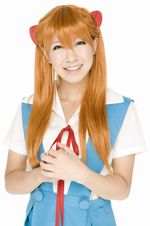 [PROFILE]
Sakura-Saki Inagaki / Commedian
■careerBorn December 27, 1983 from Kobe city NSC Osaka women talent school 1 year students. NSC Osaka women talent school 1 year students. She became famous to excell at impersonations of "Asuka.Langley.Soryu of Evangelion".
She is playing an active part in stage and TV,TV commercial from this year.
■Web Site
Sakura-Saki Inagaki blog knife
http://sakura.laff.jp/
Roke-mitu blog
http://www.mbs.jp/888/blogtabi/
Roke-mitu homepage
http://www.mbs.jp/888/