[ICON] Sakura Inagaki Saki - The Kawaii Comedian with Bite(1/2)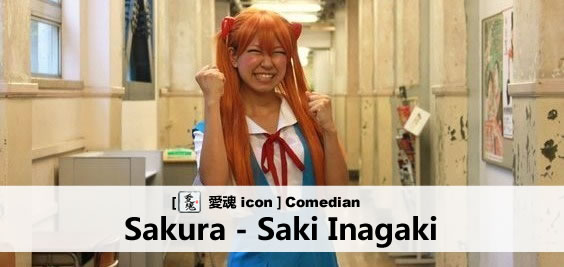 You must know popular Japanese animation "Evangelion".
There is the cute looking girl who wore cosplay of main character who called "Asuka.Langley.Soryu".
That's "Sakura-Saki Inagaki",Such she pushes forward to her commedian life with Unexpected appearance.
She tries to travel in Japan of Project of television program "Roke-Mitu" and sometimes performs her comedy show with Evangelion cosplay.
She is an commedian who attract attention in many aspects by original style compared with common commedian.
What on earth did she wear cosplay of "Evangelion"?
And what she focus in the future through an oppressive TV program.
You can feel what new popular commedian who had a different sort of experience is thinking and feeling now.
he excelled at impersonations when she was a student, and She hit upon one idea that wear Evangelion cosplay and do a commedy show (Manzai).
asianbeat(ab):How did you intend to be an commedian??

Sakura-Saki Inagaki(Inagaki):At first I entered to Yoshimoto to become actress, but staff member invited me to be an commedian. That's reason I started to be an ommedian. Now I have purpose in life this job.

ab:Why did you think that you wear cosplay of "Asuka.Langley.Soryu"?

Inagaki:In fact I was not cosplayer before. When I was invited to radio recording of "Moekei",producer asked me to make "Manzai" show for customers of "Otaku".Actually I didn't know "Moekei" very much,
but From the first I love Evangelion and I used to excell at impersonations. So That's my reason why I started cosplay.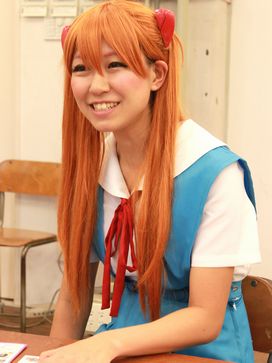 ab:I think there is the person who haven't watched Evangelion yet in reader, What do you appeal to Evangelion?

Inagaki:Well, It takes around 3 hours, is it all right? i think there are many people lose their life because They don't know Evangelion very much.
Evangelion has various aspects to appeal.
Of course story is great,Especially for me I like their battle scene and a dramatic scene, and how to use music and direction no other animation has.
The extraction of this animation was so fast I could sympathized atg that time. That's why I rapidly fell into Evangelion when I was junior high.
I'm trying to become widely known to common people.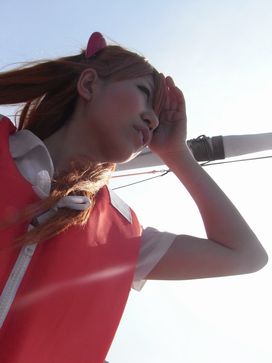 ab:Who is your special commedian you are affected?

Inagaki:I have many elder coomedian i respect... In fact I have no idea how to do Manzai show when I did it at first time.
I saw "Daian" and "Kirin"'s DVD, I was studying for a test their an organization of their joke material and wrote down on paper!
And I bought DVD box set of "Dorifu","Yasushi-kiyoshi" and I watched many times.

ab:What Do you mind that you make joke material? ?

Inagaki:When after I made joke material of Evangelion I always try to make them watch Evangelion atleast one time to make customer enjoy the show.
So I always do remake joke material to do best show.
ab:Certainly... Everybody don't know what Evangelion is do they?


Inagaki:That's right. When I had a parter before Our show was formed even I said starnge thing. But now i'm doing myself so I came up against wall. I thought if I said something maniac thing Everybody don't laugh it!! So I try various things for example, when I have to work at mall I think hard to make especially family laugh.
When I do my joke material for my core-fan i do what I want to do but, I'm trying to use different joke material of evangelion to make them easier to follow.