[ICON] Kyary Pamyu Pamyu – The Harajuku Girl Setting the World on Fire(1/2)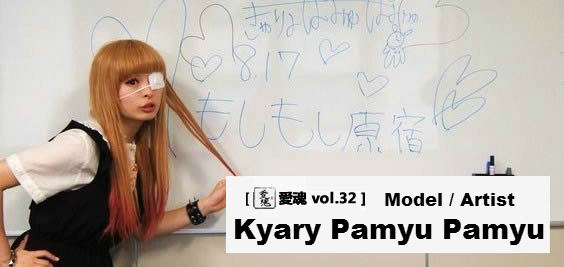 Kyary Pamyu Pamyu has become a phenomenon as a model for the AOMOJI-KEI (Harajuku fashion) magazines KERA and Zipper, while at the same time writing a uniquely expressive blog. She currently has a huge following among high school girls as a charismatic leader in Harajuku fashion.
From last year she has started her musical career, releasing the mini-album "Moshi Moshi Harajuku", which was produced by Nakata Yasutaka, who has worked with artists such as Perfume, and has performed himself in the unit "capsule". Prior to the album's release the lead track "PONPONPON" was released to the world via the iTune®Store and YouTube, and her influence has spread throughout the globe as the Harajuku girl Kyary Pamyu Pamyu.
These days there are few pop icons in Japan like Lady Gaga and Girls Generation. With this background, she is on the verge of becoming an iconic figure bringing Harajuku culture to the world. Her influence will renew the image of J-Pop culture. Her presence gives me that kind of premonition.
A small snap in KERA got her into modeling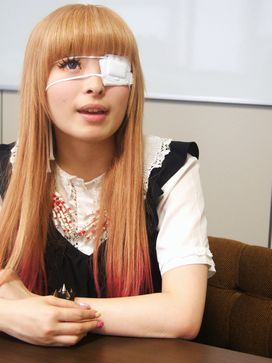 asianbeat (ab): Kyary Pamyu Pamyu has become a model that represents the AOMOJI-KEI magazines – how did you get into modeling?

Kyary Pamyu Pamyu : It all started when one of the KERA street snap photographers took my photo. At first it was just a tiny photo with one of my friends. From then I got called to do a number of photo shots and became a reader-model.

ab: Your fashion and makeup are brimming with individuality and you have many schoolgirl fans. Can you tell us about it? Where did it come from?

Kyary Pamyu Pamyu : Well, I just wear my fashion with pride and confidence, I think that's the most important thing. I also like playing around with colors, but my eye patch is not part of that today*. I always like wearing colorful clothes.

As for accessories, I like to wear strange, sometimes grotesque "un-cute" things. I also follow overseas fashion on promotional videos. I especially like Lady Gaga, Katy Perry, Gwen Stefani who all have influenced me. Of course I like their music and the way their unusual fashion fuses with their music – it gives me inspiration. I also like western movies which have a touch of horror, like Beetlejuice (1988 Directed by Tim Burton) and Alien vs, Predator (2004 Directed by Paul W Anderson). Beetlejuice is my special favorite.

*On this day Kyary Pamyu Pamyu was wearing an eye patch. We thought it was a fashion statement but in fact it was because of an eye infection.
Harajuku is my inspiration. Just walking around is an education.
ab: What thing has given you the most inspiration for your individualistic fashion?

Kyary Pamyu Pamyu : It has to be Harajuku. You learn so much just walking down the street. There are so many people wearing striking fashion there. But, to tell the truth, I'm not sure if what I see is fashionable. Perhaps they don't know either. Even so, if they wear it with pride and confidence I think it's wonderful. They also wear – what some might call – strange items in the most unconventional places. I even see hats worn in unusual places! This kind of stuff, All these things put together are the source of my inspiration.

ab: By the way, your nails look like they are having a party today!

Kyary Pamyu Pamyu : You're right! This is 3D nail art. I have so much stuff on my nails today.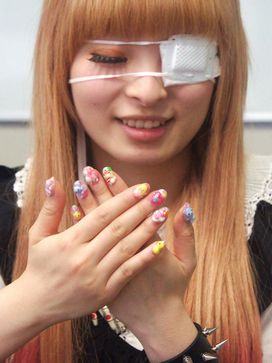 Bears, teacups, all sorts of things. They're not as heavy as you may think. And they are on my real nails – I think it would be easier to do everyday things if they were on artificial nails. I would be able to use my smartphone etc. (lol)

ab: You mentioned overseas a minute ago, is there any Asian culture that has caught your eye?

Kyary Pamyu Pamyu : Yes – K-POP. I think K-POP idols are so fashionable. When I watch videos of 2NE1 and Big Bang I think they look so colorful and kawaii. I always keep my eye on them, they are just so cool!