[ICON] Nemu Yumemi – New Generation Cultural Icon Linking Akihabara and Harajuku(1/3)

Nemu Yumemi is also a member of the idol group Denpa Gumi Inc. who perform at the live bar "Dear Stage," a venue which is a center for groundbreaking wotaku culture in Akihabara. Although she is mainly an idol, her activities are so wide ranging, that there is hardly a day that goes by where you don't see her name in the art, fashion or music scene. She is a true new generation Japanese cultural icon that travels freely between the cultural borders of Akihabara and Harajuku.

Why is it that among countless idols she has gained such support and has become the thrust behind a huge new movement? It's not something that can simply be put down to the trend of the time. It is due to her strong belief and the unique creativity that she has nurtured since she was a child. In this interview we catch up with the personal side of the "expressive" Nemu Yumemi.
I think maids are really the most expressive form of art.
asianbeat (ab): What got you hooked on Akihabara and wotaku culture?

Nemu Yumemi (Nemu): I used to study art. I studied how to communicate to people in the field of media art and modern art. Though I don't want to seem conceited about what I was doing at the time, I just didn't understand what everybody else around me was trying to do. I then remembered the one time I went to Akihabara when I was taking my high school entrance exams, and it struck me that the maids there were the most interesting form of art. The way girls and boys, creating their own world without need of props was the best form of interactive art. This is how I got into Akihabara.

ab: What kind of a girl were you before then?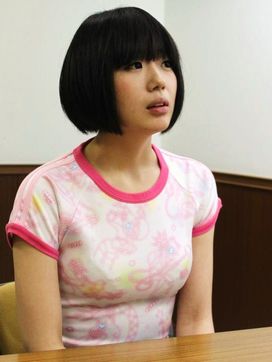 Nemu: I was more of a Nakano wotaku than an Akiba wotaku. Akiba is more of a progressive place for trends in anime and manga, but from when I was little I liked Norakuro and Sugiura Shigeru's manga. So instead of following new anime I was more of an wotaku into old collections of manga. Of course like any other kid I longed for Sailor Moon and loved light novels like Fortune Quest too. However, when I was in junior high school I got "ill" when I got into western music like SUM41 and Good Charlotte. So to tell you the truth there was a short period where I became detached from the wotaku world (lol). I would play video games but I was a non-wotaku until my third year of high school. I guess you could say that I had no connection to the wotaku world then.

ab: What got you back to the wotaku world?

Nemu: When I was in high school I went to a café in Akihabara called @Home Cafe when the maid boom was at its peak. It was there where I saw the wotakus performing their wotagei, their calls and their super maid cheering. The maids were so cute and they had created a world of their own – that is when I got hooked. However, my exams made me put my interest in wotaku culture on hold. I subsequently graduated from high school and studied art, but I went through some times of despair thinking that "art was just boring", and whenever I got angry I would recollect that maid café that I went to. That is what made me decide to become a maid.

ab: How did you go from there to Dear Stage?

Nemu: I wanted to study the world of the maid so I continued my research, and before long I ran into a difference in what I wanted to do and what the café wanted me to do so I quit. I then did a regular part time job at Roppongi, but the attraction of Akiba drew me back (lol). In those days there was a particular cafe that people said maids had to stay away from. There were also a lot of bad rumors going around like it has a glass barrier and you can hear the male customers screech. When I went back to Akiba it was a bit scary thinking of such a place, so I went there with trepidation. That café just so happened to be Dear Stage (lol). What I saw was quite confusing. There were girls who were great singers with different kinds of voices. Maids at cafes are usually of uniform size, shape and type but at Dear Stage you had big ones and small ones, the sweet ones and sour ones, I thought it was fascinating. It was nothing like the world of the maid that I had studied up until then and I thought that here I could learn how to express myself. I was always a bit tone deaf so at first my job was just serving food, but after about a week somebody said "Nemu-chan, why don't you sing?" My first performance on stage was pretty bad. But the audience interpreted it as my individuality and they were really kind. Up until then I had a bit of an inferiority complex about by voice and height, but at Dear Stage they said it was all OK – I had finally found a place I could call home.
My principle theme – "Make your youth complicated".
ab: What and where are your main activities?
.
● AKIBA MOSATSU produced by Yumemi Nemu (left) and @2.5 magazine cover girl with Pamyu Pamyu (right)
Nemu: When I first joined Dear Stage I got hooked on DENPA!!! It was an event where they played ani-songs and hardcore at clubs, and it had a fashion factor as well. It really excited me and I discovered how interesting different cultures and crossovers were. In my case, I love fashion and I can communicate the wotaku world to those who are into fashion and vice-versa. I always wanted to be at the center of the crossover.
For example, in music I thought being a DJ and playing my own tracks would be far more fun than just dancing along on the floor. I used to play ani-songs but recently I also play idol songs and many have a bass-beat club sound. I want to be a DJ that can play songs that trendy club-goers wouldn't usually hear. Neo Cos got me into modelling. Neo Cos has also become a new cross-culture point and I think I have a balanced mix of Akiba and Harajuku so I'm thankful that they let me wear this style.

At first I only posed for photos in the Akiba "moe" style (lol). It was something new and the fashion people thought it was fun. My first gravure (sexy photo model) job was for Mosatsu. Last year I posed for the cover of the magazine "@2.5" with Kyary Pamyu Pamyu, and a Mosatsu producer saw the cover and came up with the idea for AKIBA MOSATSU. Normally a stylist would prepare all the clothes for the shoot, but for AKIBA MOSATSU I did my own hair, clothes, underwear - it was all my choice. If you were shooting at a book store you would wear plain glasses and jeans, but erotic panties (lol). They let me dress with a concept that would appeal to the desires of wotaku from an Akiba perspective. My principle theme is "make your youth complicated." I went to an all-girls school and all through junior high and high school I wanted to ride a bicycle along a riverbank – that's the mindset that I see things. The photo shoot was not just gravure, but behind it is a story, an imperfect akiba-type story filled with human warmth – that is the kind of gravure that I wanted to make.