[Information] The Fukuoka Prefecture, North America Office will be running a booth at the "J-POP SUMMIT 2017!"
Promoting Fukuoka at one of the United States' biggest Japanese culture events!
The "J-POP SUMMIT" is a festival that celebrates Japanese culture, which has been held in San Francisco, United States, every year since 2009! The event introduces guests to various aspects of Japanese culture, including music, fashion, film, art, computer games, and anime, etc. This year the Fukuoka Prefecture, North America Office will be joining forces with the travel agency H.I.S. to run a booth at the event for the first time!
(
The Fukuoka Prefecture booth will be located at the >> "TRAVEL PAVILION" Area E2: "Fukuoka Prefecture." For a more detailed map of the venue, be sure to check out the "Exhibitors' Map" on the official website >> Here!
)
Support from idols active in Fukuoka!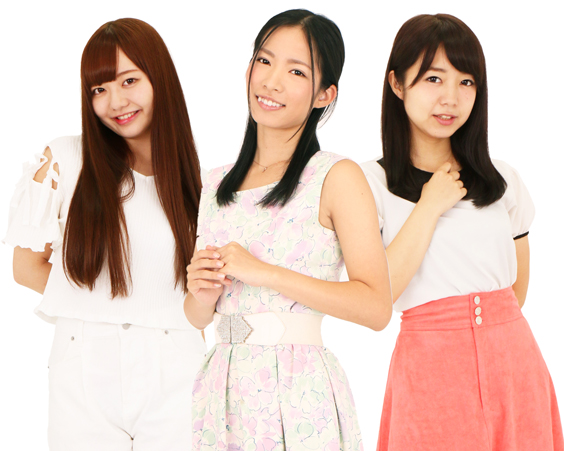 (From left) Cocoro Araki (新木こころ), Mayu Kishida (岸田麻佑), Ayaka Ooba (大庭彩歌)
Mayu Kishida, Aya Ooba, and Cocoro Araki graduated from the Fukuoka-based idol group "LinQ" in August 2017 to embark on a new chapter in their lives. All three of them will be at the event to lend their support to the Fukuoka booth!

From 15:00 on Saturday 9th and Sunday 10th September a "Ramen Fast-Eating Contest" will be held on the "JAPANKURU stage" inside the "TRAVEL PAVILION" section of the venue. The three former LinQ members will be cheering on the participants as "Ramen Summit Cheer Ambassadors."

These three are big fans of tonkotsu ramen, which is known as one of Fukuoka's most delicious soul foods. They will also be at "Ramen Summit" area to help liven things up! In addition, they are scheduled to be making an appearance from 15:30 on both days, so be sure not to miss-out!

The booth will be sharing all kinds of Fukuoka-related news and information, including local sightseeing advice. The stand will be distributing fliers about the asianbeat website, which aims to let people know about all the charming qualities that Fukuoka has to offer, while also providing pop culture info in 8 languages. And that's not all… There will also be small samples for visitors to enjoy! If you're in town, why don't you stop by?
PROFILE
Mayu Kishida (岸田麻佑), Aya Ooba (大庭彩歌), and Cocoro Araki (新木こころ) [LinQ OG]

LinQ is a Fukuoka-based idol group that are active throughout the country. Having debuted in 2011, the group has maintained a strong Kyushu identity, with each member using their involvement in the entertainment industry to fulfill their potential. One of their aims is to serve as bridge between Kyushu, Japan, and the entire world. LinQ's songs "Furusato Japon" and "Treasure" were featured on the ending credits for "Youkai Watch."

Mayu Kishida, Aya Ooba, and Cocoro Araki graduated from LinQ in August 2017 and are now members of the Idol Kyushu Project ("IQ Project"). Not just limited to idol-related work, the group's activities also include stage productions, live performances, as well as TV, and radio appearances.
J-POP SUMMIT 2017
Dates: Saturday 9th to Sunday 10th September 2017
Times: 10:00 (VIP) / 11:00 (General) - 20:30 (Saturday 9th), 21:00 (Sunday 10th)
Venue: Fort Mason Center For Arts & Culture, San Francisco, CA, USA
Official Website:
http://www.j-pop.com/2017/
*For information about the admission fee and event details, please check the official website.
Related Articles
External Links