Vol.3 LinQ Yuumi Takaki - We're All Waiting for You in Fukuoka! -

TEAM SAKUSAKU presents – Favorite Collections - Vol.3 is brought to you by Yuumi Takaki of Kyushu-based national idol group "LinQ"! In this interview-style piece, we find out about Takaki-san's "favorite": Fukuoka.

I love my hometown, Fukuoka!
Could you start by introducing yourself?
Hello, I'm Yuumi Takaki of LinQ. I'm the shortest member in the group but what I lack in height I make up for in presence. Also, I'm not good with spicy foods – even a grain of pepper is too spicy for me.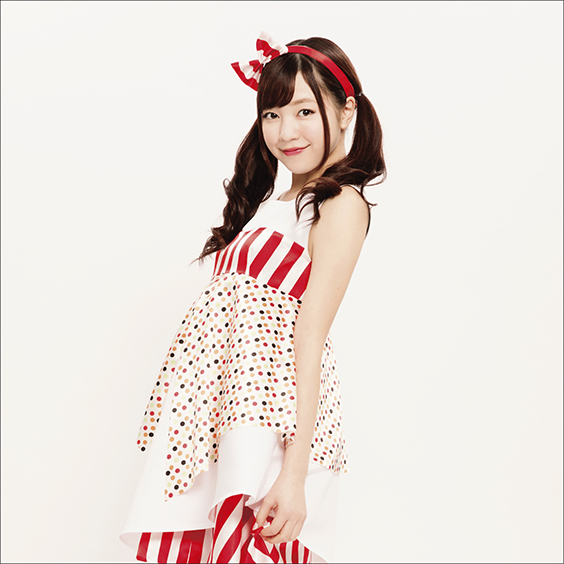 LinQ stands for Love in Qushu (pronounced 'Kyushu') and is a fairly large group with close to 30 members, but we all have our individual personalities so there are roughly 30 different colors for you to enjoy. Our ages range from 14 to 30 as well, so there is bound to be a girl to suit everyone's liking.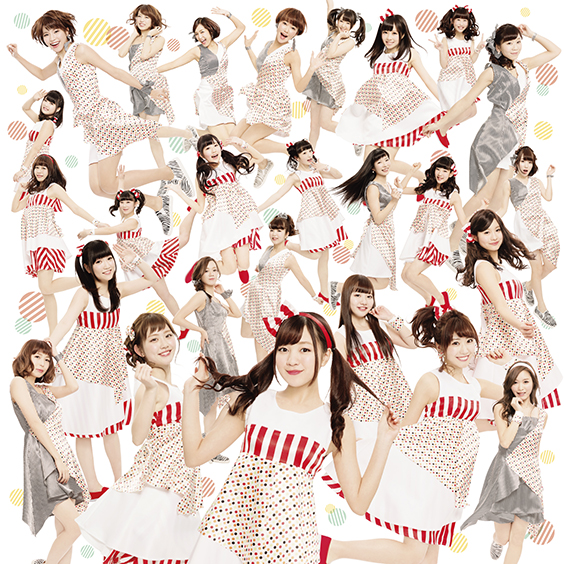 Fukuoka is your hometown and the home of LinQ as well. What would you say is the charm of Fukuoka?
It really has a lot! For me, Fukuoka is in the top three cities in Japan. Nationally, Fukuoka's presence is huge. The charm of Fukuoka is its delicious food. In Nakasu-Kawabata you can find all sorts of hidden-away shops and places where adults can go to have fun, and a short distance from the city is beautiful natural surrounds and nice, clean air. More than anything it would have to be Hakata-
ben
(the Hakata dialect), though.
What are some Hakata-ben words that you want people to learn when they come to Fukuoka?
One phrase would be, "
Ima nan shiyōto
?" Which means 'What's up? What are you doing?' It's something I would definitely say to a friend if I ran into them in Tenjin our somewhere around central Fukuoka. Also words like "
~shitai chan
" (~shitai!) (I want to ~~) and "
~shitai chakedo
" (~shitaikedo) (I want to ~~ but ~~). We add "
cha
" to things and end sentences with "
to
" a lot.
Walking around the city you can see that Fukuoka attracts a lot of foreign visitors.

It does. I guess it's because you can get to anywhere in Kyushu from Fukuoka and also because in the city you can find just about anything. The best thing is our delicious food, though!
Your work with LinQ takes you to Tokyo quite often but how does Tokyo differ to Fukuoka?

The sashimi tastes completely different. And people don't usually say hello when they walk by you, even in the rural parts of Tokyo. Nobody really does that in Tenjin in Fukuoka either, but if you go out of Tenjin it's the done thing to greet people you happen to pass by on your way. The biggest surprise for me, though, was the elevators. In Tokyo, everyone forms these perfect lines. In Fukuoka, even if there's a line we still let people in from the side, but in Tokyo you have to be properly lined up or they won't let you in. Sorry to all the Tokyo people if I sound a bit harsh (lol).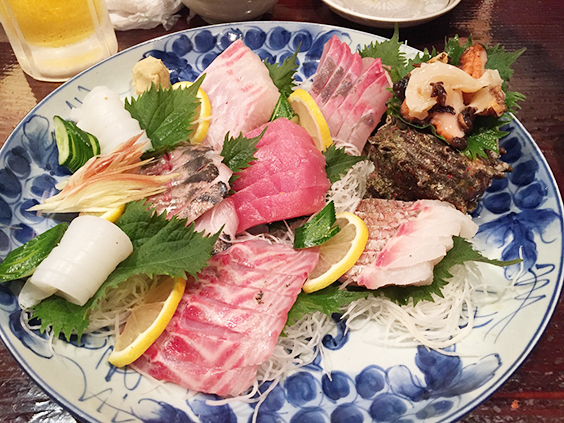 What would you say is a character trait of people from Fukuoka?
Straightforwardness. But it's different to how people are straightforward in Tokyo. In Tokyo they're straightforward in the way they're to-the-point because they're always busy and seem like they never have time, but in Fukuoka it's more of a friendly and openhearted straightforwardness.
If you had to pick a local specialty or a product that represents Fukuoka, what would you pick? Apart from LinQ.
I wanted to say LinQ (lol) Then it would have to be "Amaou" strawberries.
kakute, rukute, okikute, mai
(red, round, big, delicious). I don't think anywhere else has strawberries quite like them. And I don't just mean the taste is unrivaled; the name itself is an institution.
So that's what "amaou" stands for. Seeing as the topic of food has already come up, what's a dish that you would recommend to someone visiting Fukuoka?
Goma saba
(mackerel sashimi with white sesame). If you came to Fukuoka I'd definitely want you to try our sashimi. And also my favorite: mentaiko (seasoned cod roe). I always keep my fridge stocked with mentaiko. I even named my cat "Tarako" (cod roe) – that's how much I love it (lol).
I think a lot of people think of festivals when they think of Fukuoka, too.
For us, though, festivals are common; they aren't anything out of the ordinary. Like when people come to Fukuoka and see all the yatai stalls and say "It's just like a festival," but those stalls are always there and for us they're just like any other regular store, so in that sense, festivals aren't really anything that special. The Dontaku festival that's held on May 3rd and 4th, however, attracts people from all over the country and the city really comes alive.
This year LinQ will be appearing in the Dontaku Parade as well. We're going to bring the whole city to life! (lol)
What would you say is the highlight of Dontaku?
That would have to be culture. Particularly from the foreign visitors' point of view, it's fun to watch all the people wearing traditional Japanese clothing and all different styles of clothing as they dance on stage and parade through the streets. People put their souls into the items they use and exhibit at festivals. Another of Fukuoka's famous festivals is the Yamakasa festival and I once had the opportunity to watch as the Yamakasa dolls were being made for the festival, and seeing the craftsmen pour their souls into their creations was just a joy to watch. Fukuoka is home to a lot of great handicrafts like 'Hakata ori' textiles and 'Hakata ningyo' dolls as well.
Just about anyone living in Fukuoka can take up a central role in Dontaku and it's fun to watch them parading alongside all the local children, students, corporations and idol groups like LinQ, isn't it?
It really is. LinQ is made up of members ranging from middle-school age through to adults, so the group itself has a bit of a Dontaku vibe.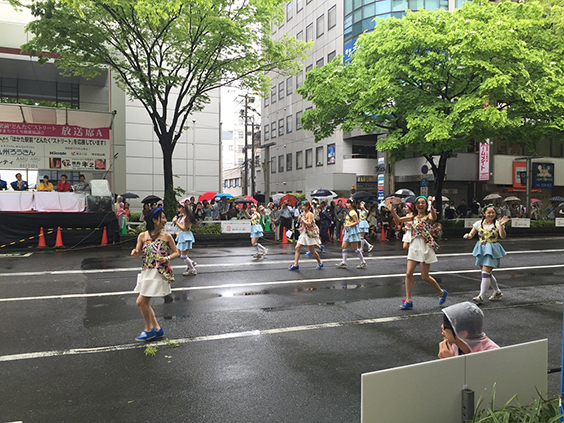 LinQ at the Dontaku parade last year.
LinQ has a 5-year anniversary concert coming up at Zepp Fukuoka on May 5th called "Uchira no DontaQ ~ Hakata meibutsu ni naritai chan!~" (Our Dontaku – We want to become Hakata's specialty), even using Dontaku in the name. You had planned to hold the concert on March 17th initially…
Considering the impact of the Kumamoto earthquake that happened the other day, we decided not to hold the concert on the 17th.
I don't really not what to say to all the people who were looking forward to this day.
But we will work our absolute hardest to repay everyone for their support through our performance.
The fear and anxiety of all the people living in Kyushu like us who were met with this disaster is unfathomable.
There's still a lot of uncertainty ahead and I think it's going to be a tough path trying to rebuild and repair all the damage that's been done. And it is times like this that Kyushu needs to work together and support each other as one.
And it just so happens that the date you've postponed the concert to, May 5th, is the day after Dontaku.
That's right. The 5th will be a day not only for LinQ fans but a concert that even first-timers can enjoy, with a distinctly Kyushu-taste, packed full of Fukuoka-isms.
We're based in Fukuoka, so come and watch us in Fukuoka, then go and eat a heap of delicious Fukuoka cuisine, then go and enjoy walking around the streets and taking in the sights of Fukuoka city.
It's in times like this when the people of Kyushu are hurting that I think LinQ has an important role to play.
I'll do whatever I can as a member of LinQ and as Yuumi Takaki to my absolute best.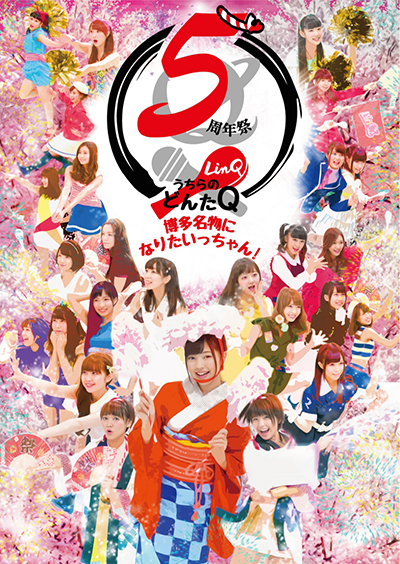 [In cooperation with: Kazuki Arimoto (photos/article)
PROFILE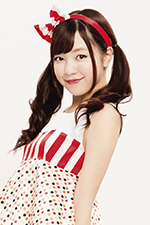 LinQ Yuumi Takaki
Kyushu-based national idol group "LinQ" debuted on April 17th 2011 and their name comes from the initials of "Love in Kyushu." The name of the band is loaded with meaning; through their activities they try to "link" people together from different areas and countries, and create a "Egao no Kakehashi (bridge of smiles and happiness)." As a part of their activities to regenerate local areas they have collaborated with local businesses and also actively participated in fund-raising activities.
Official Website:
http://loveinq.com/
Official Twitter:
https://twitter.com/LinQ_official
Official Facebook:
https://www.facebook.com/loveinq
PRESENT!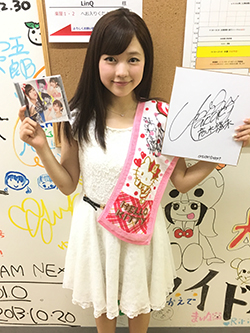 Three lucky readers
of asianbeat have the chance to win a card, a CD and a Hello! Kitty towel autographed by Yuumi Takaki! Don't miss this chance to win!
[Application Period]
Friday April 29th to Sunday June 5th 2016 (Japan Standard Time)
Announcement of Winners
Wednesday 8th June 2016
The application period is now over. Thank you!
The lucky winners are ...
- LinQ Yuumi Takaki signed card
セペダ san
- LinQ Yuumi Takaki signed CD
まさとっしー san
- LinQ Yuumi Takaki signed towel
GWing0 san......Congratulations!!
(Please note, winners will receive an email directly from asianbeat. If you don not reply with a confirmation message within a week, you application will become invalid and you will not be able to claim your prize.)
- Apology -
Thank you for your applications for the TEAM SAKUSAKU LinQ Yuumi Takaki present campaign. We apologize for a mistake in the description of one of the prizes. We mentioned that readers would be in with a chance of winning a signed Hello! Kitty T-shirt, however it is actually a signed Hello! Kitty towel. We're sorry for any inconvenience and will contact the winner to let them know.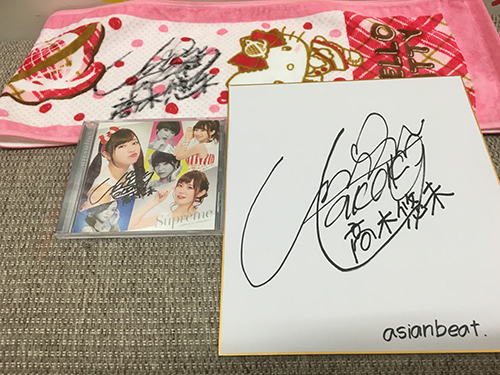 This comment section is for readers to leave opinions and comments. Inappropriate comments may be deleted, so please remember to be respectful. Thank you!