Vol.2 URBANGARDE Tenma Matsunaga - Boys Shall Wear Pink -

Be Assertive; Wear Pink
"You think that just 'cos I'm a girl I probably like pink, right? Give me a break. You think a girl's gonna go out and buy something just because it's pink? You couldn't be more wrong." Remarks like this in reaction to what has been dubbed the "dasa pinku gensho" ("tacky pinky phenomenon") have been erupting over the internet for some time now. As the theory goes, in this capitalist society we live in, predominately developed by men (old geezers?), female consumers have been imposed with this preconceived notion that they all love pink and all products made that are targeted towards women should be pink. And it's so true! Sanitary products, beauty products, cosmetics – if it's a product made for women, there's definitely an inclination to make it pink. The women you see walking around the city aren't all wearing pink, but even they have far more variation in their fashion than men, they still have to tolerate this "girl's like pink" attitude.
On the flipside, guys are quite restricted by what they can wear, too. It's not easy to be a man and wear pink. And even if a man wanted to wear something pink, you would be hard pressed finding somewhere that sells it. Personally, I think a pink shirt underneath a slim-line black suit oozes style. The pink CROWN that Takeshi was riding in the commercial was super cool.
Speaking from my own experiences, without even realizing it I started amassing a collection of small items and accessories that were pink. It started with earphones, pens and neckties, and then progressed to cushions, sweaters and even an iron. Whenever I show these things to people they always have a tendency to say "You're so girly!" and make fun, but wearing pink for me is the very act of asserting my manliness.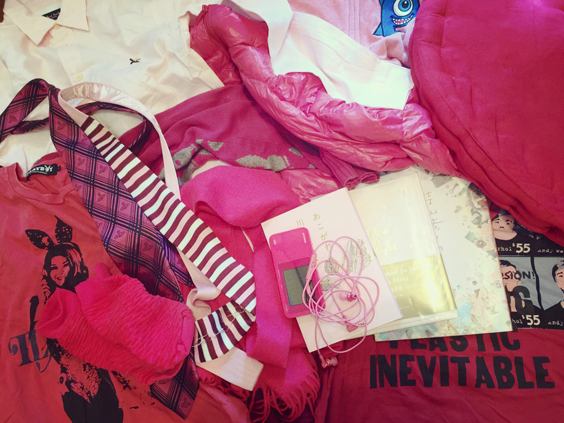 Here are some of the pink items I've collected out in my room.
In my opinion, the root of the tacky pink phenomenon is symbolism. "Girl = pink." Go a little deeper and it becomes "pink = kawaii," but I'm an advocate against such stereotypes. Why can't we have a "cool" pink or a "manly" pink, too? Tacky pink isn't solely a women's gender issue as I feel it will bring about the liberation of men's attitude towards pink as well.
Japanese people have a tendency to conjure images of erotic things when they think of the color pink, but erotic colors differ from country to country (in France it's blue, in China it's supposedly yellow) and I think the aversion towards the tacky pink phenomenon is more an antithesis towards the male magazine centered interpretation of woman as sexual objects (who are also romantically inclined and seek out romantic things).
The color pink is more diverse in its range of connotations than most people think. Depending on how it is used it might suggest cleanliness or grotesquery; it can look gaudy but it can also look elegant. Pink has a very one-dimensional place in modern history, and personally, I would like to see men work harder than women to help set it free. By "work harder" I really just mean "enjoy it more," though.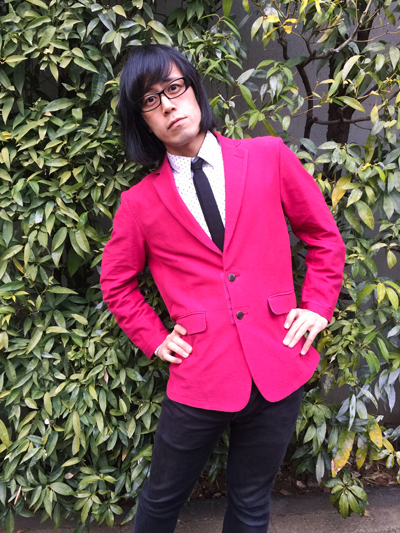 I prefer the loud and proud usage of color, rather than just a hint here and there, too.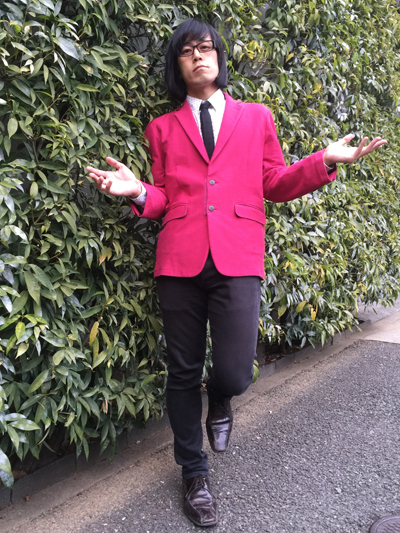 We're in spring. In Japan it's cherry blossom season. This is the perfect time to play around with this complex and mysterious color. Boys shall wear pink!
On a side note, an antonym-like movement in reaction to "dasa pinku" that has been gaining momentum lately is "otaku blue." Hopefully I'll get the chance to talk about this on another occasion. What's your favorite color?
PROFILE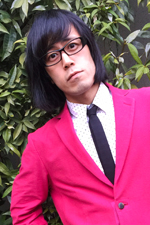 Tenma Matsunaga
Born in Tokyo, raised on techno-pop. Urbangarde vocalist, composer, artist and poet who also dabbles in writing and acting. Currently appearing in "Let's Tensai Terebi-kun" (NHK Kyoiku). His first publication, "Jidorishatachi" (Hayakawa Shobo), is currently on sale. He tells nothing but lies.
twitter:
@urbangarde
website:
http://urbangarde.net/
PRESENT!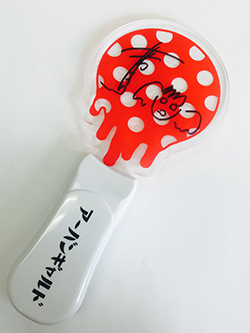 One lucky reader
of asianbeat have the chance to win a penlight autographed by Tenma Matsunaga! Don't miss this chance to win!
[Application Period]
Friday April 15th to Sunday May 22nd 2016 (Japan Standard Time)
Announcement of Winner
Wednesday 25th May 2016
The application period is now over. Thank you!
The lucky winner is...
七日 san
(Please note, winners will receive an email directly from asianbeat. If you don not reply with a confirmation message within a week, you application will become invalid and you will not be able to claim your prize.)
This comment section is for readers to leave opinions and comments. Inappropriate comments may be deleted, so please remember to be respectful. Thank you!