[INFORMATION] Kyushu/Yamaguchi CALL CENTER has been established for international tourists!
International toursits in the Kyushu/Yamaguchi area, use this service for for assistance in your travels!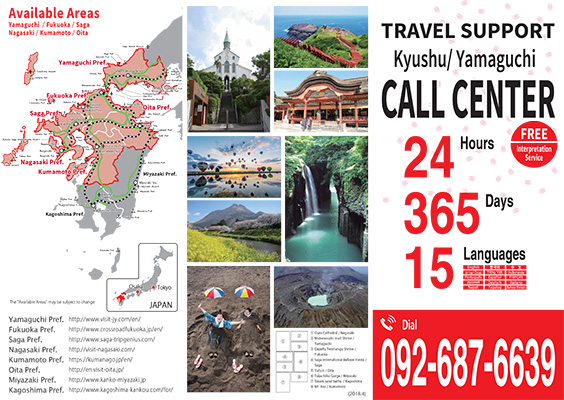 ■Kyushu/Yamaguchi CALL CENTER back of the flyer is
HERE
!
The Kyushi Yamaguchi Call Center began from April 2nd! This service was established to help international tourist visiting in the Kyushu/Yamaguchi area who need assistance in situations such as "difficulty in communicating at tourist spots or hotels" or "I'm running late to an appointment and I need to contact them".
The service is available in 15 languages and 24 hours a day, 365 days a year. Please utilize this service for any international tourist in traveling in the Kyushu/Yamaguchi area or for even tourist planning to travel in the area and enjoy a safe and comfortable time!
Kyushu / Yamaguchi CALL CENTER
TEL.: 092-687-6639
(
*The interpreting service is free, but the cost of the call will be charged to the user.
)
- Languages ​​available: English, Korean, Chinese, Thai, Vietnamese, Indonesian, Nepali, Tagalog, Portuguese, Spanish, French, German, Italian, Russian, and Malay 
- Support available: 24 hours-a-day / 365 days
- Service available to: International tourist
- Areas available: Yamaguchi Pref., Fukuoka Pref., Saga Pref., Nagasaki Pref., Kumamoto Pref., and Oita Pref.
Related Articles