#25 Magic Miku. Hatsune Miku's 3D Concert in Hong Kong and Taiwan
On October 2nd 2012, Hatsune Miku perfomed to some 3000 fans over two shows (midday and night) at Hong Kong's KITEC Star Hall.
Miku concerts are a coordination of 3D holographic imaging and live band, and they have been held in the past: three times in Tokyo and once each in Singapore and Los Angeles. So for the fans in Hong Kong and Taipei, this concert had been a long time coming. The event attracted fans from around China, many coming from Shanghai and Guangzhou to witness the spectacle.
Unfortunately, schedule clashes in the past have disallowed from seeing one of these concerts for myself, so this time was a first for me, but I can easily say, it went above and beyond any and all expectations.
Whenever a song would end and Miku would appear in a new outfit, or whenever Megurine Luca or Kagamine Rin/Len or one of the other Vocaloid characters would appear on stage, the crowd would stir into another frenzy. It was no different to the countless number of concerts I attended when I was a boy. It's the same feeling you would get watching any other first-rate concert, really.
Perhaps it was because I was in Hong Kong watching on amongst a whole crowd of young foreign people, but I couldn't help but admire how unique a country Japan is.
We're a country that does things that no other country is doing. Our way of thinking, the things we create, are like none other in the world. We're an island nation of 100 million people on the very edge of the Eurasian continent. Geographical speaking, Japan's position in the world is highly unique and if there's anything we should be proud of its these creative abilities we've developed from being a unique nation. And you could say that these Hatsune Miku concerts are a perfect example of this.
I believe it's for this reason that Hatsune Miku has captured the hearts of people all over the world.

Scenes from the Hatsune Miku concert in Taipei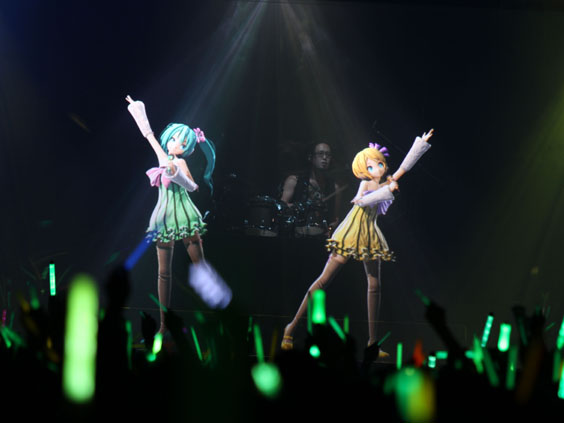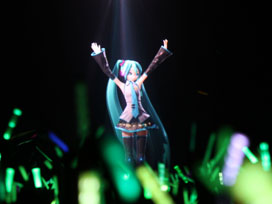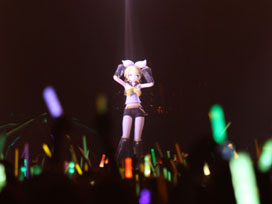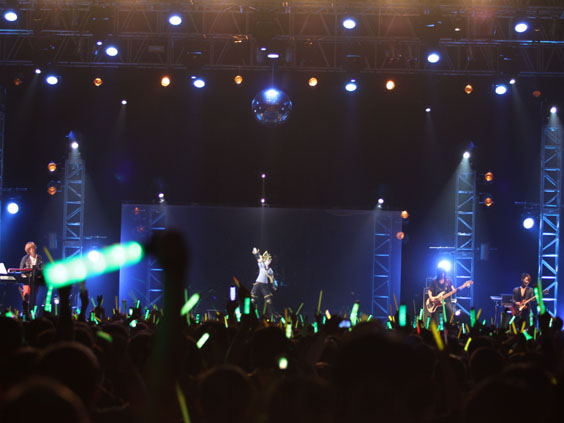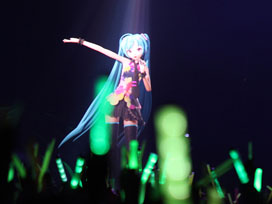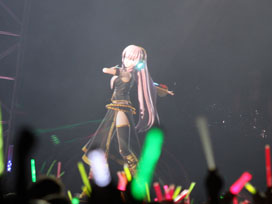 ©SEGA/©Crypton Future Media, Inc. Graphics by SEGA/MARZA ANIMATION PLANET INC. Organized by MIKUPA Overseas Partnership
Fan fashions and cosplay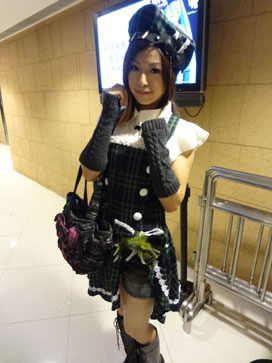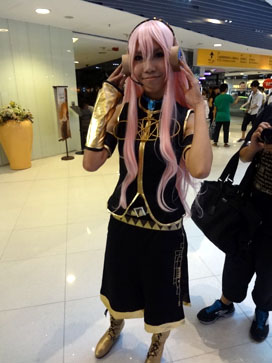 Hatsune Miku's public recognition has spread significantly in the past five years since her birth, with various newspaper features and convenience stores running their own special campaigns on the iconic character, but it was the youth of the world who recognized the value of this Japan-made creation long before we Japanese did.
The 3000 fans surrounding me at the concert in Hong Kong were all smiles. Their faces were those of sheer bliss as they screamed out their support for Miku.
People throughout the world understand how difficult it is to understand people of a different background and be understood, in turn.
But that's why I believe in the power of culture. And if the future is left to people like these Hatsune Miku fans, I'm confident we're in safe hands.
It's important to try and meet eye-to-eye with people on matters of an everyday level, and although there are various ways you can do that I think that that's what the people who gathered at the Hatsune Miku concert were able to achieve.
I'm really glad I got to attend this performance. If I can get my readers to understand even just a fraction of what I felt at this concert in Hong Kong, I'll be happy.

A new article every Wednesday!
Next time: The world of Japanese voice actors: a close-up

Columnist: Sakurai Takamasa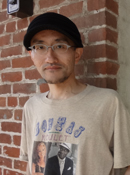 Contents Media Producer, author, journalist, managing director of Contents Street Inc. Chief Editor of iPhone magazine "Tokyo Kawaii Magazine" (ASCII Media Works), World Cosplay Summit Executive Advisor, Chief Researcher at Kodansha/Kodansha BC China Management Laboratory.
Cultural diplomat producing events in 103 cities in 24 countries. Books include "Galapagos-ka no susume"(Kodansha), "'Suteru' de shigoto wa umakuiku"(Diamond-sha), "Nihon wa anime de saiko suru
"(ASCII Shinsho), "Sekai no kawaii kakumei " (PHP Shinsho), and "Anime bunka gaiko "(Chikuma Shinsho). Writes regular columns in the weekly magazine "ASCII" and Yomiuri Shimbun.

●twitter http://twitter.com/sakuraitakamasa/
PRESENTS
All the info. on asianbeat's present campaign!