#85 Sakurai Takamasa and Uesaka Sumire's New Year's Discussion – Part Two – Is the Popularity of Japan Overseas Just a Minor Fad? Is it Niche?
This is the second installment in my talk with Uesaka Sumire following our stage appearance at Moscow's J-FEST, as we discuss the paths we look to follow in our line of work in cultural diplomacy.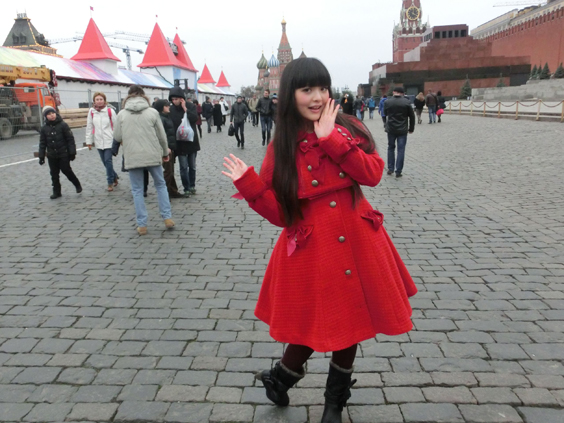 Red Square - Moscow.
Sakurai "The same goes for all those who came out to J-FEST, but don't you ever wonder why it is that people overseas love Japan so much, Sumire?"

Uesaka "I do, I do. I think it's because Japan is just that different. One of the main reasons I like Russia is because it's different to Japan in so many ways. The vast size of the country and the culture for example. But there are still things we have in common as human beings and I think that having differences is a good thing. In Japanese culture we have obento and seifuku, and overseas they have similar things like lunchboxes and military uniforms, but it's not the same. It's the appeal of a culture of a small, unknown island nation, isolated from the rest of the world – that's what Japan has. For Japanese people it's so commonplace that we don't realize our own uniqueness."

Sakurai "Japanese people like to travel around within Japan to places that are slightly different to their own, but I think we need to be more assertive about experiencing "differences" on an international level. Not just taking in the different scenery but the different customs and culture too."

Uesaka "In Doha and in Moscow, it was all so different to Japan, but it also felt so comfortable being there that I didn't want to come home."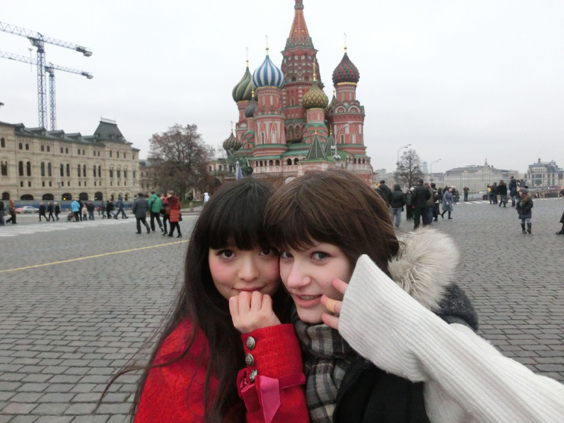 Red Square. Sumire with one of the Japan-loving Russian girls I've introduced here previously.
Sakurai "In regards to anime, I think one of the biggest factors is that Japanese creators are so sincere about the anime that they make."

Uesaka "You can feel the love in their work, right?"

Sakurai "That's right. I once heard, or read, a chef say that if your everyday work doesn't become tedious, you won't be able to put out good food. I think it means that following the everyday routine is the best method for producing a complete work. That's exactly what a workman's skill is. Of course it's important to want to create something new, but at the same time, you can't forget the Japanese mentality to carry out each and every job with care and precision. Embodying one's will and intent into the creation of something in earnestness and with care – this is the exact "takumi" (artisan) mentality behind "monozukuri" (a concept which embodies the art, science and craft of making things) in Japan."

Uesaka "There wouldn't be a single anime creator who would do the coloring of their work without any intent whatsoever."

Sakurai "There is significant meaning behind every color and every movement in Japanese anime."

Peeking inside a bakery in the street.
Is the Popularity of Japan Overseas Just a Minor Fad?
Sakurai "Japanese people think that popularity in Qatar or Russia means just a small handful of people. They sometimes say that it's just a minor fad for a niche group of people. Of course we've been to these places and we know better than anyone that we're not talking about an enormous number of people. But it's not zero. And there are far more people out there who love Japan than Japanese people can imagine.

Another amazing thing is that Japan lovers never have a bad thing to say about Japan. They always seek out the best parts of Japan and Japanese culture and they try and share that through social networking sites and such. So what, unless there are millions or tens of millions of fans you're just not going to do anything? That's what I would like to ask to those people who say that Japan fans are a niche market or a minority."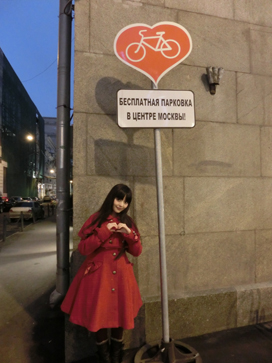 A kawaii street sign.
Uesaka "When you're talking about a niche or a minority, you're basically talking about putting a large group of people in a giant container and counting the specks. But when you see all the people who come out to an event, they certainly don't look like specks. I mean, there were 20,000 people who came out to J-FEST. I don't think that's something you can simply write off as niche."

Sakurai "It might be getting off subject a little, but even The Beatles started out small in a live house. It would be just like if people didn't bother to go see them because they thought, "Nah, these guys aren't that big," and just left it at that."

Uesaka "I think it makes no sense to squash a bud before giving it a chance to grow."

Sakurai "Just like with our cultural diplomacy activities in Qatar and Russia; if people think something is good or they like something, we have to follow through."

Uesaka "Yes!"

Sakurai "In the end, I think it comes down to how you view the possibilities. People throughout the world are just that different and at times I feel a sense of hopelessness as to whether the day when we all begin to accept and understand each other will even come, but the reason that I'm able to keep traveling around the world is because there are all these people from different countries who love Japan, who are behind me, pushing me on. We should all take a page from their book and just scream out, "Suki na mono wa suki!" ("I love what I love!"), right?"

Uesaka "Suki! I'll scream it."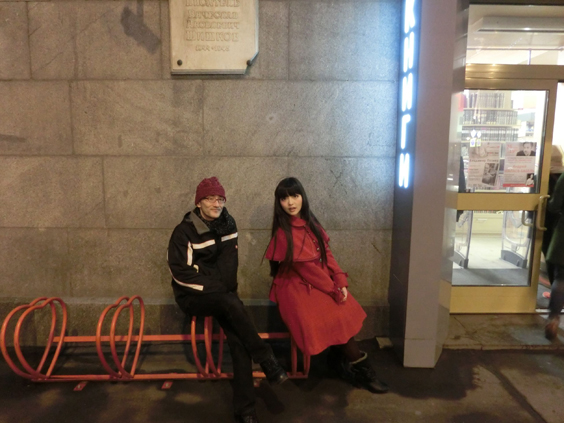 My fifth year to visit Moscow and the first time it hasn't snowed.
The Worldwide "Attack on Titan" Boom
Sakurai "I travelled to a number of countries in 2013, but the thing that left the biggest impression on me was the craze for "Attack on Titan." The simplest way of putting it: no matter where in the world I went to for an event, there were cosplayers equipped with "Vertical Maneuvering Equipment" everywhere. It's probably not since "Fullmetal Alchemist" that I've seen people all over the world become so infatuated with a single anime. What do you think it is about "Attack on Titan" that's made it such a global hit?"

Uesaka "I think it stems not from a particular character being funny or interesting, but simply from the universality of the story itself. Just like a world famous play. It's a story that just about anyone can relate to, it's quite intense and it also has these aspects of olden day special effects that give it a uniquely Japanese feel. Perhaps this is why it's been such a universal hit."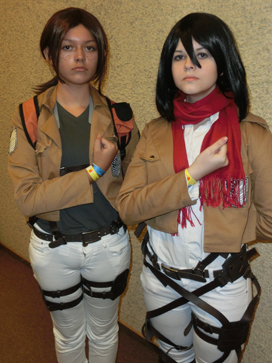 J-FEST - Moscow. "Attack on Titan" cosplayers.
Sakurai "It's a very anime-like anime, all the movements included. I think that the very appearance of such a series is extremely important to Japan. It has given the world one more word in the universal language which they can relate back to Japan."

The three-week special discussion with Uesaka Sumire and yours truly (Sakurai Takamasa) continues next week.
A new article every Wednesday!
Next time: Sakurai Takamasa and Uesaka Sumire's Three-Part New Year's Discussion – Final Installment.
J Pop Culture Observations
- Back Number

Columnist: Sakurai Takamasa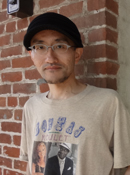 Contents Media Producer, author, journalist, managing director of Contents Street Inc. Chief Editor of iPhone magazine "Tokyo Kawaii Magazine" (ASCII Media Works), World Cosplay Summit Executive Advisor, Chief Researcher at Kodansha/Kodansha BC China Management Laboratory.
Cultural diplomat producing events in 103 cities in 24 countries. Books include "Galapagos-ka no susume"(Kodansha), "'Suteru' de shigoto wa umakuiku"(Diamond-sha), "Nihon wa anime de saiko suru
"(ASCII Shinsho), "Sekai no kawaii kakumei " (PHP Shinsho), and "Anime bunka gaiko "(Chikuma Shinsho). Writes regular columns in the weekly magazine "ASCII" and Yomiuri Shimbun.

●twitter http://twitter.com/sakuraitakamasa/