#86 Sakurai Takamasa & Uesaka Sumire's New Year's Discussion – Part Three – Otaku Girls in China and Uesaka Sumire are Very Much Alike
This is the final installment in the three-part series of my talk with Uesaka Sumire as we discuss the paths we look to follow in our line of work in cultural diplomacy.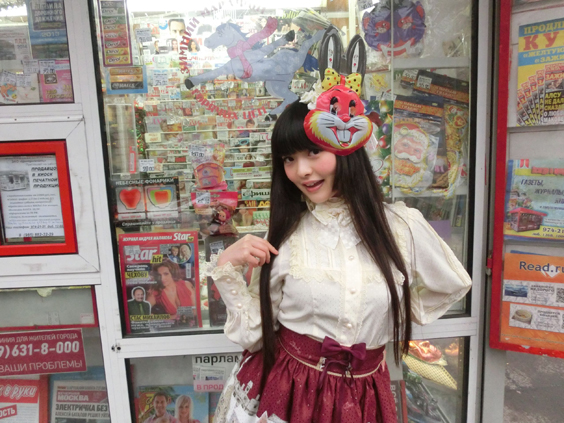 There are a lot of kiosk type stores in inner-city Mosocw.
Sakurai "Which country would like to visit with me next?"

Uesaka "It would have to be China. It's the country that comes up most in your stories and I think it's the country most up-to-date on Japan's otaku culture. I want to see the forefront of the global otaku movement with my own eyes and interact with the otaku there."

Sakurai "You see in surveys in the media that the vast majority of people consider Japan-China relations to be considerably poor right now, but doesn't that make you want to visit all the more?"

Uesaka "Interpersonal relations are different!"

Sakurai "At the end of the day, we just have to keep doing our best on an interpersonal level. Do you know what it is that draws me to China?"

Uesaka "You often say how it's "so comfortable" being there. The food is good, the eateries are always full of people and the people know a lot about Japan. At any rate, you always come back with stories of new experiences every time you go to China and it's definitely peaked my interest."
Otaku Girls in China and Uesaka Sumire are Very Much Alike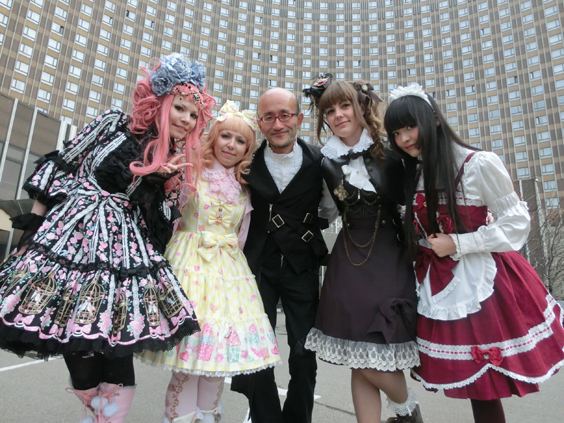 With the lolitas in Mosocw. My (Sakurai's) first reunion with them since 2009.
Sakurai "I think that the otaku girls studying at university in China and you, Sumire, are very much alike."

Uesaka "The way they gather information and research things, their love of cosplay and lolita culture – I think we probably are similar in a number of ways."

Sakurai "You can't mention China without mentioning cosplay! The passion for cosplay in China is incredible but I always wonder where that enthusiasm comes from."

Uesaka "I guess it's feelings of attachment to the characters that you like and the characters you look up to or want to be like, and I guess it's wanting to have fun creating a reality that blends both self and a work of fiction."

Sakurai "I think there are more otaku in China than anywhere else in the world. I think there are far more possibilities for the things we could do together there than in any other country. I think if you unleashed your otaku side full throttle, it could instigate a number of interesting chemical reactions over there."

Uesaka "That just makes me want to go even more."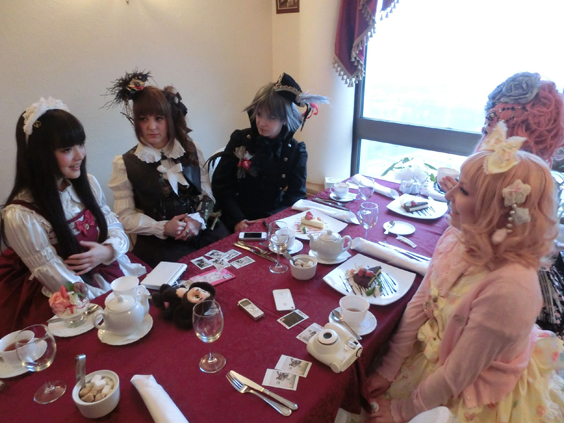 Moscow. Uesaka taking part in a tea party.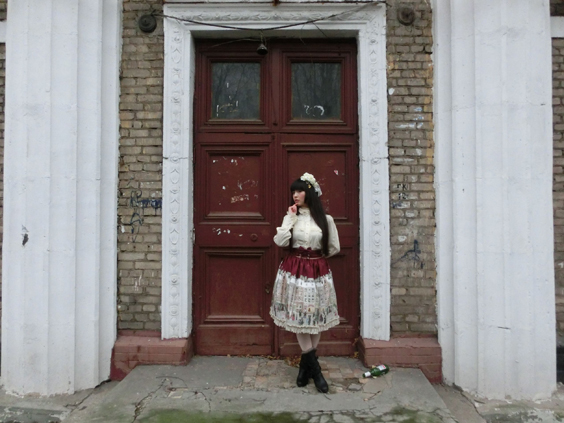 Moscow. A sight befitting of lolita fashion.
Sakurai "And lolita is really taking off in China right now, too."

Uesaka "Really?!"

Sakurai "Charismatic lolita model, Aoki Misako, was invited over there to take part in a tea party and her visits to China since then have increased apparently. Why not take part in a tea party in China yourself?"

Uesaka "I would love to! But, what's it like? It's kind of hard to imagine."

Sakurai "What was it like at the tea party in Moscow?"

Uesaka "Very kawaii! They were just like Japanese too, the way they nervously introduced themselves to the people they were meeting for the first time and asking things like, what do you like doing? and, where did you buy that?"

Sakurai "I've been to a tea party in China and it's really no different at all. I would for love you to go and see for yourself."

Uesaka "I always hear from you how the otaku in China are so quick to pick up on all the latest in Japan's otaku culture and I would love to ask them various questions and hear them tell me what things they like."

Sakurai "There aren't any other countries with as many girls who proclaim their love of BL (boys' love) as strongly as China."

Uesaka "So it's not something they feel they have to hide, then."
The Importance of Izakaya Discussions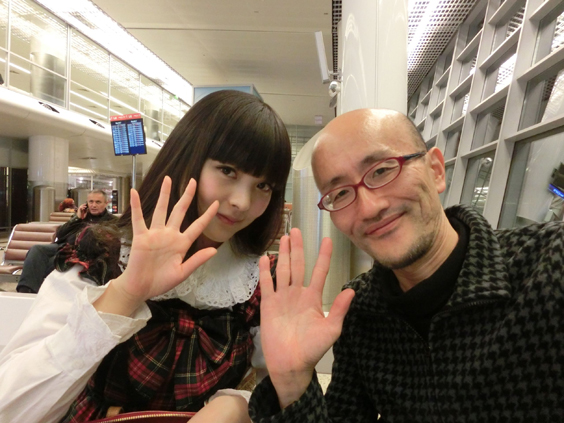 Where will cultural diplomacy take us next? You'll just have to wait and see.
Sakurai "This year we both took part in a live event that crossed genre boundaries, mixing idol, ani-song, rock, etc., right?"

Uesaka "Japan Pop Culture Carnival! It was so much fun!"

Sakurai "Because of the nature of this event we were able to hold a number of collaborations, like Urbangarde and Uesaka Sumire, and JAM Project and SU-METAL (BABYMETAL). There were no breaks and the concert went for close to 4 hours, but as producer and MC, I thought it was important to maintain the energy and keep going until the end."

Uesaka "All I had to do was get out there and perform! (lol) At J-FEST in Moscow, there was no director there to direct us and all the decisions regarding the program and progression of acts seemed to be made on the spot. I was surprised how carefree it all was."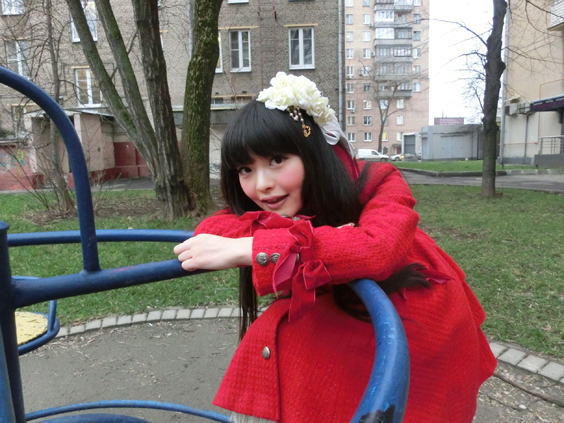 Sakurai "If there's a love between the performers and the audience, I think you have to value the energy of the moment as well."

Uesaka "I too think that the energy of the moment is incredibly important."

Sakurai "It's just like at an izakaya, wouldn't you say?"

Uesaka "There's no script at an izakaya and you're not restricted by time. But the things discussed there can be world altering."

Sakurai "The French and Russian Revolutions probably started out in a very similar way."

Uesaka "Izakaya changes history!"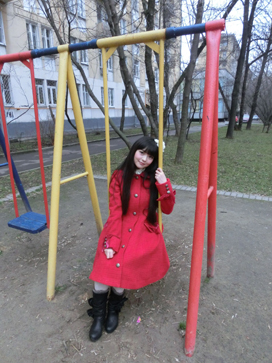 Moscow. A residential park I've wanted to take Uesaka to for a while.
Sakurai "We've both been fairly busy lately and the number of times we go out drinking has dropped dramatically, so we definitely have to do something about that. If you're not talking with others and continually filling your drawers with new material and ideas, you begin to wither in various ways."

Uesaka "I want to make 2014 a year to absorb new things!"

Sakurai "How about your language study?"

Uesaka "Of course I will keep up with my Russian, but I've always been interested in German and Chinese as well, so I would like to give learning those a try too."

Sakurai "There are lots of Chinese people in Japan so there's plenty of opportunity to study the language."

Uesaka "There are so many challenges ahead but let's just stay positive and embrace it all."
A new article every Wednesday!
Next time: A close-up with one of Thailand's popular cover-dance teams.
J Pop Culture Observations
- Back Number

Columnist: Sakurai Takamasa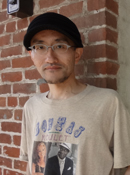 Contents Media Producer, author, journalist, managing director of Contents Street Inc. Chief Editor of iPhone magazine "Tokyo Kawaii Magazine" (ASCII Media Works), World Cosplay Summit Executive Advisor, Chief Researcher at Kodansha/Kodansha BC China Management Laboratory.
Cultural diplomat producing events in 103 cities in 24 countries. Books include "Galapagos-ka no susume"(Kodansha), "'Suteru' de shigoto wa umakuiku"(Diamond-sha), "Nihon wa anime de saiko suru
"(ASCII Shinsho), "Sekai no kawaii kakumei " (PHP Shinsho), and "Anime bunka gaiko "(Chikuma Shinsho). Writes regular columns in the weekly magazine "ASCII" and Yomiuri Shimbun.

●twitter http://twitter.com/sakuraitakamasa/