[J-Pop Culture Observations]#21 Two Thousand Americans Cheer on Popular Model, Yu Kimura, at Her First Ever Live Performance!

#21 Two Thousand Americans Cheer on Popular Model, Yu Kimura, at Her First Ever Live Performance!
I first met Yu Kimura at the beginning of 2009 when she was working as a model for the magazine "KERA." Soon after that she became a representative of Japan as the Ministry of Foreign Affairs' Kawaii Ambassador. I was the producer for that project and together we travelled around the globe to Paris, Barcelona, Beijing, Chongqing and Guangzhou, using Harajuku fashion as a medium for promoting cultural exchange and diplomacy. In a manner of speaking, you could say she was my cultural diplomacy partisan.

The same Yu Kimura then decided to devote herself to a career as a solo artist and this year gave her first ever live performance at New Jersey's AnimeNEXT. Performing for the first time, in the US of all places, is certainly no small feat, and even though I tend to go on about how the Japanese economy needs to get back-to-basics before taking on the world again, I felt it was really worth supporting Yu in this challenge she had set for herself.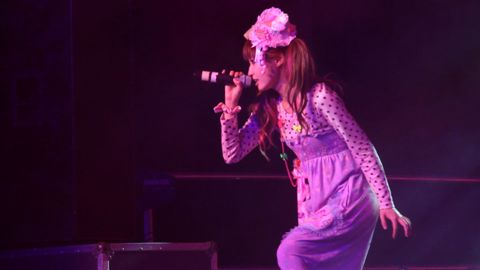 Yu Kimura's live solo debut in New Jersey.
The performance kicked off on Saturday night of June 6th, in front of a crowd of roughly two thousand.
Yu is quite a modest person and at times a spontaneous, somewhat airheaded Harajuku girl, and so when I saw her get up on stage, full of courage, it took me completely by surprise. That all-out attitude she showed during her live performance brought to mind a similar scenario I witnessed when she was the Kawaii Ambassador and modeling some Parisian styles for a fashion show we did together in Rome when she did an on-the-spot a cappella performance in front of a crowd of a thousand.
Watching a crowd of two thousand Americans getting completely absorbed in her songs was really something special to witness.

When Yu left the stage after her 20 minute performance she went and hid under the table where staff were selling her CDs. I will never forget those tears that she shed during that moment.

"Don't come back to Japan unless you sell more than 300 CDs!"
Was the lighthearted jibe from her manager, but somehow we managed to fulfill said orders!

The lyrics for "We are adventures!!" one of the tracks compiled on her first single entitled, "Chozetsu Harajuku Shojo Kakumei" (Transcendental Harajuku Girl Revolution), were done by Aki Hara and the composition by Tomokazu Tashiro who together worked on the "Melancholy of Haruhi Suzumiya" end theme song, "Harebare Yukai." The sight of a crowd of Americans cheering and getting caught up in Yu's catchy tunes is something I wish all Japanese could see.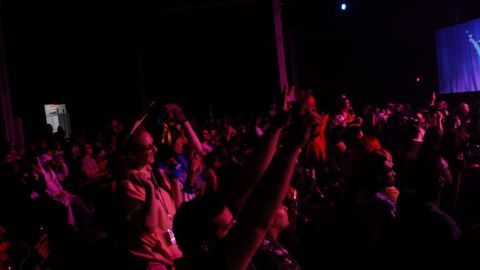 Performing in front of a crowd of 2000 at AnimeNEXT.
Making something original and of good quality, then packaging it to sell overseas. Given the current situation of things, this is the kind of attitude Japan needs to adopt right now I believe. Of course the internet and e-commerce are equally important, but there's something to be said for having the ability to gauge customer reaction and I think we'll start seeing a lot more e-commerce strategies shifting in that direction from here on.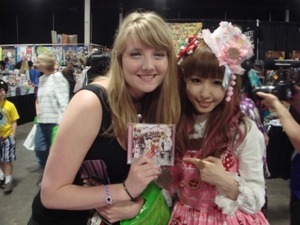 More than 300 CDs sold!
It took guts for Yu Kimura to seal off any inhibitions or uncertainties and take on a major consumer country like the US, and I believe her spirit will become the light that guides the way for the Japanese economy of tomorrow.

Good luck, Yu-chan!
Out Every Wednesday!
Next time: AnimeNEXT - the report continues! One Thousand Americans Dancing to the Beats of DJ Kanon's (An Café) Ani-song Mash-up!
Columnist: Sakurai Takamasa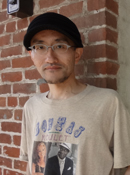 Contents Media Producer, author, journalist, managing director of Contents Street Inc. Chief Editor of iPhone magazine "Tokyo Kawaii Magazine" (ASCII Media Works), World Cosplay Summit Executive Advisor, Chief Researcher at Kodansha/Kodansha BC China Management Laboratory.
Cultural diplomat producing events in over 100 cities in 23 countries (as of July 1st, 2012). Books include "Galapagos-ka no susume" (Kodansha), "'Suteru' de shigoto wa umakuiku" (Diamond-sha), "Nihon wa anime de saiko suru
" (ASCII Shinsho), "Sekai no kawaii kakumei " (PHP Shinsho), and "Anime bunka gaiko " (Chikuma Shinsho). Writes regular columns in the weekly magazine "ASCII" and Yomiuri Shimbun.

●twitter http://twitter.com/sakuraitakamasa/

PRESENTS
All the info. on asianbeat's present campaign!