[J-Pop Culture Observations]#22 One Thousand Americans Dancing to the Beats of DJ Kanon's (An Café) Ani-song Mash-up!

#22 One Thousand Americans Dancing to the Beats of DJ Kanon's (An Café) Ani-song Mash-up!
As it turned out, the guests and many of the visitors at New Jersey's AnimeNEXT 2011 were staying in the same hotel and everyone had a blast. Since the hotel was right next to the event hall we were able to hold late night gatherings without any problems. This is one of the unique aspects of events in the US that you probably won't find in any other countries.

Kanon had about 1000 attendees dancing up a storm as he showcased his DJing prowess at the ani-song (anime song) rave.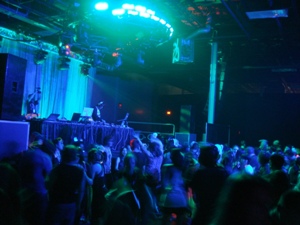 DJ Kanon works the 1000 strong crowd.
Indeed Kanon is a musician but he's also a self-professed otaku, so it seems he really knew how to please the other like-minded anime fans. He captured the hearts of the crowd in an instant and then cranked up the voltage. I'm sure Kanon would also make a formidable DJ were he to alter his profession. 

Many cafekko (term used to refer to Antic Café fans) also turned up to listen to Kanon's interview session. Amongst the crowd were fans that had been at all the same events we attended last year including Otakon in Baltimore and the New York Anime Festival. Kanon was in his element interacting with his fans and displaying a collection of his personal photos he took on his overseas travels last year.

I took to the stage after Kanon and gave a talk this time focusing on cosplay.
The number of cosplayers at AnimeNEXT was extremely high. I'm sure it probably had something to do with the fact that the hotel was so close-by that one could easily come and go and change in and out of cosplay as one pleased, but from what I observed, more than 70% of visitors were in cosplay of some shape or form.
The characters being cosplayed were also quite diverse. It was no surprise to see an abundance of Hatsune Miku's about as Vocaloid is massive the world over, and "Puella Magi Madoka Magica" was also popular, but what surprised me most was the number of Pokemon personifications on display.
In any case, AnimeNEXT turned out to be a cosplayer's paradise on par with that of Baltimore's Otakon.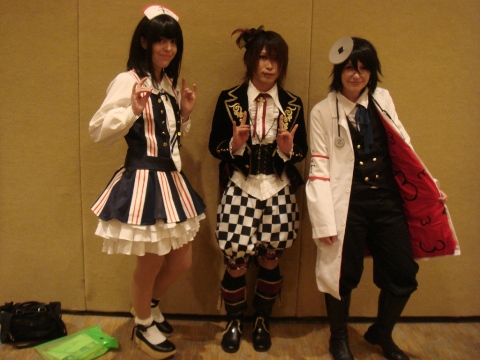 Kanon with "30-sai no Hoken Taiiku" cosplayers.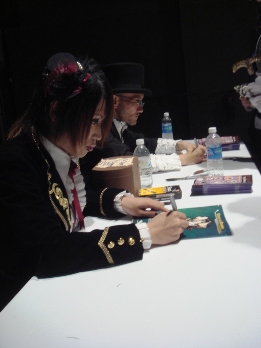 Autograph session with the prince (Kanon) and the butler (Sakurai).
 There was also a Taiwanese girl from Boston who was in the front row at mine and Kanon's discussion session and she could speak Japanese so we all hung out a fair bit after that, but her eagerness towards cultural exchange and her volunteering spirit were just outstanding. She even offered to make me a power point presentation in English and Chinese to use when I give talks overseas. I decided to take her up on her offer and she was able to complete the presentation consisting of more than 400 slides in one week. She was also quite versed on various aspects of Japanese pop culture like anime and visual-k so I felt reassured having her as a translator.

Something as simple as setting aside a little bit of your time just to do whatever you can to be of service in some way is a valuable mentality to have when it comes to cultural exchange.
It might not get you into the business world straight away but if everyone were to invest a little good-will here and there the essence of cultural exchange would change dramatically.

I'm often asked at public talks or university lectures these days, how does one go about making cultural exchange into a profession? My answer is always, don't just sit around waiting for offers to come to you, just get out there and do whatever is you can do within your capabilities no matter how small it may seem. And if you keep at it your efforts are sure to work out eventually, for you and for the world.
Out Every Wednesday!
Next time: A Message from the American Girls I met at AnimeNEXT and their Love of Hello!Project
Columnist: Sakurai Takamasa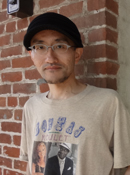 Contents Media Producer, author, journalist, managing director of Contents Street Inc. Chief Editor of iPhone magazine "Tokyo Kawaii Magazine" (ASCII Media Works), World Cosplay Summit Executive Advisor, Chief Researcher at Kodansha/Kodansha BC China Management Laboratory.
Cultural diplomat producing events in over 100 cities in 23 countries (as of July 1st, 2012). Books include "Galapagos-ka no susume" (Kodansha), "'Suteru' de shigoto wa umakuiku" (Diamond-sha), "Nihon wa anime de saiko suru
" (ASCII Shinsho), "Sekai no kawaii kakumei " (PHP Shinsho), and "Anime bunka gaiko " (Chikuma Shinsho). Writes regular columns in the weekly magazine "ASCII" and Yomiuri Shimbun.

●twitter http://twitter.com/sakuraitakamasa/