[J-Pop Culture Observations] #26 Flash Report! Former "Morning Musume" Member, Linlin, Returns to the Stage in Harbin!

#26 Flash Report! Former "Morning Musume" Member, Linlin, Returns to the Stage in Harbin!
I know I've mentioned this before in various articles in various places, but Morning Musume's live performance that I got to see at the Paris Japan Expo in July 2010 was outstanding.
This was not a free event, so seeing 4000 French people rocking along to a Japanese idol group performance that they paid money for (about 30 Euros) really showed me the potential of Japanese talent overseas.
What took me even more by surprise though, was the sheer quality of that performance. After witnessing their performance I became a firm believer in the talent of Morning Musume and Hello!Project and I have continued to vouch for them in my writings ever since.

After the graduation performance (the special concert that's held when a Morning Musume member announces they are leaving the group) that was held at Yokohama Arena in December, I interviewed group member, Linlin, for a newspaper serialization right before she went back to China. I showed her some photos of Shanghai's COMICUP event which I had also used in my serialization, to which she responded, "Is this really China? I want to cosplay too!" her eyes sparkling as she spoke. It was during that interview that she also made a promise to me, "Let's put on an event in China that will help bridge relations between Japan and China!"

Nine months later and all thanks to the cooperation and support from a lot of people, the first step to making that promise a reality came to fruition in Harbin, northeast China.
"Why Harbin of all places?"
I was asked this by many people and as I commented on Twitter, "In order to make Linlin's promise to me a reality we needed the support of a lot of people in Japan and in China. The place where we found that support happened to Harbin. If I get the opportunity I would like to write about the path we took and the processes involved in getting there."
This event was also an important aspect of cultural diplomacy, so I'm going to take this opportunity to write a bit about it here.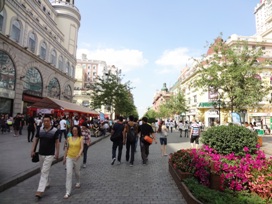 Central Harbin where the performance was held. The beautifully stone paved mall goes on and on.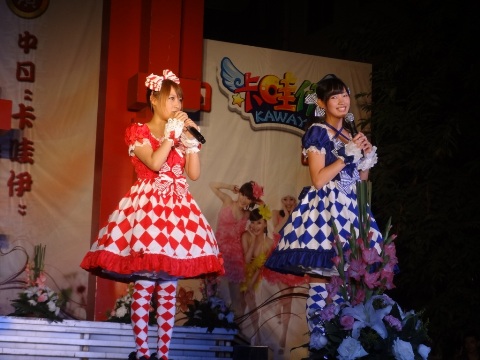 Linlin got the crowd fired up emceeing in Japanese and Chinese. Akari Saho also introduced herself in Chinese.
As a finale to the "Kawaii Fashion Show," at around 7:30pm on August 27th 2011, Linlin, who also took part in the fashion show as one of the models, along with one of the members from Japan's UP-UP GIRLS(仮), Akari Saho, together performed a special duet performance. This was the Linlin's first stage performance since her graduation at Yokohama Arena.
They sang Morning Musume's "Love Machine" and "Mikan," and they really looked like they were having a ball. The event was held in the town centre of Harbin, at a public square of a stone paved pedestrian mall. The majority of spectators looked to be just passing through but then got caught by the allure of these two girls' performance, which could easily have been mistaken for being completely original mind you.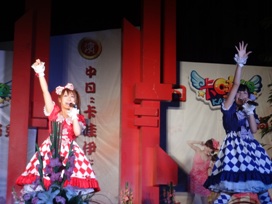 Four song live performance. It was a shame it had to end so soon.
The final song they performed was a Teresa Teng classic, "Give yourself to the flow of time" (in Japanese, "Toki no Nagare ni Mi wo Makase"). This song is so famous in China that I doubt there would be a single person who doesn't know it.
During my stays in China I too have heard this song played in various places and have even sung along to it with Chinese people at parties and such.
Alternating between Japanese and Chinese the two girls created their own rendition of "Give yourself to the flow of time" and the spectators all joined in.
After the performance they joined me for an interview and we sang the hook of the song once more with everybody at the venue. That was truly a moving experience; I found myself forcing back tears.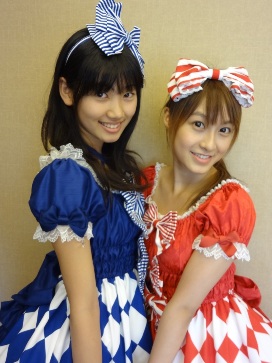 They performed in the clothes they wore for the fashion show.
There were spectators who just happened to be passing by this bustling spot at this exact time on the weekend, and there were also fans from Japan and from China who travelled a long way to be a part of this event. It was a moment in time that we all got to experience and witness the power of song and its ability to bring people together.
"That was so much fun!" The girls said, grinning from ear to ear as they left the venue. "Let's do this again." They also left some glowing comments on the event on their blogs.
I still have more to say on the event and cultural diplomacy in Harbin, so stay tuned!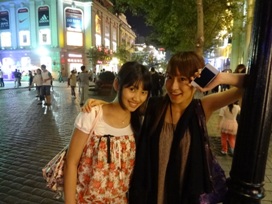 20 year old Linlin, 16 year old Akari Saho and one happy reunion in Harbin.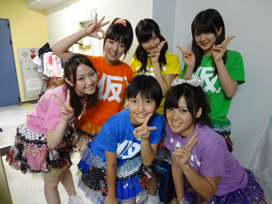 Soon after returning home - Up-Up Girls backstage at one of their live performances (member Minami Sengoku absent for the performance).
Out Every Wednesday!
Next time: DJ Saoririsu carves up the decks at America's much loved "OTAKON"!

Columnist: Sakurai Takamasa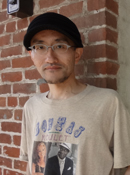 Contents Media Producer, author, journalist, managing director of Contents Street Inc. Chief Editor of iPhone magazine "Tokyo Kawaii Magazine" (ASCII Media Works), World Cosplay Summit Executive Advisor, Chief Researcher at Kodansha/Kodansha BC China Management Laboratory.
Cultural diplomat producing events in over 100 cities in 23 countries (as of July 1st, 2012). Books include "Galapagos-ka no susume" (Kodansha), "'Suteru' de shigoto wa umakuiku" (Diamond-sha), "Nihon wa anime de saiko suru
" (ASCII Shinsho), "Sekai no kawaii kakumei " (PHP Shinsho), and "Anime bunka gaiko " (Chikuma Shinsho). Writes regular columns in the weekly magazine "ASCII" and Yomiuri Shimbun.

●twitter http://twitter.com/sakuraitakamasa/