[J-Pop Culture Observations]#27 Otaku Girls of Japan: the Most Popular Girls in the World!? DJ Saolilith at OTAKON
#27 Otaku Girls of Japan: the Most Popular Girls in the World!? DJ Saolilith at OTAKON
OTAKON, now in its 18th year, is America's longest running anime event and in July this year, for the second year in a row, I had the opportunity to attend as one of the guests.
First of all, about 80% of the visitors at OTAKON are cosplayers! And I'll report more on the various aspects of this event and the city of Baltimore which is obviously somewhat of a haunt for otakus in my next article also, but in this installment I want to introduce one of the program highlights for me during the event, DJ Saolilith's ani-song (anime song) rave.

On the night of July 29th, in front of what looked to be an audience of about 2000, Saolilith began her DJ set. I've witnessed ani-song DJ sets in America before, one of which came courtesy of Ancafe's Kanon which I've spoken of in this column previously, but no matter how many times I witness it it's always just incredible fun that transcends any borders of nation or race.
"I wasn't expecting such a big turn out," Saolilith told me excitedly when I spoke to her backstage the following day. "I was such a big fan of anime when I was a kid and as I got older that never changed."
Not being afraid to say what you like – it's such a simple thing but a thing seems to resonate at anime events overseas.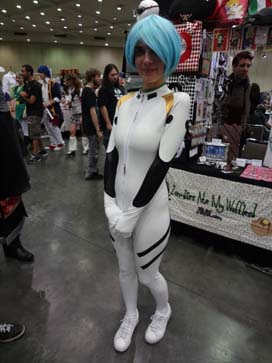 Drawing a crowd of roughly 31,000, OTAKON is chock-full of cosplayers!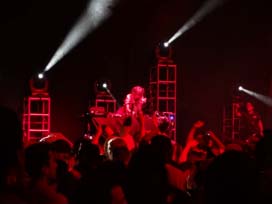 Saolilith's ani-song rave.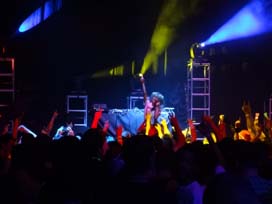 Ani-song rave.
"There's an individuality about the event visitors in America that reflects a certain freeness of the country they live in. This was my first time performing a set overseas and I did a bit of research online before deciding which songs to go with, but in the end everyone just seemed enjoy the night in their own way."
As I watched Saolilith's performance I thought to myself, Japan's league of otaku girls are quite possibly the most popular girls in the world right now. And if not the most popular then not too far off.

The final song for the OTAKON ani-song rave, and always the last song DJ Saolilith spins when she plays at a new spot for the first time, was ℃-ute's "Ookina Ai de Motenashite." It's the ending theme song to the anime, "Kirarin Revolution."
Saolilith is also a big fan of Hello!Project and upon returning to Japan she attended one of their live performances.
Like what you like! It's a message from supporters of Japan and Japanese pop culture overseas that isn't bound by age or nationality or language. I find that their straightforward mentality provides me with encouraging nudge from behind when I need it, but I also feel that Saolilith herself is a symbol of the world's feelings towards Japan.
Otakus are popular. It would be such a shame for the young people of Japan not to go overseas and witness this fact for themselves.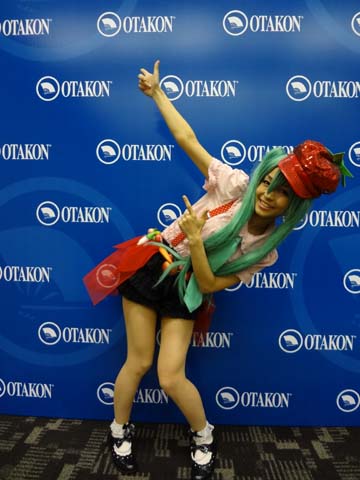 DJ Saolilith also performing a bit of otagei.
Out Every Wednesday!
Next time: Big in America. Japanese brand Sixh on the world stage – the OTAKON fashion show magazine write up!

Columnist: Sakurai Takamasa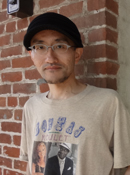 Contents Media Producer, author, journalist, managing director of Contents Street Inc. Chief Editor of iPhone magazine "Tokyo Kawaii Magazine" (ASCII Media Works), World Cosplay Summit Executive Advisor, Chief Researcher at Kodansha/Kodansha BC China Management Laboratory.
Cultural diplomat producing events in over 100 cities in 23 countries (as of July 1st, 2012). Books include "Galapagos-ka no susume" (Kodansha), "'Suteru' de shigoto wa umakuiku" (Diamond-sha), "Nihon wa anime de saiko suru
" (ASCII Shinsho), "Sekai no kawaii kakumei " (PHP Shinsho), and "Anime bunka gaiko " (Chikuma Shinsho). Writes regular columns in the weekly magazine "ASCII" and Yomiuri Shimbun.

●twitter http://twitter.com/sakuraitakamasa/