#32 Linlin and Akari Saho team up for a performance in Harbin, China!
I reported in issue #26 of this column that Morning Musume graduate, Linlin, and Akari Saho of Up Up Girls, recently took part in an event in Harbin. Now I'm going to fill you in on all the finer details of that event.

For 16 year old Akari, this trip to Harbin was her first time treading on foreign soil. You have to admire her courage though; not only was this her first visit overseas but she was there to perform in front of a crowd who most likely had no idea who she was.
Harbin is also home to the vast Amur River (in Chinese "Heilongjiang" – literally Black Dragon River). Almost immediately after arriving in Harbin we got to see the afternoon sun sink beyond the distant shores of the Amur and we were almost lost for words having witnessed something so beautiful so suddenly.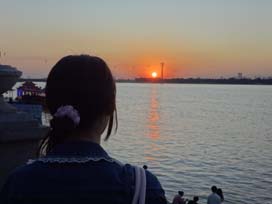 Akari watching the sun set across the Amur. I'm sure this will be a memorable sight for Akari on the first day of her first overseas visit.
In the car on the way to dinner, Akari phoned through to the Up Up Girls who were in the middle of a live performance and gave them an update of her status. I'm sure the audience got a real kick out of her sudden appearance (if only via telephone).
Linlin met up with us for dinner – the first chance we'd had to catch up in a while.
"It's kind of bizarre how we didn't have a clue who each other were up until last year, and now here we are in Harbin about to put on this event together."
We chatted away, not once forgetting all the hard work and support from countless people that it took to make this event happen and fulfill Linlin's promise to do something to strengthen China-Japan relations.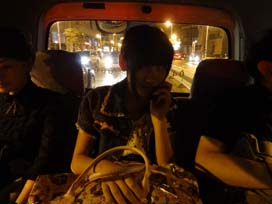 Akari Saho phoning through to the Up Up Girls in mid live performance.
Also taking part in this event, designer of popular Japanese brand Chantily, Fumiko Kawamura, who lent her support in the design of Linlin and Akari's stage attire. The idea behind this event was to use music and fashion to help bridge the gap between the two cultures. There are always events being held overseas that combine elements of Japanese pop culture like anime, fashion and music, but I think that there needs to be more involvement in these events from the Japan side as well.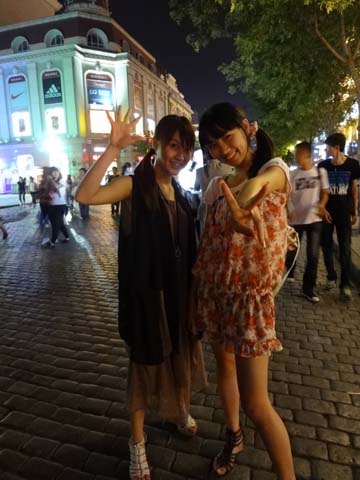 Wandering the main street of Harbin. There's a very Russian feel about the place. The live performance was also to be held in this area.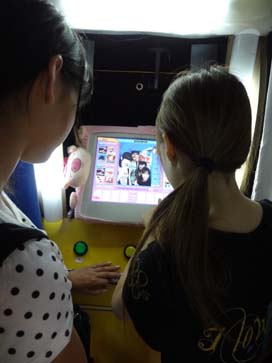 Trying out the Chinese 'purikura.'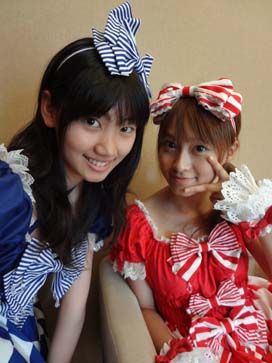 Linlin and Akari get fitted for their Chantily outfits.
We ate various Chinese dishes during our stay, but for Akari Saho, just about everything we ate was a first for her – and she ate everything with such joy on her face too. This is a good attribute to have though. Being able to visit any country and enjoy whatever food is put before you is certainly one thing that's going to work in your favor if you're trying to make a living travelling around the world.

At 7pm on August 27th, the "China-Japan Kawaii Fashion Show" kicked off.
Following a break dance performance, a group of local Harbin girls, who I selected for this event at an audition the day prior, took to the catwalk for the Japanese fashion show. Appearing at the very end to close the fashion show were Linlin and Akari, and they remained on stage in their Chantily outfits, going straight into the live performance.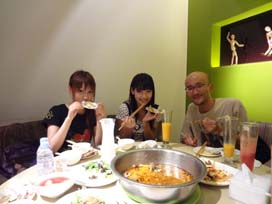 Everything we ate in Harbin was delicious.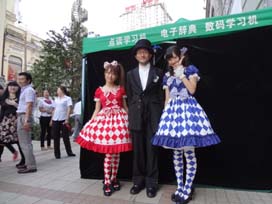 Back stage before the show. My attire courtesy of "ALICE and the PIRATES"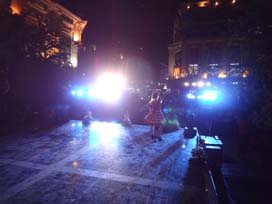 Fashion show grand finale: Linlin takes to catwalk.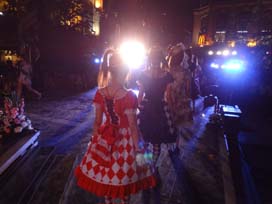 All models perform one last lap of the stage for the close of the fashion show.
This also happened to be Linlin's first time back on stage since her graduation performance at Yokohama Arena in December 2010, and it looked like she was having a ball. When the two performed Morning Musume's hit songs "LOVE Machine" and "Mikan," it was almost like the songs were made specifically for these two for this very night.
I take my hat off to the both of them though; even though it was their first time performing together they choose to do it in a pedestrian mall where most likely hardly anybody knew who they were, but they pulled it off. They still managed to draw in the crowds proving just how professional they are.

And with that Linlin fulfilled the promise she made to me in December last year. Although nothing is planned for the near future as yet, I still feel there is so much more we could do. But looking back on the path we've taken to get to this point, it truly was a night I will never forget, and a night when I got to witness the power of song and it's ability to bring people together.

I can't wait for our next reunion!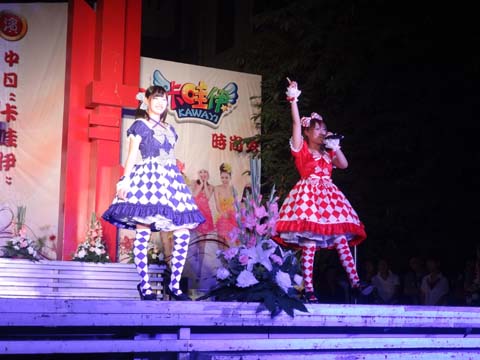 "Mikan" and "LOVE machine" were a hit with the crowd at Linlin and Akari's mini-live performance.
Out Every Wednesday!
Next time: Interview with Inoue Shunji, the head of LANTIS – the company that keeps rolling out the ani-song hits like "Hare Hare Yukai" and "Motteke! Sailor Fuku"

Columnist: Sakurai Takamasa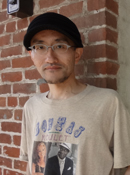 Contents Media Producer, author, journalist, managing director of Contents Street Inc. Chief Editor of iPhone magazine "Tokyo Kawaii Magazine" (ASCII Media Works), World Cosplay Summit Executive Advisor, Chief Researcher at Kodansha/Kodansha BC China Management Laboratory.
Cultural diplomat producing events in over 100 cities in 23 countries (as of July 1st, 2012). Books include "Galapagos-ka no susume" (Kodansha), "'Suteru' de shigoto wa umakuiku" (Diamond-sha), "Nihon wa anime de saiko suru
" (ASCII Shinsho), "Sekai no kawaii kakumei " (PHP Shinsho), and "Anime bunka gaiko " (Chikuma Shinsho). Writes regular columns in the weekly magazine "ASCII" and Yomiuri Shimbun.

●twitter http://twitter.com/sakuraitakamasa/