"gate's cinema meets SOL FAMILIA 5th Anniversary Party" Photo Report - part 2(1/27)
"gate's cinema meets SOL FAMILIA 5th Anniversary Party"
Fri. November 9th, 2012 @ gate's BLD 8F & 3F (PLUG)
SPECIAL GUEST:STEVE AOKI/Yonehara Yasumasa/Jillian Kate/Maya Kibbel
DJs:MARIO1977/C.Dreads/CUNTA/KENKICHI(LIFT)/BRUCE/MIZ(TOMOE)/ESAKI(TOMOE)/SEIKI NANRI(MINOTAUR)/Ha-gen-Dazs(BLACK OUT)/WCKMNN(JAMEVIEW)/ANI & La Vidr(marbles)/TSUDA(平和台)/KO-HEY(October Clutch Flower)/I.G.B /MIZUKI/Tsuru/Takya Hamagami/JAJAMARU and more...
VJ:SEEBA
PERFORMANCE:Yamamoto Kayo/YAMAGUCHI TAKASHI/BLUE RIVER/Hunt(FREE)/Douglas(666 FIXXER)
 "gate's cinema" is the latest addition to the "gate's" party series that has, to this date, boasted some of the biggest events in Kyushu party history. This time around "gate's cinema" teamed up with local popular restaurant "SOL FAMILIA" to celebrate the store's 5th anniversary. Held over two floors (8F and 3F "PLUG"), the event saw an array of first rate performances and a stellar lineup of artists that included none other than global DJ superstar,
STEVE AOKI
. Also in the lineup were
Yonehara Yasumasa
, performing for his third time at Gate's (both of these artists have been interviewed by asianbeat on previous occasions - see links), as well as model, Jillian Kate, and Maya Kibbel, the Japanese representative for the popular photo site,"The Cobrasnake."A total of 28 acts performed on the night but the show stopper was without doubt, DJ Steve Aoki, who tore the crowd up in what was his first ever Fukuoka performance. Never before has a club night in Fukuoka been able to boast the talent or the numbers that Gate's has with its latest collaboration mega bash. It was a night that will be forever etched into Fukuoka party history and the minds of those lucky enough to be there!
● Steve Aoki's first time playing in Fukuoka but he certainly left his mark on the city!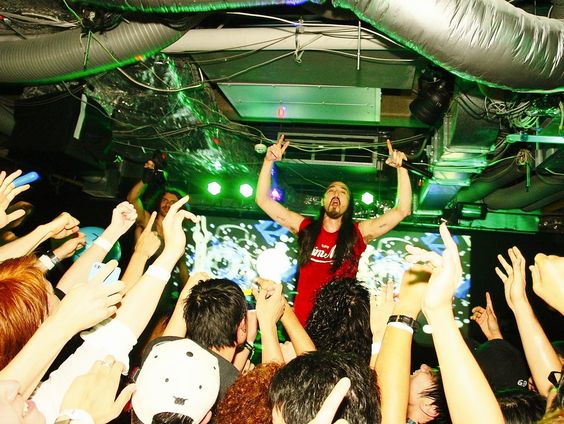 PARTY SNAPS - TOP