[ICON] Yonehara Yasumasa - Cheki Wielding Photographer and Spokesman for Youth Culture(1/3)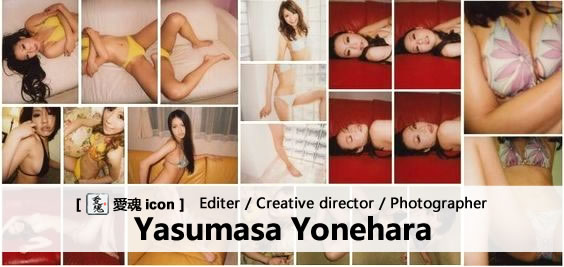 Image:DVD"momi☆ero"
Armed with his trusty "Cheki" (an instant camera developed by Fujifilm) and trademark baseball cap, Yasumasa Yonehara is a photographer in hot demand – and not just in Japan. He has also made a particular name for himself in Taiwan and is now very much sought after on a global scale (all over Asia, Europe and the United States).
He began his career as an editor, working at such magazines as "egg," "aufoto," and "smart girls," and it wouldn't be any exaggeration to say that his works, which constantly seek to redevelop and modernize the female image, are in fact the evolution of modern day girl's culture in Japan.
Yonehara has constantly been observing the changes that have taken place in Japan and the world from a bird's eye view, particularly with regards to girls and girl culture, and in doing so has witnessed first-hand some of the various problems that plague Japanese society. We asked Yonehara for his thoughts on modern society and the adults that he says ruined Japan. So just how are the youth of today supposed to express themselves and survive in this difficult era? We turned to Yonehara and the wisdom of his words for the answers.
Writing and taking photos is also a part of an editor's work.
asianbeat (herein 'ab'): Yonehara, what was it that lead you to become a magazine editor and how exactly did you progress from there to becoming a photographer?
Yonehara: I may take photos now but I consider myself to be an editor, essentially. I take photos and write the visual contents myself just as an editor would. It's just that the photographic side of things seemed to take off and that's why I'm in this position right now. I had a part-time job at Shueisha when I was a university student. The pay was pretty good and I even received bonuses, so I lead a fairly luxurious student life back then. We didn't have e-mail then like we do now either, so part of my job was going to pick up actual scripts written by the writers. I spent a lot of my time playing around back in those days too and eventually all the networking and information I gathered during said playtime lead to other jobs, I learned how to write articles, and before I knew it, I had landed a publishing job without once even having to go through the whole "job-hunting phase." And that's how I got to be where I am today.
.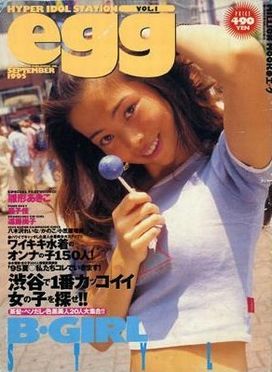 ab: And following that you launched "aufoto" and "smart girls"?

Yonehara:During my time at the publishing company I was editing and writing but I still felt like it wasn't really my own work so to speak. The image that publishers perceive to be the archetype consumer was also rather dated. I'm sure nothing much has changed since then, but back then their so-called ideal consumers were idiots who fork out cash without thinking. So in a nutshell the major importance was the buying of "things."
From about the 1980s onwards, the focus of publishing companies became creating these consumers who didn't think, just bought, and I didn't want to be a part of that. So at the time all we had were brainless product-pushing magazines on one hand, and new-age type idealists like Akira Asada on the other. These were complete polar opposites but I wanted to be somewhere in the middle of the two, and that's when I came up with "egg," "smart girls" and "aufoto." "aufoto" was mostly close-ups of amateur models but then I decided to start taking my own photos for "smart girls" using a Cheki, so I guess it was around 2003 that I started carving a career for myself as a photographer.
Generally I'm only working on the projects that I've developed myself so I rarely take on any outside work.

Why can't Japanese people just be proud of themselves?
ab:What was it that lead you to take up photography yourself?
.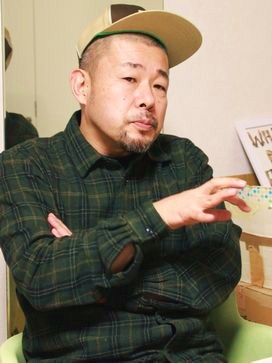 Yonehara: I've always loved photos. I used to make photo books back when I was doing freelance editing. One was "NUDITY" with Miho Kanno. I've always been surrounded by photographs so I don't think that the move to photography was so unexpected. Then in 1997, around the exact same time I created "aufoto," American and European style photos became the big thing in the world of photography. But I never quite understood why we couldn't admit as Japanese that our style was good in its own way too, though. Japanese cameramen working for fashion magazines would try to create a view of the world that wasn't our own by making the Japanese models pose like foreigners. At photo shoots they would say things like "give me New York," or "pretend you're in London." If you want New York that badly why don't you just go to New York! Why do we try so hard to be something we're not? Why can't we just be proud of who we are as Japanese?
In the 1990s, when the foreign magazine "i-D" was in its heyday, they did a fashion shoot in a downtown part of Japan as well as a regular residential area.
I thought that was pretty cool. I think it was the blending of regular life (downtown) with irregular life (high fashion). Why is it that we couldn't do that ourselves though? It's like we've become so immersed in Western culture that we're too afraid to just be Japanese for fear we won't be accepted.