"ULTRA KOREA 2014" DAY 1 Photo Report(1/27)
"ULTRA KOREA 2014"
UMF KOREA 2013
@ Olympic Stadium Complex, Seoul Korea.
June 13th(FRI) - June 14th(SAT)
ULTRA POOL PARTY
@ Sheraton Grande Wakerhill River Park Pool, Seoul, Korea.
June 15th(SUN)
6/13 DAY1: Above & Beyond/Steve Aoki/Empire of the Sun/The Bloody Beetroots/Laidback Luke/Nervo/Chris Lake/ Mitomi Tokoto/Fear and Loathing in Las Vegas/Dexpistol and more...
This year marks the third annual "ULTRA KOREA (UMF KOREA) festival, which took place over a period of two days - June 13th (Friday) and 14th (Saturday). On a bigger scale than any of the previous events, the festival was held at the Olympic Stadium Complex, with a total of over 80 different artists performing on four different stages. Well-known artists such as STEVE AOKI, THE BLOODY BEETROOT, EMPIRE OF THE SUN ft. Laidback Luke, STEVE ANGELLO, M.I.A., and FAR EAST MOVEMENT were also joined by 7 Japanese artists such as m-flo, CREAM, and DEXPISTOLS and it seemed that the performances were more full of energy than all the years before. Especially when m-flo DJs took to the stage at night everyone in the crowd went wild and put their hands in the air. On the 15th (Sunday) the party was moved to the Sheraton Grande Wakerhill hotel pool, located on a hill that overlooks a riverside. The cool, relaxed atmosphere was great and the party was a success!
There were noticably more participants from overseas this year and with after partys following each event, all of Seoul was in full party-mode for three consecutive days. In September, the "ULTRA JAPAN" festival is scheduled to take place in Tokyo Odaiba and it seems like the asian music scene will be coming back in full force.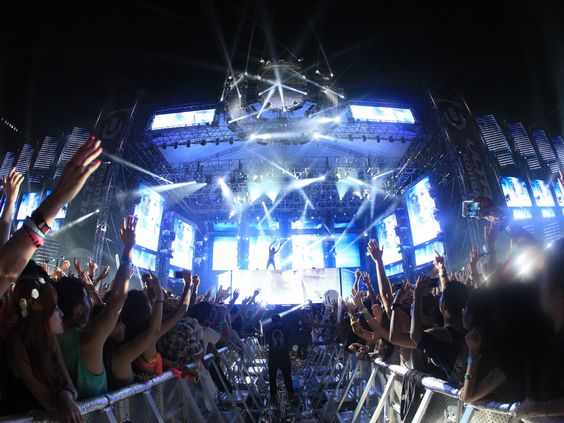 >>> PARTY SNAPS - RETURN TO TOP