#20 A Shanghai Street Store and the University Students Striving for "Kawaii" Relations in China – The Japanese People in China Bringing the Two Countries Together(1/3)

Since I first began my cultural diplomacy activities in 2008, I've traveled around to over 140 cities across 25 different countries. One of the countries I've frequented most is China. From January 2010 to January 2015, I've carried out various diplomatic activities in China 23 times, visiting 42 different cities. A lot of what I see in the undertaking of these activities is rarely reported in Japanese media and I compiled these findings into a book in 2013, called "Nihon ga Sukisugiru Chugokujin Joshi" (The Chinese Girls with too much Love for Japan) (PHP Shinsho). If you get the chance, please have a read.
More recently, in January 2015, I conducted a talk at the "East Asia Culture and Modern Society Forum" hosted by the Political Economics Research Center at Tsinghua University, entitled, "Anime, Manga, Cosplay, Harajuku Fashion, J-Pop: The Global Competitive Power of Japanese Pop Culture." Following on from this, I visited China for the second consecutive month, this time as an advisor for asianbeat.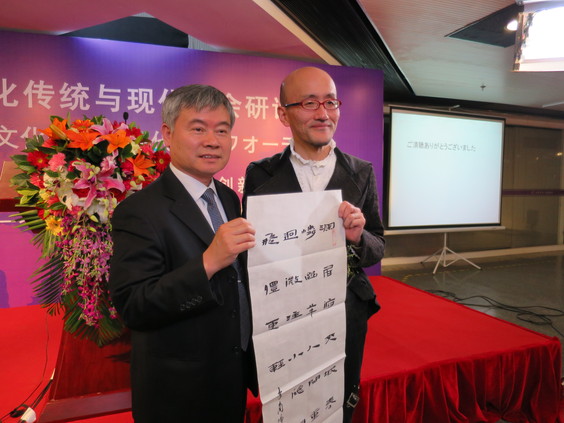 ▲ "East Asia Culture and Modern Society Forum" at the Political Economics Research Center, Tsinghua University.
In light of the various issues surrounding Japan-China relations, one of the goals in Fukuoka prefecture's establishment of asianbeat is to use youth culture as a means to become a bridge for both countries. It's an objective that resonates with me and it's the reason I've been writing this column for so many years now, so I would love for more Chinese people to read the articles on asianbeat, too. The asianbeat website is full of artist interviews and articles on things like anime, manga, cosplay, idols, anison, visual-kei, and various other aspects of Japanese pop-culture that people in China love.
So that asianbeat can become an even stronger bridge for Japan-China relations, I paid another visit to China to seek out more like-minded people who could help develop a larger following of the site domestically. With that objective in mind I made my way to Shanghai and Beijing at the end of February 2015 and came across many new encounters along the way. I was most pleased by a few of the Japanese people I met in China who were working hard to become bridges for Japan and China all on their own. In this article I will touch upon some of these new encounters I came across in China.
PRESENTS
All the info. on asianbeat's present campaign!