#22 Misako Aoki X Maon Kurosaki - Interview: What is the Appeal of Lolita Fashion?(1/3)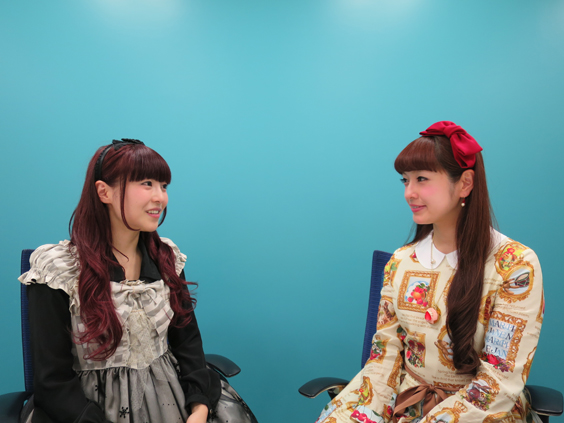 Maon Kurosaki, Misako Aoki
I first met Maon Kurosaki when she appeared as a guest on my radio program. It's very rare that a guest comes on my show that I haven't met before, so it was a surprise to learn that there's a completely different side to this girl that projects such a cool aura in her songs and on her album jacket covers; a side that suits the lolita fashion brand, Innocent World, so well. I also saw the final performance of her 2014-2015 tour that was held at Akasaka BLITZ. It was a three-hour masterpiece of musical composition and performance that I would see again in a heartbeat. There's Maon Kurosaki the lolita fashion lover and Maon Kurosaki the anime song singer, so the potential good she could do for Japan's relations with the world is just brimming inside of her. One time, Maon Kurosaki said to me, "I love Misako Aoki." And I thought to myself, if Misako Aoki, who uses lolita fashion to bring people closer to Japan, and Maon Kurosaki, who uses anime songs to bring people closer to Japan, were both to meet, it could be the beginning of something wonderful. And that's what I hoped to find out when I sat down with the two of them for a talk.
Lolita Fashion: Life Changing

Aoki: My life changed when I encountered lolita fashion. I became a model for the lolita style and just wearing the clothes really broadened my world. The concept of "kawaii" can make girls happy and that's what I experienced first hand. I also like to call them "sentougi" (battle garments), because when you wear lolita style clothes, you feel stronger.

Kurosaki: I also think of lolita fashion as something that can make me stronger, so I know exactly what you mean.
I love the movie "Legally Blonde." The main character wears what she wants to wear and always stays true to who she is. The movie was a complete inspiration to me. The main character's bedroom is also done all in pastel pinks, which is a color scheme that I simply adore. I felt like wearing lolita fashion brought me a little closer to that kind of fantasy world.

Aoki: When you wear lolita styles you feel more relaxed, you smile more and you just seem less irritated by things, right?

Kurosaki: I feel like my girliness levels go up a little, too (lol). I used to wear all different types of clothes before I found lolita fashion. I wore a lot of edgy stuff and there was even a time when I wore just really bright and bold styles too. But then I tried on some kawaii outfits, and just wearing them brings me a sense of comfort. Because of my work I have to diet and workout, so I often feel like what I do is closer to something like an athlete.

Aoki: When I was working as a nurse, I became quite boyish, too (lol). When you wear lolita clothes you become a girl again. Girls often have two sides, right? For me, one of those sides is probably the lolita-fashion-wearing me.

Kurosaki: It's important to maintain that gap between your appearance and your inner self. I've found I'm having a lot more fun after encountering lolita fashion and a lot about me has changed also.