#30 Cultural Diplomacy in St. Petersburg – Interview with Sumire Uesaka(1/3)

Japan-Russia Youth Exchange Group
Four and a half years have flown by since I first started speaking about cultural diplomacy with Sumire Uesaka. In that time, we've not only taken our form of cultural diplomacy to Doha, Qatar, but we even managed to fulfill Uesaka's ardent wish of carrying out activities in Moscow, Russia, as well. We've always discussed with each other what we can do to try and bring Japan closer to the rest of the world even if only slightly, but it was our trip to the two cities above that reaffirmed to me just how important these kinds of conversations are.
[JAPAN! JAPAN! JAPAN!] #39 Cultural Diplomacy with Voice Actress, Uesaka Sumire, in Qatar.
[JAPAN! JAPAN! JAPAN!] #83 Why Uesaka Sumire and I Both Love "J-FEST": The Largest Japanese Pop Culture Event in Moscow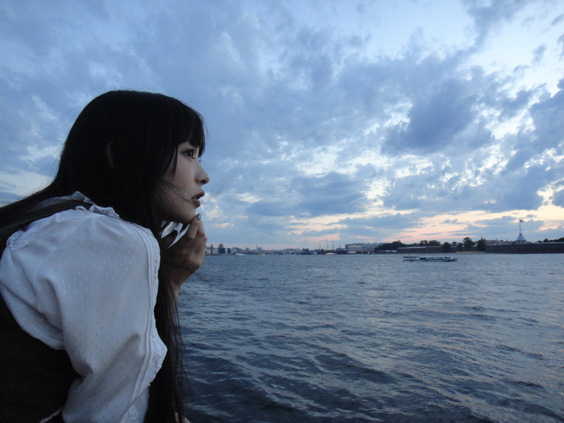 Sumire Uesaka
A year and a half on from Moscow and it was time for Uesaka and I to embark on a cultural diplomacy trip to the next city on our list: Saint Petersburg. Only this time, cultural diplomacy would be carried out as members of the Japan-Russia Youth Exchange Group, organized by the Japan-Russia Youth Exchange Center. With the help of everyone at the Consulate-General of Japan in Saint Petersburg and all the related parties, 13 members, including Uesaka and myself, embarked on our trip to Russia. I will talk about our time at the children's summer camp and our visit to one of the local orphanages on another occasion. For now, I mainly want to talk about St. Petersburg's local otaku event, "AniCon."
Ani Con is also one of the affiliate members of the International Otaku Expo Association (IOEA), for which I am the executive director.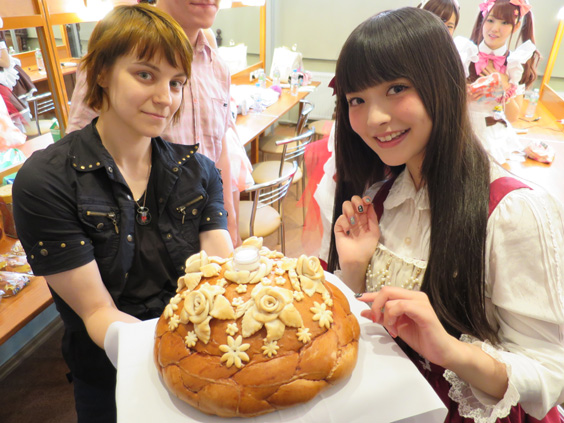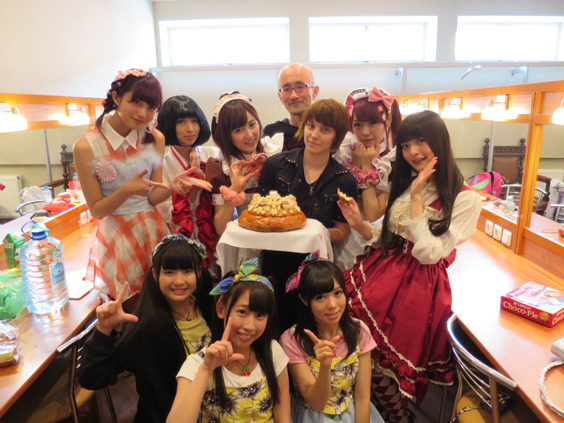 Russian-style welcome bread.
Sumire Uesaka Moved to Tears with Cries of "We Love You" from the Audience
AniCon is an otaku event, held for its 6th time in July 2015. This year's event attracted some 4500 people. Over three days from July 3 – 5, the event was held at a multipurpose type theatre whereby audiences would enjoy each act as it appeared before them, much like a stage show (with a few exceptions). One by one, the Japan side and the Russian side took to the stage to deliver the programs that they each individually prepared. The Japan side participated on the 4th and 5th.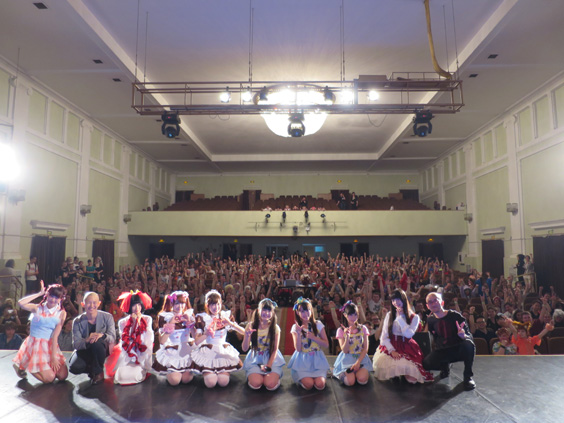 The entire visiting group on stage at AniCon.
Acts from the Japan-side included performances by Sumire Uesaka and Kyushu-based idol group, LinQ, a maid demonstration by popular Akihabara maid café, @homecafe, a fashion show by the visiting exchange group, a lecture by yours truly and a talk show with the various event participants. The AniCon-side program consisted of a cosplay tournament, as well as cover dance and karaoke performances. From their cheers, the audience seemed to love each and every act. Some of the Japanese guests took part in the cosplay show as well. Something you see at places like this all over the world is cosplayers posing for photos in and around the event space and this time was no exception. These Russian youth simply love everything otaku, and seeing them commit themselves wholeheartedly to just enjoying the two days that we were there was a really warming sight.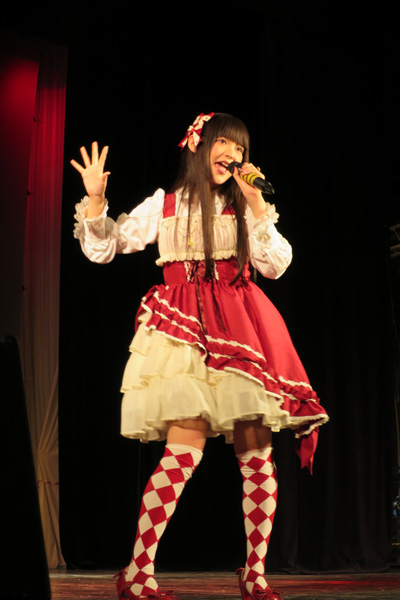 Live performance at AniCon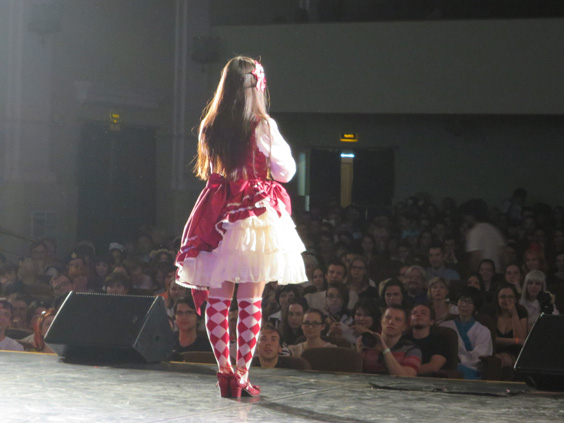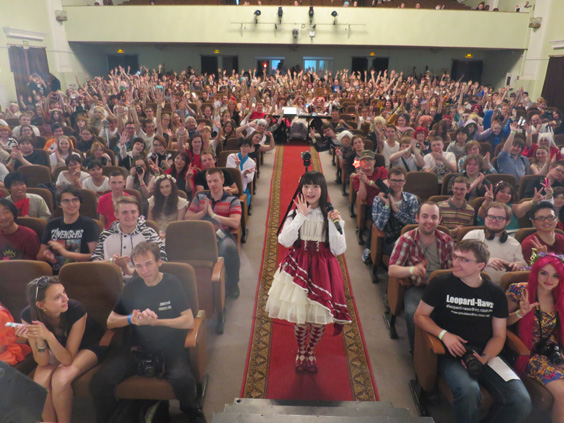 With the audience at AniCon
Uesaka joined me on stage for the talk show after her performance and for the second time (following on from her time in Moscow) cries of "
daisuki
" (I love you) and "
kawaii
" from the audience moved her to tears.
At the end of the talk show the LinQ members joined us on stage for a rendition of Russia's national song, "Katyusha," with the entire audience joining in. Music has the ability to transcend national borders and no one realized this more than the LinQ members who were taking part in their first cultural diplomacy activity (I will speak more on LinQ and their activities in St. Petersburg in my next article).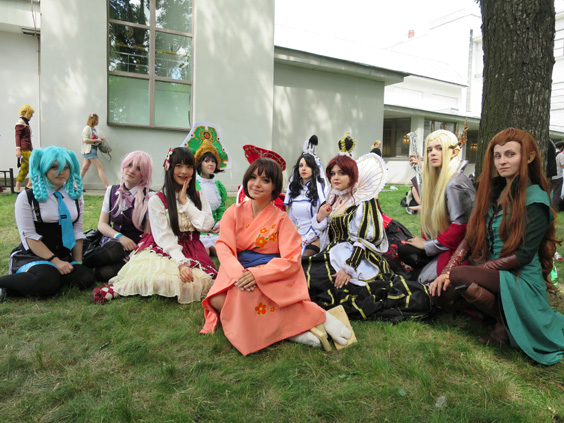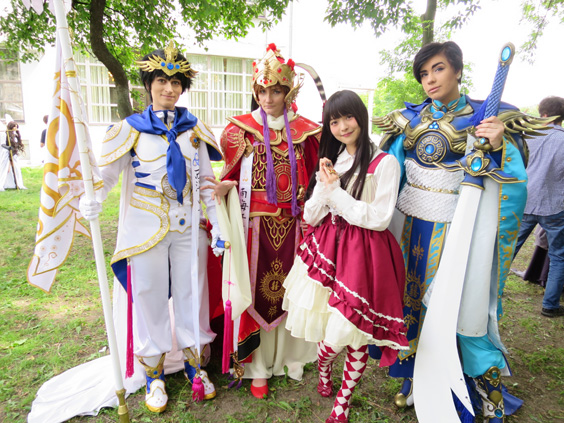 With Russian cosplayers.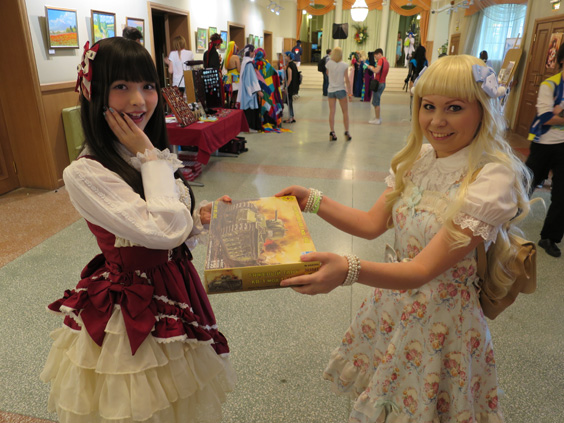 A Russian lolita gave a plastic model of a tank as a present.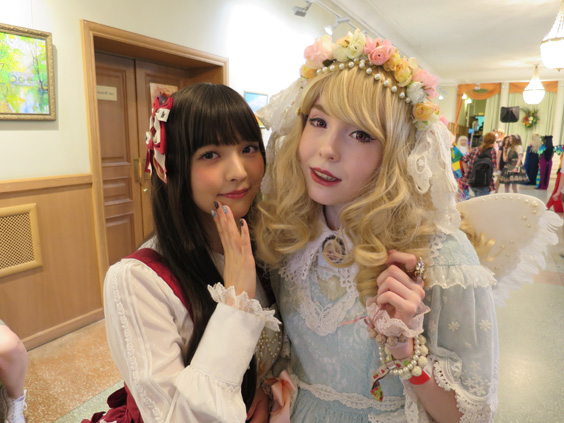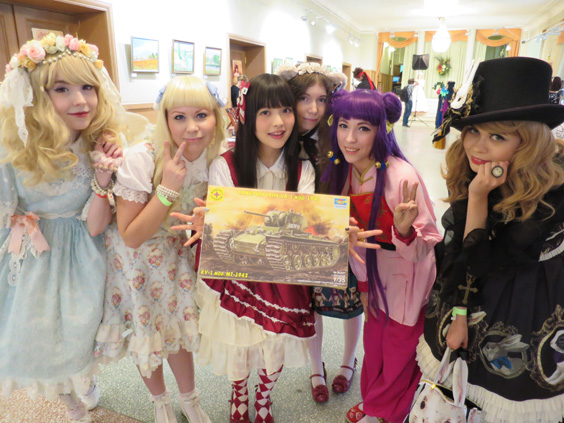 With Russian Lolita fashionistas.