#39 Cultural Diplomacy with Voice Actress, Uesaka Sumire, in Qatar.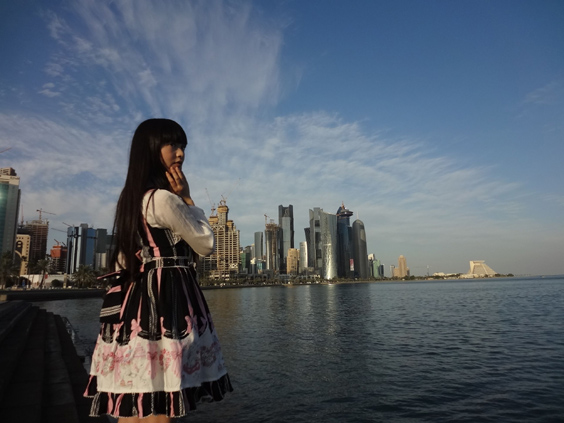 On the coast of Doha.
This week I'm continuing with my running series on my trip to Qatar and the Doha International Book Fair. Japan was the guest country of honor at the Fair and it was my role to organize the events to be held at the Japan booth. One of said events was a talk with Japanese voice actress, Uesaka Sumire.
Uesaka has been supporting me in my endeavors ever since we met and she has continually told me how she would like to get involved as well.
"Relationships between countries can't only be about the potential gains to be made from each other."
Both Uesaka and I have come to realize the importance of establishing shared values in the "everyday" aspects of life. For Uesaka this trip to the Middle East signified her first real foray into cultural diplomacy and she carried it out as only she could.
Quite a large photo of her was featured in a local newspaper.
To a lot of Japanese, the Middle East is a far away land and we tend to generalize all the countries within this area as 'the Middle East', lumping them into the one category.
As Uesaka listened to my stories about my cultural diplomacy activities in the Middle East, she told me how she would like to see these cities with her own eyes and get a feel for the people herself. And she made that dream a reality with this visit to Doha.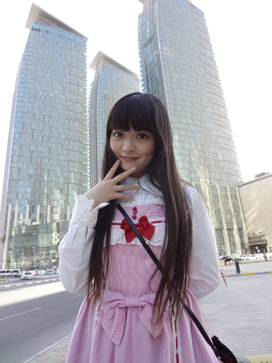 The city center.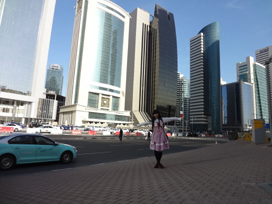 Doha's high-rise skyline.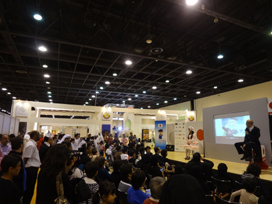 The Middle East's first talk event with a Japanese voice actress.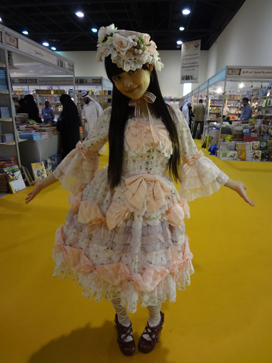 Very spacious book fair.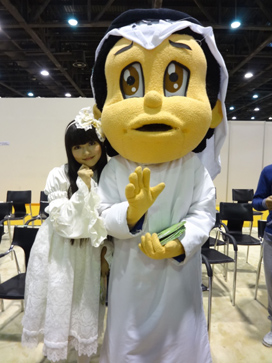 With a mascot of the Book Fair.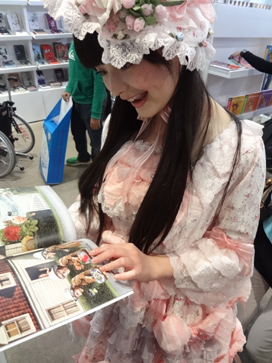 At the Doha International Book Fair.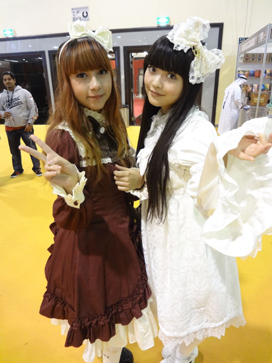 With a fellow lolita fashion lover living in Qatar.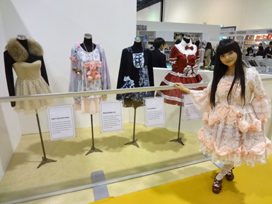 The mannequin torsos display Japan's "Kawaii" fashion brands.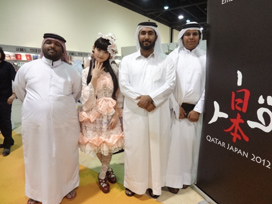 At the Japan booth with student volunteers.
Uesaka voices a character in the popular anime "Chunibyo demo Koi ga Shitai!" and a number of fans of the series came to see her talk session at the Book Fair.
Both Uesaka and I were almost lost for words when we encountered some young Qatari fans who could quote lines by Uesaka's character, Dekomori Sanae, in fluent Japanese.
But I think that this opportunity to meet Uesaka Sumire face-to-face would have been quite a significant moment for all of them as well.
I know I still remember all the feelings and emotions of the first concerts I attended of my favorite rock bands, even to this day.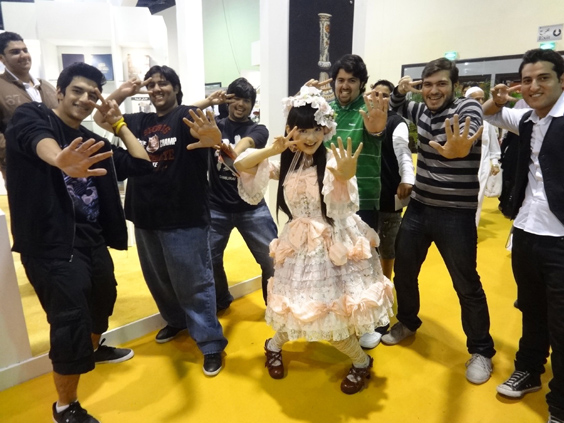 ▲With fans posing as her character, Dekomori Sanae.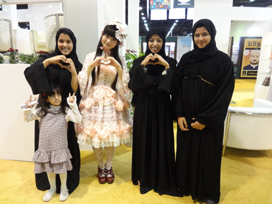 Heart posing is universal.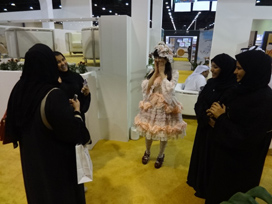 Girl's talk is also universal!?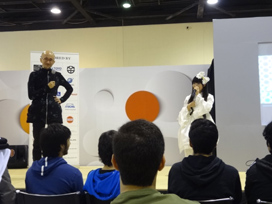 Uesaka joined my lecture as well.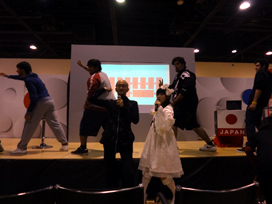 Fans get up on stage!
"I was surprised and moved, but more than anything, I had a lot of fun."
Ever since I began my role in cross-cultural diplomacy I've encountered more situations like this than I can possibly count. No matter how many times you experience them though, they never cease being fun.
It's this sense of "fun" that I believe to be of great importance – especially to people in Japan. Communicating with people overseas is fun! If we all started thinking like this, "overseas" wouldn't feel so far away.
Seeing Uesaka off at the airport (as she was heading back earlier than me), she told me how she wants to get even more involved in cultural diplomacy from here on and I have great confidence in her for the future.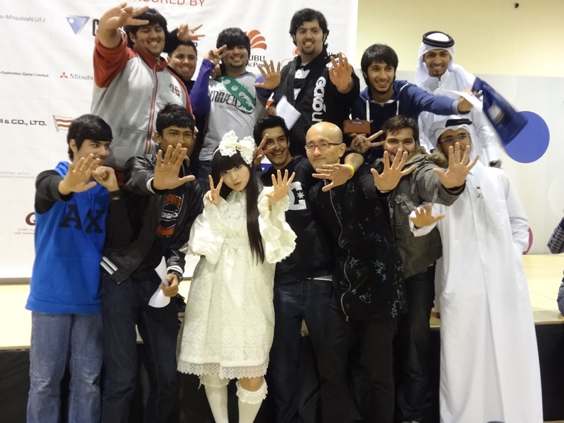 With some big fans of Uesaka Sumire.
At the Museum of Islamic Art.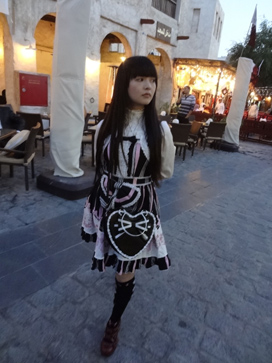 At the 'souq' (market).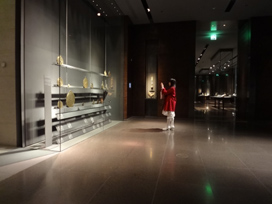 At the Museum of Islamic Art.
Many people will already know this by now, but ever since we met, we've both had this goal of standing on stage together at Moscow's annual Japanese pop culture event, "J Fest." I've been involved with the event since its initial planning and launch in 2009 and I've made a promise to the Japan fans in Moscow to one day take Uesaka there with me to meet them.
Becoming a voice actress was a dream for Uesaka Sumire ever since she was a little girl, and now she's even preparing to launch her debut album on April 24th.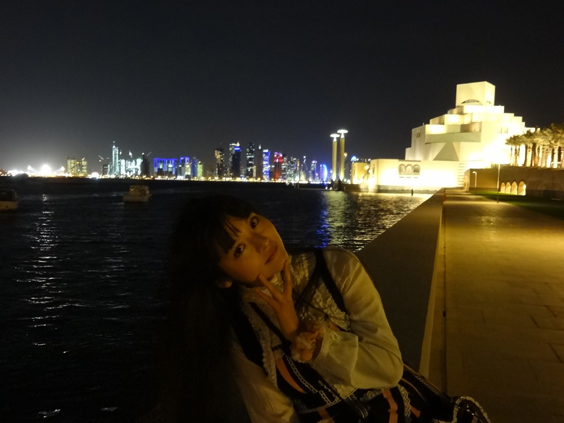 The wonderful night view of Doha from the Museum of Isramic Art.
I think that the very act of having Uesaka Sumire appear on stage in Moscow would be highly important to foreign diplomacy for both Russia and Japan.
Every year, Asahi Shimbun does coverage at "J Fest" and just the other day, a reporter from Asahi's Moscow office did a video interview with Uesaka in Tokyo. Keep an eye out for yours truly, as I make an appearance at the end to talk with Uesaka about cultural diplomacy.
At the 'souq' (market).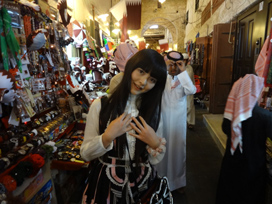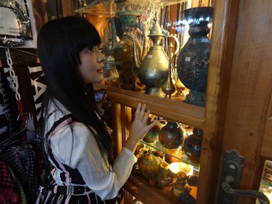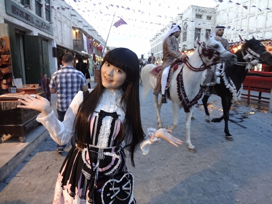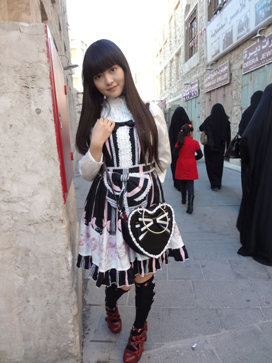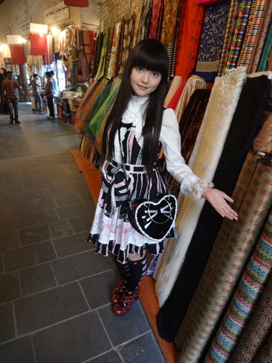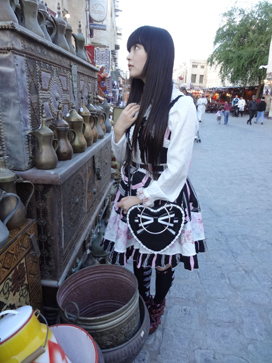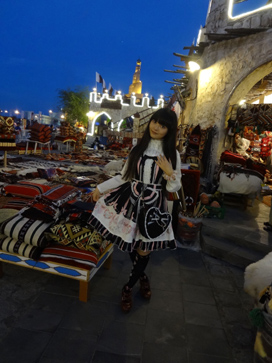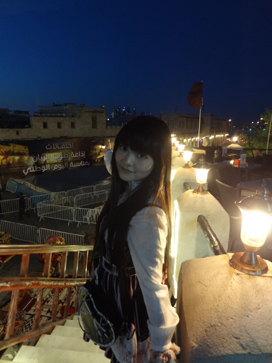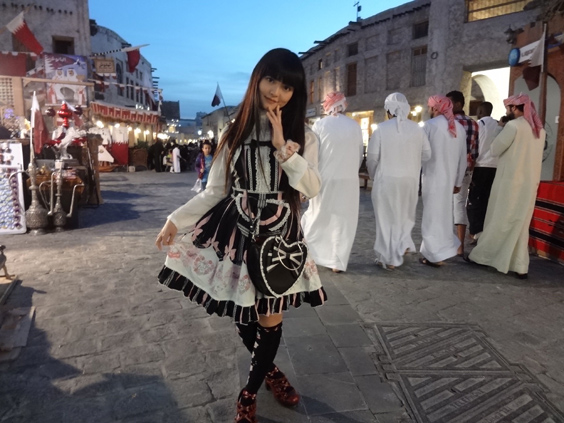 A new article every Wednesday!
Next time: Interview with up-and-coming idol group, BABYMETAL.

Columnist: Sakurai Takamasa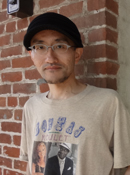 Contents Media Producer, author, journalist, managing director of Contents Street Inc. Chief Editor of iPhone magazine "Tokyo Kawaii Magazine" (ASCII Media Works), World Cosplay Summit Executive Advisor, Chief Researcher at Kodansha/Kodansha BC China Management Laboratory.
Cultural diplomat producing events in 103 cities in 24 countries. Books include "Galapagos-ka no susume"(Kodansha), "'Suteru' de shigoto wa umakuiku"(Diamond-sha), "Nihon wa anime de saiko suru
"(ASCII Shinsho), "Sekai no kawaii kakumei " (PHP Shinsho), and "Anime bunka gaiko "(Chikuma Shinsho). Writes regular columns in the weekly magazine "ASCII" and Yomiuri Shimbun.

●twitter http://twitter.com/sakuraitakamasa/