#40 BABYMETAL: The Idol Group Set to Take the World by Storm
The idol group that has caught my attention as the ones to watch in 2013 would have to be BABYMETAL. Their concept is Japanese idol group meets metal (music genre), and it reflects the unique kind of thinking that Japan has come to be renowned for.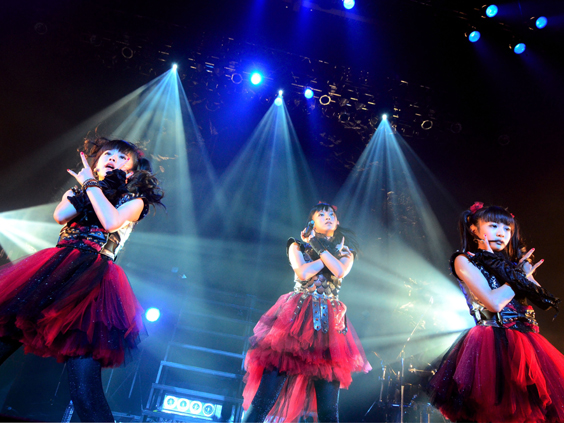 The concert at Zepp Tokyo on Feb. 1st, 2013. (Photos: Taku Fujii)
When I was working on the Ministry of Foreign Affairs' Kawaii Ambassador project in 2009, the most common question I got from the Japanese media was, "Why lolita fashion?" (Three models were chosen to represent three specific fashion categories: Harajuku fashion, seifuku fashion, and lolita fashion.)
The Kawaii Ambassador project was formed with the objective of using fashion to promote Japan to the world, and in doing so, promote cross-cultural relations as well. As long as it was Japanese fashions we were using anything would have been fine, but we adopted lolita fashion because people throughout the world recognized it as being inherently "Japan" more so than any other. One time, when I was walking through a public square in France's Aix-en-Provence with a Japanese friend who is a lolita fashion designer, an old man who was running a secondhand book stall there stopped us and asked my friend, "Are you a real Japanese lolita?" He was so happy, he even asked for a photo.
The funny thing about it all, though, is that lolita fashion was created by Japanese designers who were trying to recreate the styles and fashions of the French aristocracy, in particular Marie Antoinette. And it's a fashion style that has now come to be acknowledged as being Japanese. Why? It's because Japanese creators excel at being able to take something that inspires them and make it their own. Take anime for example. Anime is a completely unique style of animation that was born out of Japanese creators' admiration of the American, Disney, and "anime" is today recognized by people all over the world as being Japanese-made animation.
One more reason behind the global popularity of lolita fashion is 'gosu-rori' (or, 'goth-loli' – short for 'gothic-lolita'), another fashion genre born of Japanese innovation. The goth fashion genre uses black as a base for all its designs, so it could probably be adapted to just about any genre, but the idea of taking such vampire-esque fashions and mixing them with the girlie, Victorian lolita genre is something that could surely only ever transpire in Japan.
Therefore the very concept behind BABYMETAL is "Japan" itself and its this kind of thinking that gets people's attention overseas. Sure, it largely depends on the level of commitment and abilities of the individuals delegated with the role of carrying out said task, but if it comes down to commitment and ability, this group has it in spades, as I confirmed it for myself when I saw them perform at Zepp Tokyo on February 1st this year. I went to the concert with a group of friends that included anime directors, voice actors and manga artists, and we ended up staying out late discussing the spectacle we just saw. It was a world unlike we'd ever seen before.
ZEPP Tokyo - February 1st, 2013 (Photos: Taku Fujii)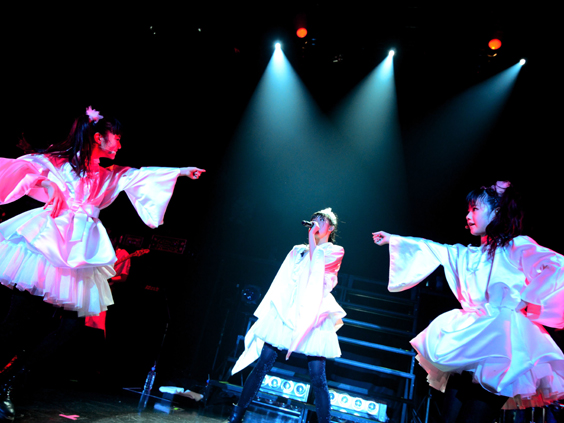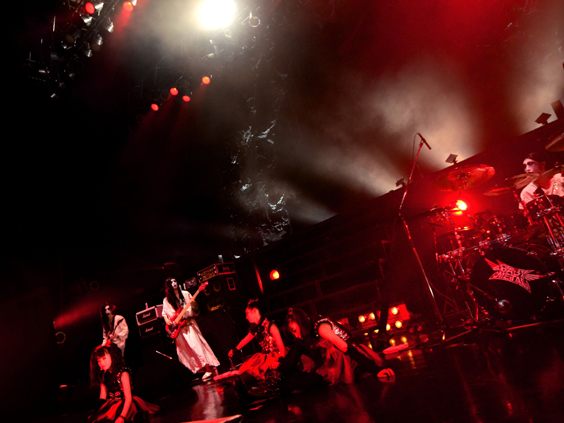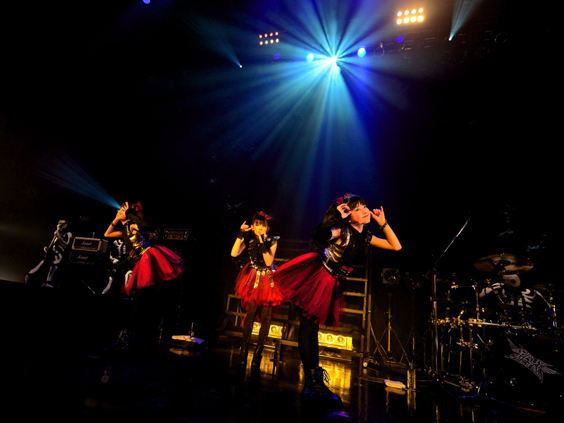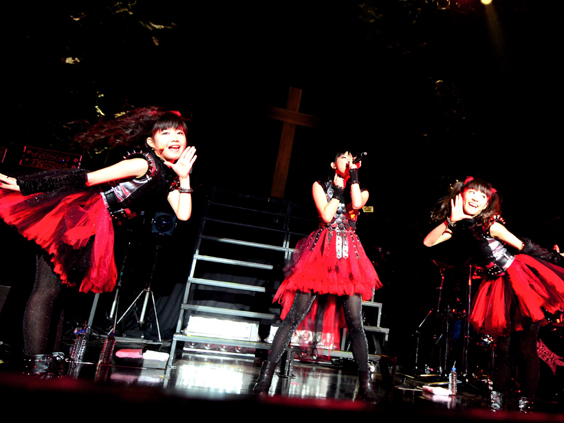 More often than not, kids who are into rock will at some point in their lives go through a rite of passage into heavy metal. I was the same. So seeing your own DNA fused with Japanese idols, it was impossible not to be a little awe-struck.
Speaking with young people overseas, it's obvious that that the expectation for BABYMETAL outside of Japan is also high.
They've even taken part in an event in Singapore, to great success.
"Performing overseas was a dream; it really gave us a buzz. It was great to see that so many fans had obviously studied Japanese." (SU-METAL)
"I always check out blogs and video clips of other idols online, and it seems people living overseas are exactly the same." (MOAMETAL)
"It was really awesome watching the wave of excitement spread over the fans at the concert, starting with the fans that know us well and then spreading out to the rest of the crowd. By the end we had 3000 people dancing and waving pen-lights in the air." (SU-METAL)
"In the lead-up to the concert in Singapore, we had some people teach us how to greet the audience but I was surprised to learn that there is no equivalent expression for "yoroshiku onegaishimasu." I'm still in my first year of middle school but it made me want to learn English that much more." (YUIMETAL)
"BABYMETAL is more than your regular idol group." (SU-METAL)
"We're aiming to be one of a kind!" (MOAMETAL)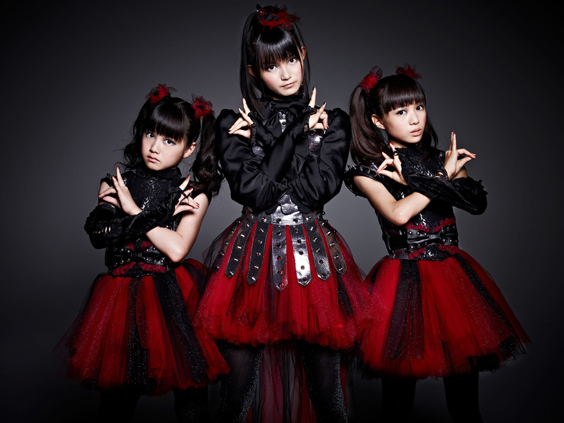 ▲BABYMETAL. From left: YUIMETAL, SU-METAL, MOAMETAL.
I have had many opportunities to speak with idols who have given live performances abroad, and oftentimes I feel they take back with them an understanding of the foreign culture as well as a renewed awareness of Japan.
Japan is a country that produces things of a unique nature and this is the often held foreign sentiment, but BABYMETAL is an original, even in the history of the entire Japanese idol genre.
BABYMETAL, which has just begun to take its first steps towards a global market, will also reflect how Japan as a country plans to traverse the international scene as well.
These girls have even made guest appearances on my radio program: Tokyo No.1 Kawaii Radio. When they're not on stage you can tell that they are just your regular teenage girls. In between recordings, I had a heated discussion with MOAMETAL, who is a self-professed idol enthusiast.
Being natural yet maintaining professionalism is the charm that many Japanese artists oftentimes hold. BABYMETAL is sure to be big so watch this space!

A new article every Wednesday!
Next time: My report on the cosplay show held in Doha

Columnist: Sakurai Takamasa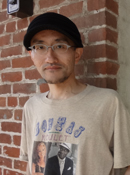 Contents Media Producer, author, journalist, managing director of Contents Street Inc. Chief Editor of iPhone magazine "Tokyo Kawaii Magazine" (ASCII Media Works), World Cosplay Summit Executive Advisor, Chief Researcher at Kodansha/Kodansha BC China Management Laboratory.
Cultural diplomat producing events in 103 cities in 24 countries. Books include "Galapagos-ka no susume"(Kodansha), "'Suteru' de shigoto wa umakuiku"(Diamond-sha), "Nihon wa anime de saiko suru
"(ASCII Shinsho), "Sekai no kawaii kakumei " (PHP Shinsho), and "Anime bunka gaiko "(Chikuma Shinsho). Writes regular columns in the weekly magazine "ASCII" and Yomiuri Shimbun.

●twitter http://twitter.com/sakuraitakamasa/