#32 Japan-Russia Youth Exchange Group - From AniCon to Summer Camp to Orphanage. Now I want to Learn More About Russia!(1/3)

Where There's a Will, There's a Way
In my previous two articles I have focused on writing about the Japan-Russia Youth Exchange Center-organized Japan-Russia Youth Exchange Group, first with voice actress, Sumire Uesaka, and then in my last article with LinQ. This will be my third and final article in this mini series.
Thirteen members, including myself, made up the group, and over the 5 days that we were there, every single member worked their absolute hardest to carry out cultural diplomacy through social interaction. As leader of the group, I am truly grateful.
I wrote this in a previous article, but Saint Petersburg had long been a dream for fellow cultural diplomacy advocate, Sumire Uesaka, and I, and it was meeting with the Consulate-General of Japan in St. Petersburg and the organizers of "AniCon," an affiliate member of the International Otaku Expo Association (IOEA) for which I am the executive director, and through their strong support that it was all made possible.
This exchange group taught me not just that 'where there's a will, there's a way,' but rather, the importance of conversation and the pivotal role of each person doing what they can to work towards achieving dreams we discuss with each other. It was a journey that has been very strongly etched in my memory and I'm sure various memories dwell in the minds of each of the other group members as well.
The day after AniCon we held a meeting at the Consulate-General of Japan in St. Petersburg to exchange ideas and opinions on the topic of Japan and Russia and the following are a few extracts of comments made by some of the members at the meeting.
Group members at the Consulate-General of Japan in St. Petersburg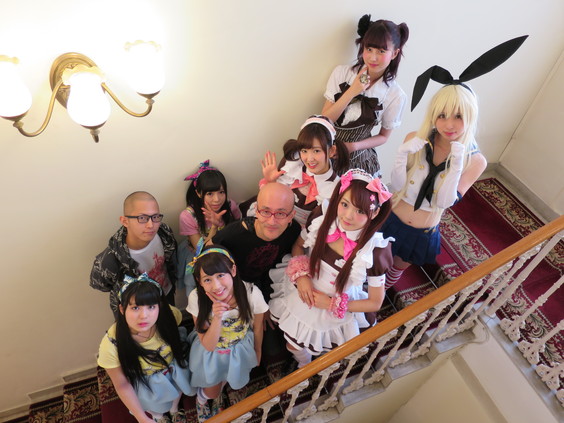 GibaGiba (Illustrator)
"I was so nervous about wanting to reward all the Russian people who are so accepting of otaku culture, but they gave us a warm welcome and the more time we spent together, the more excited and energetic I became. It was an experience I'll never forget. It really sunk in just how great Russia is. I'll take all my experiences back to Japan and continue to do my best with anime and games and create something good that I can be proud to show to the people of Russia."
Ririko Masuzawa (Model)
"In Russia, it really struck home to me that when you talk about the things you like, nationality is irrelevant. I think that the feelings we have for liking things will eventually unite the world as one. I can't wait to tell my friends about all the friends I made in Russia."
Komari (Cosplayer)
"The cosplayers in Russia are so incredibly beautiful that I was nervous about being amongst them. Taking part in AniCon showed me that everyone really likes Japanese anime and are into cosplay. They were all favorite works of mine too, so I really enjoyed it. One of the good things about otaku is that even if you can't speak each other's language, that gasp of excitement and the feeling you get when you see people cosplaying characters from your favorite series is universal. I love Sailor Moon. And so did everyone in Russia. No matter where you go, people share the same likes – that's what I learned."
hitomi (@home cafe)
"It's been about 10 years since maid café culture hit Akiba. I've been a maid for about 10 years but I thought it was still only a Japanese thing. But after traveling overseas, I was surprised to find that there are maid cafes in countries everywhere. I was so happy and proud to learn that the things we've been doing have been reaching people all over the world. From here on, I want to continue to spread maid culture to people around the globe."
mizukin (@home cafe)
"I was completely taken aback at how interested they were in us. The best way to experience maid culture is to come and see it for yourself, though, so I would love for everyone to come to Japan."
AniCon staff and group members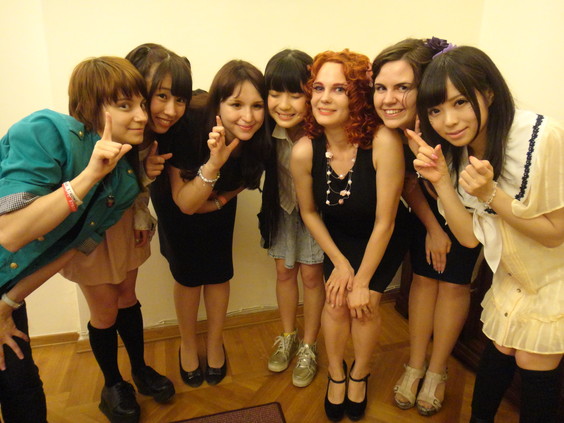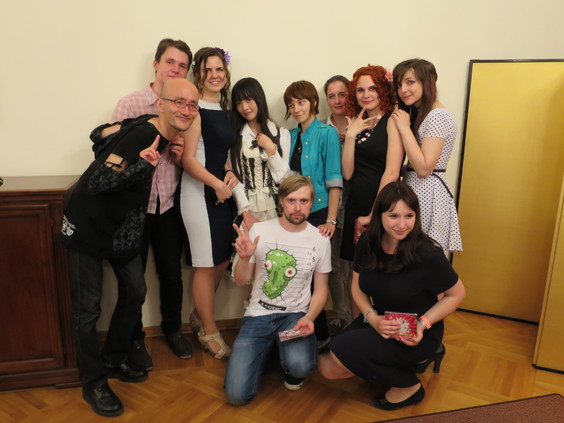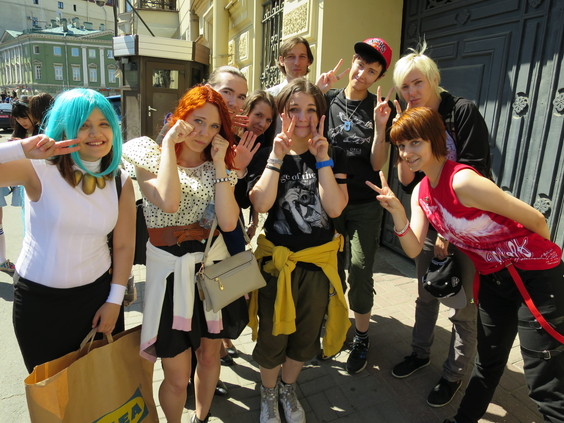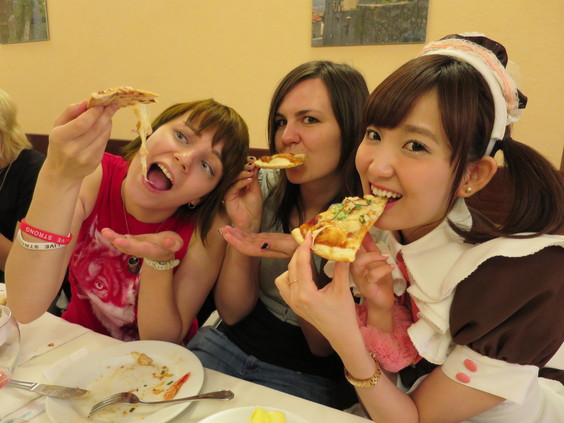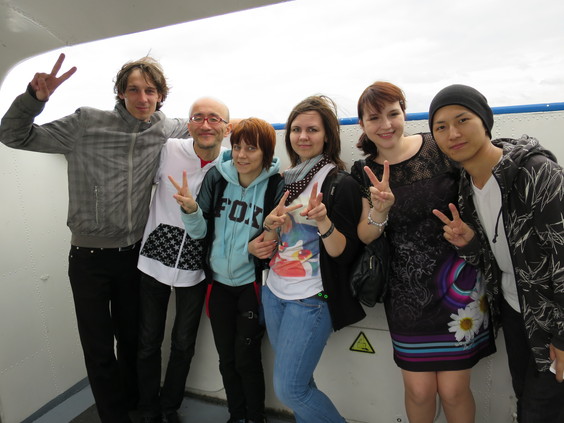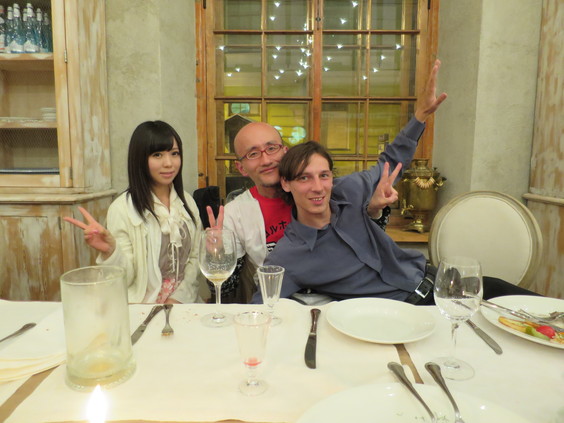 Group member, GibaGiba (illustrator) getting to know the AniCon participants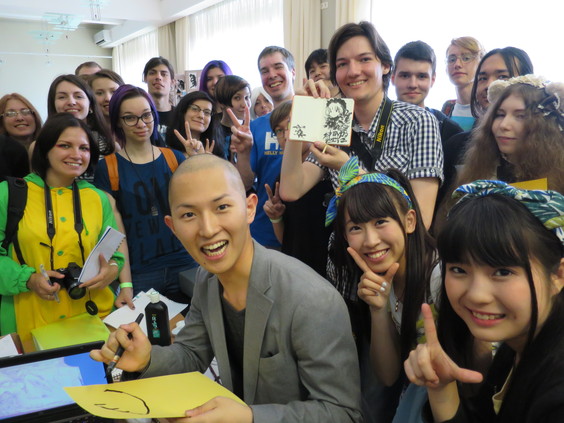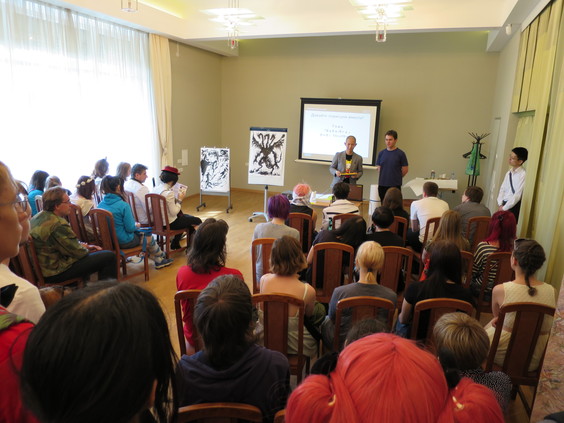 Group member, Ririko Masuzawa meeting with the AniCon participants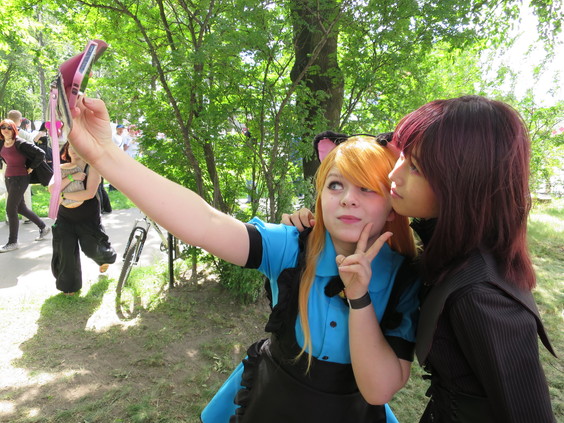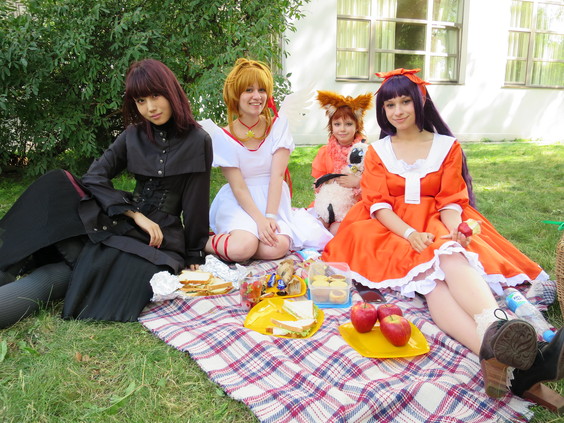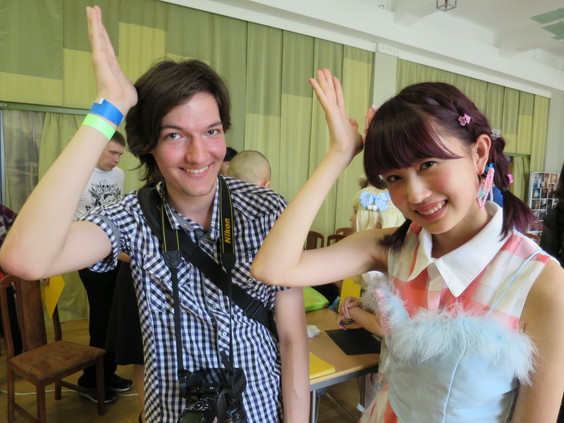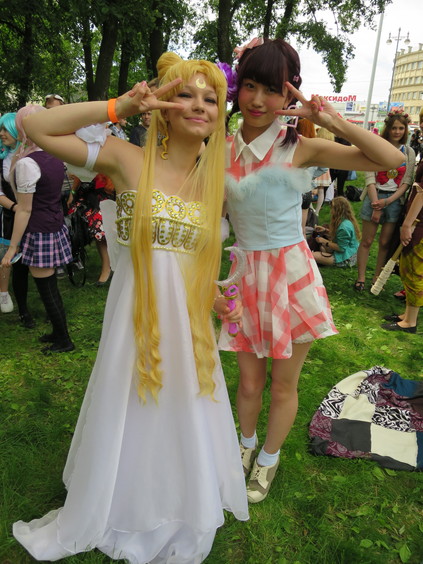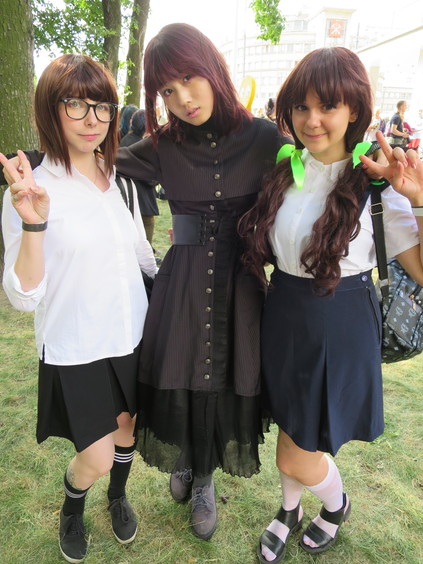 Russian cosplayers