Vol.1 Kanon Fukuda (ANGERME) - "I would love to go to a Lolita fashion store with you, Misako, and get you to put together an outfit for me."

Chance Encounter at Fukuoka Airport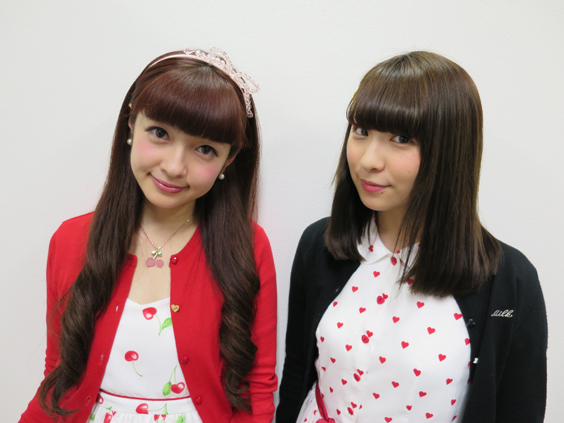 Misako Aoki, Kanon Fukuda(ANGERME)
Misako Aoki
The first time I saw you, Fukuda-san, was at a S/mileage (currently ANGERME) concert. Sakurai-san, the producer of this interview series, took me along to see it. That was in 2011. But we've also run into each other at Fukuoka Airport since then, haven't we.
Kanon Fukuda
I fell in love with your whole kawaii vibe and I was reading up all about you online, and it was around the same time that I found out you were in Fukuoka. Then on our way home from the airport we saw the real life you dressed in lolita clothing! I was a blundering mess, so Ayacho (Ayaka Wada, ANGERME leader) suddenly became more forthcoming than I've ever seen her be and went up and spoke to you (lol).
Aoki
Last year I also saw you in the musical "LILIUM" and I saw your concert at the Budokan.
Fukuda
Thank you.
Passing Time in Harajuku
Aoki
What kind of clothes do you like?
Fukuda
My favorite would have to be MILK. Whenever I wear MILK I feel like I have all these shiny CG images floating around me and it just puts me in a really good mood. They'll use a particular pattern to make a range of items like one-pieces, tops, skirts, accessories and so on, so if there's a pattern that I like but I can't get it in the one-piece, for example, I might go with the top or the accessories instead.
Aoki
The brand appeals to quite a broad age group and their designs are rather sophisticated as well. Do you have the MILK heart bag?
Fukuda
I do. When I first bought it I was so cautious about not getting scratches on it that for a period I wouldn't even set it down on the floor.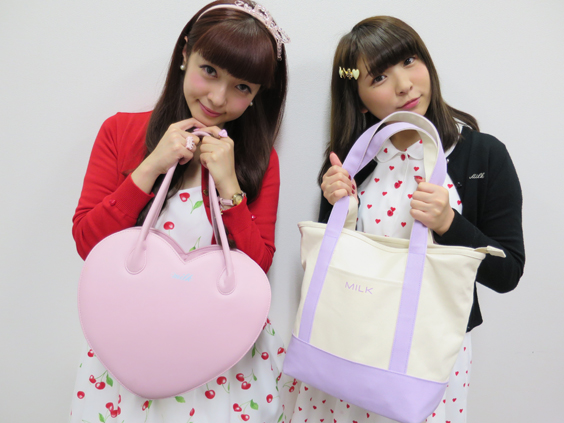 Aoki
You don't wear lolita fashion?
Fukuda
I want to wear it! I've made a promise with a friend that we would dress like lolita twins one day, but it just hasn't happened yet.
Aoki
Do you know any lolita brands?
Fukuda
Yes. I do a round of the shops whenever I have time to go to Laforet Harajuku. But it always ends at just wanting things. If I do buy anything it's usually accessories at Nile Perch, or tops from Angelic Pretty.
Aoki
I would love for you to actually wear some things.
Fukuda
Yes, I want to!
Aoki
Some times we even run into each in Harajuku, don't we.
Fukuda
f I can find a spare moment, I'll go to Harajuku (lol). If I see something online and I want to look at it, I'll go in straight away. So I mostly go on my own rather than inviting someone along. I also go to casual fashion shops. Occasionally I'll go shopping with the other ANGERME girls or my other non-Hello! Pro idol friends as well.
Aoki
You're certainly active!
Choosing Cosmetics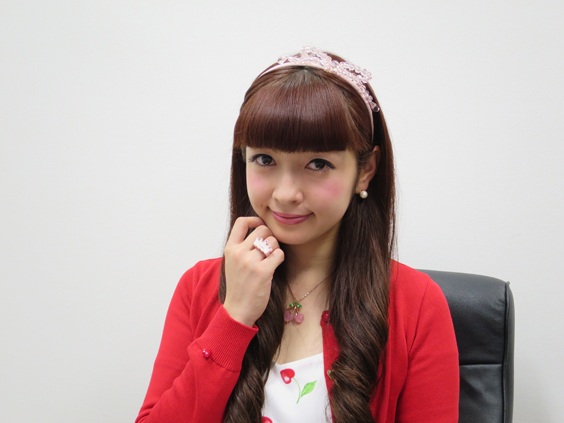 Aoki
You say that you love make-up, so what kind of beauty products do you use regularly?
Fukuda
I absolutely love make-up! I like to use a decent amount of toners and creams, so I try and go for the ones that are cheap but also have received good customer feedback. For beauty lotions, my favorite is Kiehl's. I love picking out products that right for my skin, not just going straight for the most expensive option.
Aoki
I read one of your blog posts about how you put up an umbrella when you're in the bath so that it acts like a sauna.
Fukuda
I saw it on TV and decided to try it out for myself. My mom got a bit of a shock when she walked into the bathroom and saw the umbrella, though (lol).
Aoki
I'll have to give it a go next time.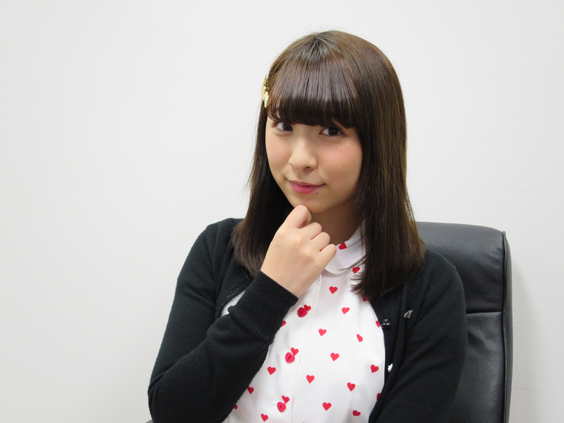 Wardrobe Upkeep
Fukuda
How do you maintain your wardrobe, Aoki-san?
Aoki
It's quite difficult to mix-and-match with lolita fashion, so everything just kind of builds up… I have a whole room in my house just for my clothes, though. What do you do, Kanon?
Fukuda
I arrange everything in my closet by color and I'm also quite a quick decision maker, so whenever I do any upkeep, I just throw all the things I don't want straight into a box. The other day I gave a box of clothes to one of the younger ANGERME members, Kananan (Kana Nakanishi). I put the outfits together and we had a bit of a fashion show.
Aoki
Sounds fun!
Sakurai
Why don't the two of you exchange clothes?
Fukuda
I would love to try on some of Misako-san's clothes!
Aoki
I had a great time today. I'd like to chat more about fashion with you again some time.
Fukuda
I had fun, too. Thank you for calling me in for the interview. Next time, I would love to go to a lolita fashion store with you, Misako-san, and get you to put together an outfit for me.
Aoki
I really want to get you wearing some things. I think you would look great in a pastel pattern! Thank you for being my guest today.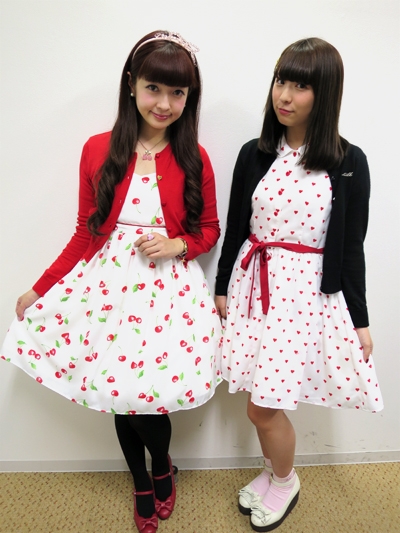 A Word from the Producer
Before the interview I contacted the girls and organized for them to appear in MILK's new red line of clothing. Once they start talking about fashion, you can tell that they really enjoy themselves. Together they arranged for Kanon Fukuda to wear an outfit picked out by Misako Aoki at Kanon's birthday event, and I thought that was really nice.
Takamasa Sakurai
Guest for this installment: Kanon Fukuda (ANGERME)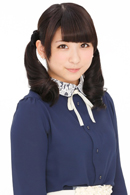 Became a member of Hello Pro Egg, after successfully passing the audition process in 2004. On 4 April 2009 it was announced at the event "2009 Hello! Project Shinjin Kouen Apr. - Yokohama HOP!" that 4 members of Hello Pro Egg, including current members Ayaka Wada and Kanon Fukuda, would be making their "major debut" as part of a new "unit." And on 8 May 2009 it was announced that the group's name would be "S/mileage." Released first indie (independent) record "aMANOJAKU" on 7 June. On 26 May 2010, S/mileage made their major debut with "Yume Miru 15" after completing a special task set by Tsunku (producer).
Received the Best New Artist award as a member of S/mileage on 30 December 2010 at "The 52nd Japan Record Awards."
On 7 August 2013, announced as a member of the collective "SATOUMI movement," along with Morning Musume。's Erina Ikuta and Ayumi Ishida, as well as Saki Nakajima and Mai Hagiwara of ℃-ute, who together as a new "unit" called "HI-FIN" released the indie single "Kaigan Seisou Danshi." It was revealed in October 2014 that new 3rd generation members would be joining. And the group's new name would also be changing. On 17 December 2014, their new group name was announced at their final tour, the "S/mileage Live Tour 2014 Aki - FULL CHARGE-." In May 2015 it was made public that Fukuda would be graduating from ANGERME and Hello! Project in this Fall.
It has been said that, during an interview at the time of her debut, it was Fukuda who first coined the phrase "Idol Sengoku Period." Loves Disney and is the owner of a year-long "Disney passport." During free-time can be found in Disneyland and Disneysea. Written a blog since elementary school student, discussing the latest news and gossip, and has also written numerous columns for magazines. Even as a member of Hello! Project remains a Hello! Pro devotee and is a particularly big fan of Natsumi Abe and Berryz Kobo. Stays creative and imaginative in day-to-day life through maintaining a keen interest in fashion, cosmetics, dietary trends, etc.
Columnist: Misako Aoki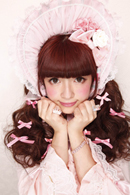 Started as an amateur model who appeared in Gothic Lolita magazines, triggering an interest in lolita fashion, which she now promotes with her charismatic personality. Appointed as a Trend Communicator of Japanese Pop Culture (Kawaii Ambassador) in 2009 by the Ministry of Foreign Affairs. Attended pop culture events in over 10 different countries and regions, has been featured in fashion shows and talk shows, promoting Japanese "kawaii culture."
Author of: Misako Aoki's Kawaii Kakumei "Lolita tokidoki Nurse" (Published June 16 2011 by TAKESHOBO Co., Ltd.)
Blog (Japanese):http://ameblo.jp/ribbon-misa/
Columnist: Sakurai Takamasa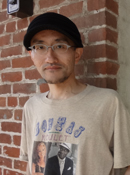 Contents Media Producer, author, specially-appointed professor of Digital Hollywood University / Digital Hollywood University graduate school, and International Otaku Expo Association Executive Office Director. Carrying out cultural diplomatic activities in over 140 cities across 25 countries/regions in total, has held numerous positions in various consultancy committees for the Ministry of Foreign Affairs. In 2009, served as a producer for the "Kawaii Ambassador" program, which was established by the Ministry of Foreign Affairs, has also pioneered cultural diplomacy that makes use of Japanese pop culture, such as anime fashion and music. Frequently invited as a guest to various Japanese events across the globe, has authored several books including, "Nihon ga Suki sugiru Chugokujin Joshi" (PHP Shinsho), "Sekai Kawaii Kakumei" (PHP Shinsho), and "Anime Bunka Gaiko" (Chikuma Shinsho). Has also worked as a television commentator, radio personality and contributed articles for newspapers, as well as web magazines. Currently writing the column, "Pop Culture Chronicles" for the asianbeat website (in Japanese, Chinese and English.)
-twitter
http://twitter.com/sakuraitakamasa/
Pop Culture Chronicles
:
http://asianbeat.com/en/popculture/
Updated every 4th Thursday of the month!
*Next update: Thursday, the 25th of June
This comment section is for readers to leave opinions and comments. Inappropriate comments may be deleted, so please remember to be respectful. Thank you!