#14 Fashion Festival Hosted by Chinese Magazine "GIRLISM!" (1/9)

Chinese lolita fashion magazine "GIRLISM!" A huge hit in China!
A fashion show hosted by Chinese lolita magazine "GIRLISM" was held on April 15th. I got the chance to attend and appeared as a guest model in the main event! "GIRLISM" is a Chinese magazine that focuses on lolita fashion! It is very popular in China! I was on the front cover of their first edition and have also popped up in their fashion pages. During my travels I've often mentioned that lolita fashion is popular in China, but this was the first time that I've been to a fashion event that was just about lolita fashion. This was the first event that "GIRLISM" has hosted! Nearly 500 lolitas participated and the event was a big success!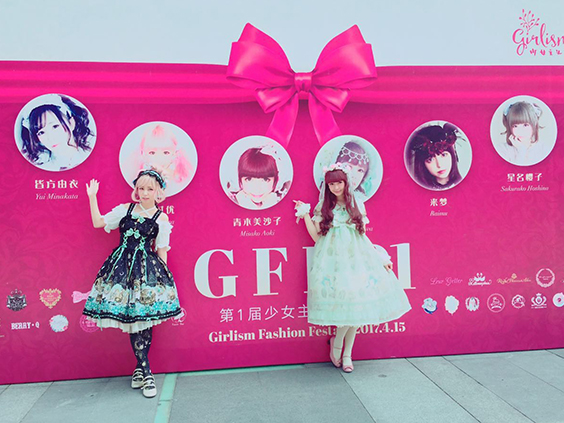 Many lolita fashion brands including ones from Japan and China were involved in the fashion show! I got to wear four different brands on the runway. This was a real must see event for lolita fashion enthusiasts! I was there with other models Midori Fukasawa, U Kimura, Yui Minakata, Sakurako Hoshina and Raimu, who appear all in magazines such as KERA. It was a really wonderful event!
The lolita fashion events I attend are usually part of a bigger anime festival, but that wasn't the case this time. This was a standalone lolita fashion event! It was a really precious, valuable experience! The amount of Chinese brands is dramatically increasing right now. There were so many kawaii clothes at the event! I was thinking about how cool it would be to buy Chinese brands in Japan, and realized once again just how popular lolita fashion is in China!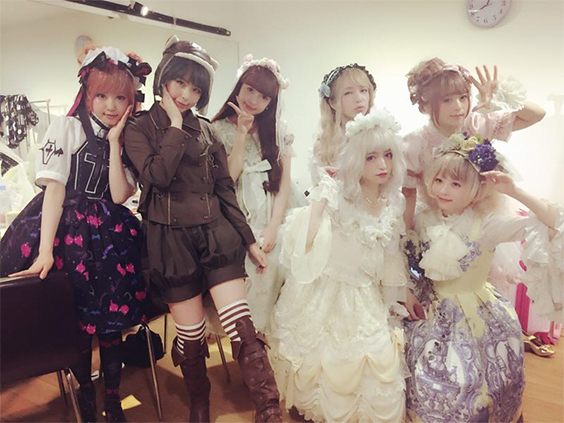 As there were a lot of models at this event, the dressing room was lively and a lot of fun! During the event I had a gyudon (rice covered with meat and vegetables) from Yoshinoya and a xiaolongbao (Chinese steamed bun). In the evening I put in a request for hot pot. I really enjoyed Shanghai! I want to keep on working hard carrying out cultural diplomacy through lolita fashion not just in China, but of course in Japan, too!
Recently, "KERA," a magazine that I appear in, has been digitized. I personally like the print medium, so feel a bit conflicted, but by digitizing their content there's no doubt that "KERA" will be more accessible and easy to read for lolita fans all over the world! Lolita fashion has a big fan base across the globe! I think the digitization of "KERA" is sure to be positive! Let's all enjoy lolita fashion with a big smile!
Misako Aoki
PROFILE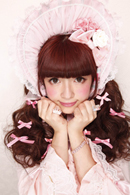 Misako Aoki
Lolita model, nurse, and President of the Japan Lolita Association

Models for KERA and the GOTHIC & LOLITA BIBLE while also working as a nurse. Was appointed as a Kawaii Ambassador (Lolita Fashion Representative) by the Ministry of Foreign Affairs in 2009. Has visited and attended events in over 30 cities across 20 countries and regions. Now has countless overseas fans.

Involved in setting up the Japan Lolita Association, has released "Lolita Fashion Book," has also worked in the development and promotion of new products. Contributes to activities that promote Lolita Fashion.

Misako Aoki official blog: http://lineblog.me/aokimisako/
Misako Aoki official website: http://www.misakoaoki.com/
Misako Aoki official Twitter:
@aokimisako
Related Articles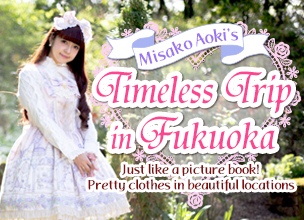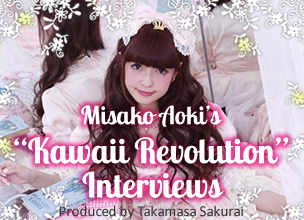 This comment section is for readers to leave opinions and comments. Inappropriate comments may be deleted, so please remember to be respectful. Thank you!