#17 My First Tea Party in Chicago(1/13)

Wearing outfits from lolita fashion brands that have originated in other parts of the world is a really great experience!
In July I went to an event in Chicago! I have been to various places in America before, but this was my first time in Chicago. ANA currently fly direct from Japan, so the trip is pretty straight forward! Chicago is famous for many things, including Garrett Popcorn, who even have a store in Harajuku, which always has lines of customers waiting to get in. That is why popcorn was on my mind during this trip!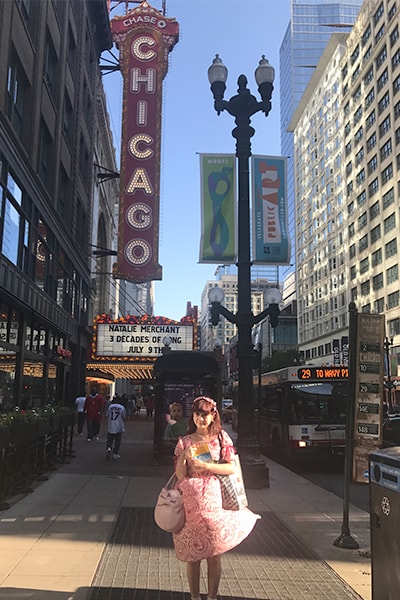 While I was there I got to participate in an event called "Anime Midwest." It was a great success with fans of lolita fashion turning out in big numbers. The event focuses on anime, manga, and cosplay. I got the chance to appear as a guest model in the fashion show and wear some wonderful outfits from some American lolita fashion brands. I was also able to participate in a tea ceremony! Lolita fashion is really proving to be popular throughout the world, and these days there are brands creating lolita-style clothes all over the world.
I wore clothes created by a brand called "Victorian Angel." Their outfits are cool, edgy and kawaii, with a slightly mature kind of vibe. One of the great things about lolita fashion is that it is easy to create new trends and categories. The styles that are developed abroad often use prints and designs that you do not often see in Japan! It is great not just to wear clothes that have been made in Japan, but also experience wearing outfits from lolita fashion brands, which have originated in other parts of the world. You can really learn a lot! Looking forward, I will do my best to actively introduce overseas brands, and advance lolita fashion.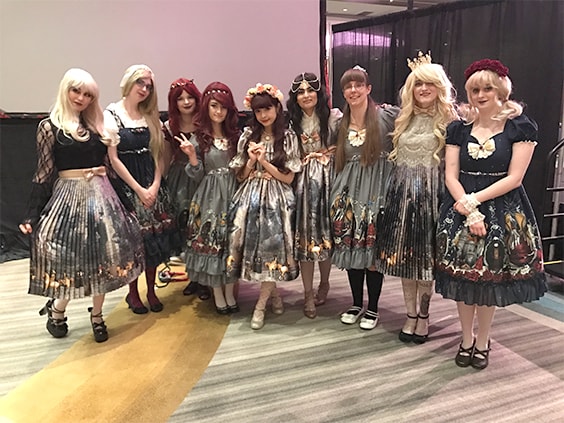 At the tea ceremony I made sure to go around each table, answer questions, and take photographs with all the participants! The most common question I heard was about how I style my hair and coordinate my outfits. I was so happy that there were lots of fans checking out my Instagram account!
After the tea party, a lolita flea market was held, and there was a fabulous selection of secondhand clothes on sale! It is not always easy to buy lolita clothes outside of Japan, so I thought it was so wonderful that there was an opportunity for lolitas to pick-up some items!
Aside from the lolita fashion that was on display, there was also a Japanese cup ramen booth at the event! I was really surprised that everyone was eating cup ramen! I guess it made me realize just how popular ramen is all over the world!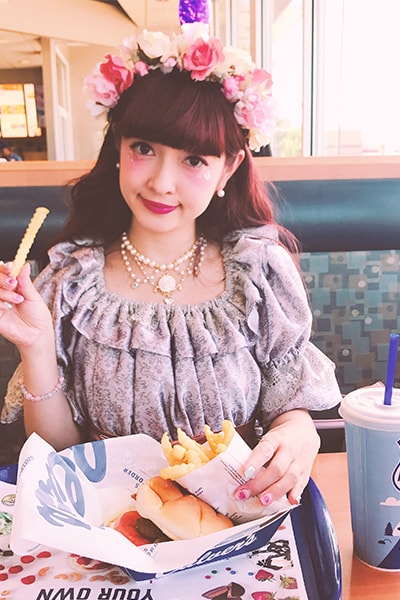 While I was sightseeing, I ate some pizza, which is a Chicago specialty, ate a hamburger, and bought some souvenirs from one of my favorite supermarket, "TARGET." I had such an awesome time! The size of all the food portions in America are so huge, it was big shock! Whenever I visit a country, I always like to stop by a supermarket. Not just to pick-up gifts, but also to find out more about their food culture. It is something I find really interesting and fun to do. I have a feeling that I probably put on a bit of weight while I was in America (lol)!
I was so happy to see so many people enthusiastic about lolita fashion, it seems that it has become pretty popular in Chicago! The word "kawaii" is now common knowledge where ever you go! I will continue to do my best to spread the word about lolita fashion, telling as many people as possible about the appeal of this charming style!
Misako Aoki
PROFILE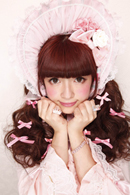 Misako Aoki
Lolita model, nurse, and President of the Japan Lolita Association

Models for KERA and the GOTHIC & LOLITA BIBLE while also working as a nurse. Was appointed as a Kawaii Ambassador (Lolita Fashion Representative) by the Ministry of Foreign Affairs in 2009. Has visited and attended events in over 30 cities across 20 countries and regions. Now has countless overseas fans.

Involved in setting up the Japan Lolita Association, has released "Lolita Fashion Book," has also worked in the development and promotion of new products. Contributes to activities that promote Lolita Fashion.

Misako Aoki official blog: http://lineblog.me/aokimisako/
Misako Aoki official website: http://www.misakoaoki.com/
Misako Aoki official Twitter:
@aokimisako
Related Articles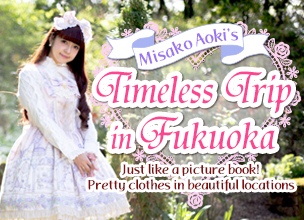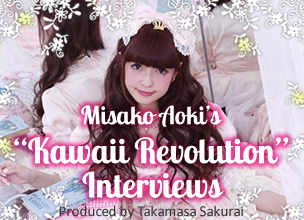 This comment section is for readers to leave opinions and comments. Inappropriate comments may be deleted, so please remember to be respectful. Thank you!