#16 My First Tea Party with Swiss Lolitas!(1/9)

I got a message from a lolita in Switzerland and we ended up having a tea party together!
In early June I celebrated my birthday and also got the chance to travel to Europe! The trip was a mixture of work and pleasure! I have been to various parts of Europe before, such as France, Italy, and Spain. This time I got to go back to Italy, but also visited Switzerland for the first time! I spent some time in wonderful cities, such as Zurich, Milan, and Venice! It is easy to travel around Europe by train; there is no problem at all getting from one country to the next! It is so convenient!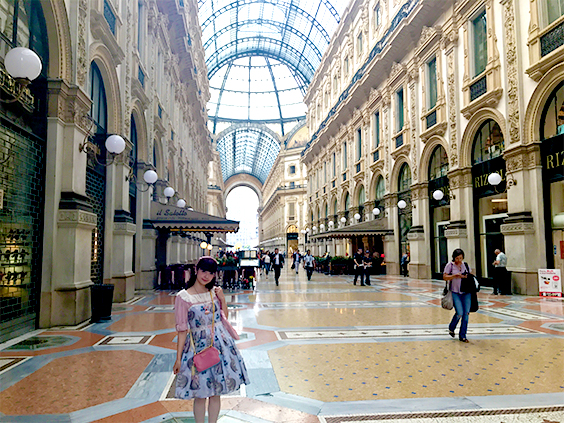 I got a message from a lolita in Switzerland while I was writing a post on social media about my visit, and we ended up having a tea party together in Zurich! There were some people who attended the event that did not live in the city. It took them two hours to get to Zurich by car. They made so much effort to come and see me, and even gave a souvenir! It was such a wonderful encounter! The message that they took the time to write for me filled me with so much joy!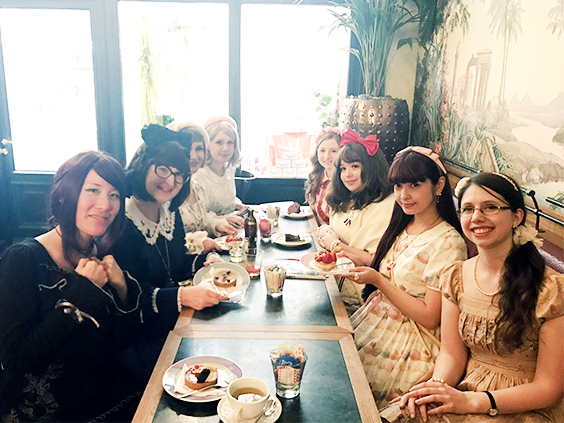 During the tea ceremony, which was held at a well-established cafe, we ate some delicious chocolates and fruit tarts! Switzerland is famous for its chocolate, and while I was there I bought some Läderach brand treats as a souvenir! It was my first time meeting all the people who attended the event, but we all have our love of lolita fashion in common, so it did not take long for everyone to warm up! This trip helped remind me that some of my social media posts are actually seen be people all over the world! I am so grateful to people who reply saying that they want to meet up after I have written about a city that I am about to visit! The world might be huge, but it can sometimes feel so small, don't you think?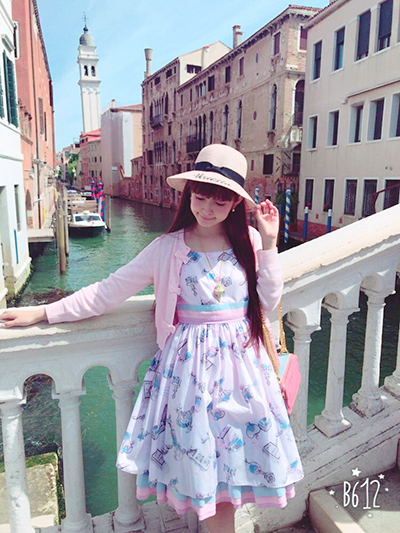 As a private trip I also went to Venice and Milan! I got to enjoy some fabulous Italian dishes! It was such a fantastic birthday present to sample authentic Italian food that is hugely popular in Japan, such as gelato ice cream, tiramisu, and pasta! I realized just how important it is to absorb all kinds of culture, and use what I learn in my own work! I participated at a well-known event "Japanese Expo" in France a few years ago! It has been a while since I was last in Europe, but during that time lolita fashion has grown to be so popular.
The mission of achieving cultural diplomacy through lolita fashion continues! Carefully sharing social media posts and meeting people, will undoubtedly lead to more exciting encounters in the future!
Misako Aoki
PROFILE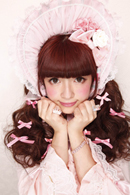 Misako Aoki
Lolita model, nurse, and President of the Japan Lolita Association

Models for KERA and the GOTHIC & LOLITA BIBLE while also working as a nurse. Was appointed as a Kawaii Ambassador (Lolita Fashion Representative) by the Ministry of Foreign Affairs in 2009. Has visited and attended events in over 30 cities across 20 countries and regions. Now has countless overseas fans.

Involved in setting up the Japan Lolita Association, has released "Lolita Fashion Book," has also worked in the development and promotion of new products. Contributes to activities that promote Lolita Fashion.

Misako Aoki official blog: http://lineblog.me/aokimisako/
Misako Aoki official website: http://www.misakoaoki.com/
Misako Aoki official Twitter:
@aokimisako
Related Articles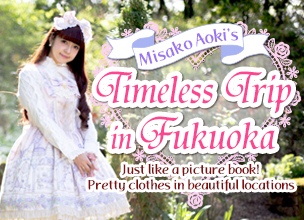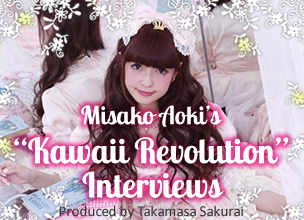 This comment section is for readers to leave opinions and comments. Inappropriate comments may be deleted, so please remember to be respectful. Thank you!