Vol.20 TEAM SAKUSAKU - Sakuraikku Smile '16 -

"World peace through J-POP culture."
Sakurai Takamasa left this world suddenly two years ago and for TEAM SAKUSAKU, the group that have continued to write articles and carry on his work (even adopting "SAKUSAKU" (short for Sakurai) as their group name), this event was a celebration of his memory – held on his birthday at TSUTAYA O-nest and 7th FLOOR in Shibuya.
The name of the event was "Sakiraikku Smile '16." Comprising both talkshow and musical performance elements, as well as a Bar Floor (supported by I.O.E.A and Senken Shimbun) displaying Sakurai's achievements, the event was really a three-stage mega party.
7th FLOOR hosted a two-part talkshow. With main speakers Hisanori Yoshida, an announcer with Nippon Broadcasting System Inc., Tenma Matsunaga of band Urbangarde, and anime director Seiji Mizushima, it also featured appearances by Chiaki Ishikawa, Kosuke Oki, Ayumi Fujii, Ririko Masuzawa, Mikito Tsurugi, Kanon and Teruki (Antic Café), and SHOU and HIROTO (A9), each guest revealing their fond memories and episodes with Sakurai-san leading to an inspiring talk on J-POP culture and inter-cultural relations.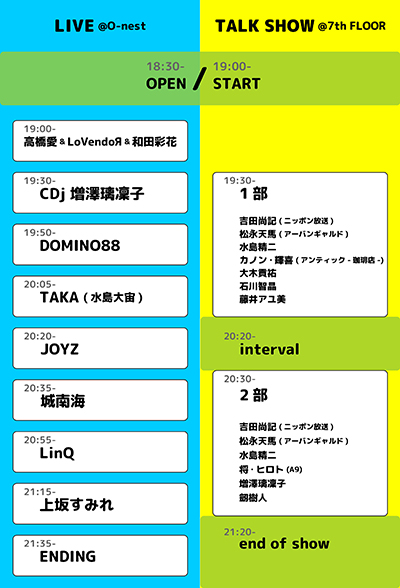 The event schedule
The first talkshow focused on anime and music, with each participant speaking about their personal experiences with fans overseas and the global consumption of Japanese content/media. One of the topics discussed was the state of cosplay and fanfiction overseas and its position as a relatively minor hobby compared to that of Japan.
"A creative work and the freedom to adapt the way it can be consumed is what leads to a movement. That's what we creators are most grateful for. Adaptability is important." (Mizushima)
"When exported overseas, anime, musicians, voice actors, undergo a process of deformation to become characters. It would probably be more interesting if fanfiction played a bigger part. I want people to be more involved in the adaptation of works." (Matsunaga)
In response to these comments, announcer Yoshida made an appeal to the audience, "So let's all get involved in fanfiction!" Which was met with a wave of laughter that resonated through the crowd.
The second part of the talkshow focused on the topic of idols and Hello! Project of which Sakurai Takamasa was so fond. SHOU of A9 went to his first idol performance after being dragged along by Sakurai-san, and stated to the audience,
"We tend to look at people in a different genre or a different culture with a prejudiced eye. But if we all took a page out of Sakurai-san's book and showed each other the things we liked and why we liked them, I'm sure things would change."
At the end everyone agreed to endeavor to "Each bear a small Sakurai-san in heart!"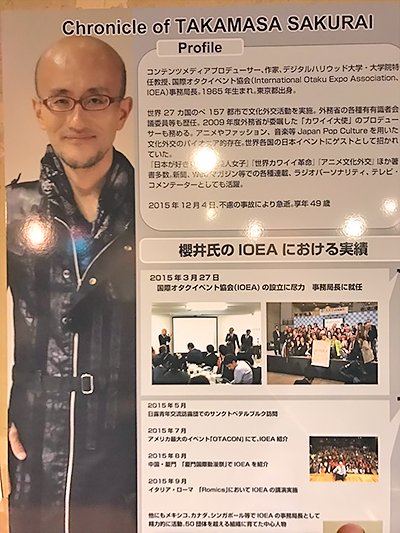 International Otaku Expo Association (I.O.E.A) and Senken Shimbun held a display of Sakurai's achievements on the Bar Floor.
First on stage at O-nest were Ai Takahashi, Reina Tanaka and Ayaka Wada, who performed three songs together, including LoVendoЯ's "Takaramono." In their special collaboration, they also performed their renditions of ANGERME's "Tsugitsugi zokuzuku," and Morning Musume。's "Resonant Blue," their faces beaming with joy as they exclaimed "This is so fun! We want to sing more!"
Legendary ska band DOMINO 88 were up next, getting the crowd fired up with a selection of four songs that included "Do You Wanna Pop?" and then remaining on stage as backing support for the acts to follow. TAKA aka Takahiro Mizushima then took to the stage crying "I wanted to watch this from the beginning!!" lamenting the fact that he missed the Hello! Project songs at the start of the concert. He went on to play covers of ANGERME and Berryz Kobo, revealing his "LOVE" in an explosive way. JOYZ played their well-known "emerald city" and songstress Minami Kizuki followed with a cover of Miyuki Nakajima's "Ito"; the power of her voice not only overwhelming everyone in the audience but all of the supporting members on stage as well. She performed a style called "
uta ashibi
" or "
guin
" which is a folksong style unique to the Amami islands, a place that Sakurai-san also visited in his travels.
Before anyone had a chance to get their bearings the atmosphere did a 180 once more, this time with Kyushu-based LinQ (who have in fact performed with DOMINO 88 and JOYZ in the past – a collaboration produced by Sakurai Takamasa) performing "Colorful Days" – a favorite of Sakurai-san – and two other songs. They even changed the lyrics in "Uessai! Gassai!" to express their love for TEAM SAKUSAKU. (The lyrics read "
Dontaku mo, yamakasa mo, motsu nab emo suki yakedo, uchira yappari TEAM SAKUSAKU ga meccha taisetsu yashi ichiban suito yo!
" [lit: We love dontaku and yamakasa and motsu nabe, but our dear TEAM SAKUSAKU we love you the most].)
The finale of the concert was delivered by none other than apprentice of Sakurai and TEAM SAKUSAKU core member, Sumire Uesaka. She performed "Genshi Joshi ha Taiyo Datta," composed by sumire's self-confessed idol, Haruko Momoi, and for her second song "Sumire Code" she was accompanied by Urbangarde's Tenman Matsunaga. For her rendition of "Nanatsu no Umi yori Kimi no Umi," the opening theme song to TV anime "Namiuchigiwano Muromi-san," Takahiro Mizushima, who voices the main character of the series, joined Sumire on stage, together delivering an exhilarating performance.
At the end, the talk show guests gathered with the performers on stage to surprise Sumire with a birthday cake (as it also happened to be her birthday that day, too!). Before she blew out the candles Sumire called out to the crowd, "You all have to sing! Not just for me but for Sakurai-san too!" And everyone celebrated both birthdays together.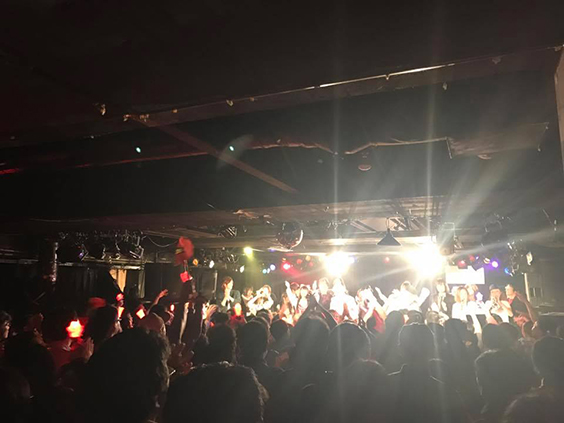 The finale.
For the grand finale everyone sang "Kyo no hi wa sayonara."
And just as the event title "Sakuraikku Smile '16" suggests, the day ended with everybody smiling from ear to ear.
We all want to know what things the people we like are interested in. That feeling is a warm one.
TEAM SAKUSAKU, each bearing a "small Sakurai-san" in our hearts,
will continue to strive to bring LOVE and PEACE to the world through the power of culture.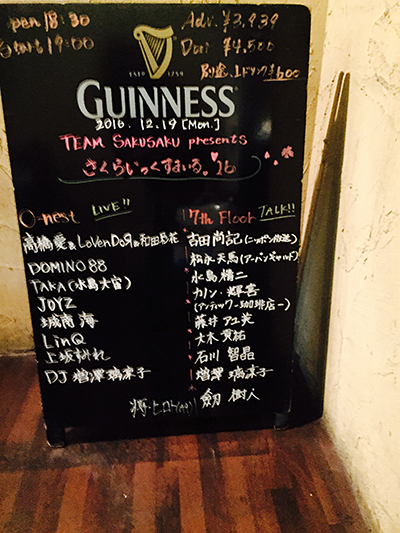 "TEAM SAKUSAKU presents Sakuraikku Smile '16" Set list
Ai Takahashi & Reina Tanaka & Ayaka Wada "次々続々 (Tsugitsugi Zokuzoku)"
LoVendoЯ "宝物 (Takaramono)"
Ai Takahashi & Reina Tanaka & Ayaka Wada "リゾナント ブルー (Resonant Blue)"
DOMINO88 "Do You Wanna Pop?" "GALAXY EXPRESS 999" "あしたのうた (Ashita no Uta)" "GO GO CLUB"
TAKA "大器晩成 (Taiki Bansei)" "友情 純情 oh 青春 (Yuujou Junjou oh Seishun)"
JOYZ "emerald city" "イビツワルツ (Ibitsu Waltz)"
Minami Kizuki "糸 (Ito)" "安里屋ユンタ (Asadoya yunta)"(utaashibi) "アカツキ (Akatsuki)"
LinQ "ウェッサイ!!ガッサイ!! (Uessai! Gassai!)" "ハレハレ パレード (Hare Hare Parade)" "カラフルデイズ (Colorful Days)"
Sumire Uesaka "げんし、女子は、たいようだった。(Genshi.Joshi Ha.Taiyou Datta.)" "すみれコード (Sumire Code)" "七つの海よりキミの海 (Nanatsu no Umi yori Kimi no Umi)"
PROFILE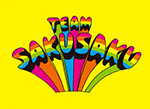 TEAM SAKUSAKU
"World peace through J-POP culture!"
TEAM SAKUSAKU is a playground for artists and creators of J-POP culture.
Our passions for the things we like is the pathway to PEACE.
Official Website:
http://teamsakusaku.com
Twitter:
@team_sakusaku
Instagram:
https://www.instagram.com/team_sakusaku/
Inquiry: info.teamsakusaku@gmail.com
This comment section is for readers to leave opinions and comments. Inappropriate comments may be deleted, so please remember to be respectful. Thank you!