Vol.21 Mikito Tsurugi - Otaku is beautiful -

Idol Otaku Have a Way of Life, Too
My name is Mikito Tsurugi, I write manga and also perform in a band.
It was through my support of Hello! Project that I got to know the man who put this space together, Takamasa Sakurai.
I last spoke to Sakurai-san on November 29, 2015, the day of ANGERME's Budokan concert. The concert was titled "Hyakka Ryoran" (meaning 'a blossoming of many flowers,' which is also a metaphor for 'a gathering of many talents') and was to be Kanon Fukuda's graduation performance. They used projection mapping to enliven their all-white stage set, and Kanon even composed some of the arrangement herself. It was a really great concert.
The person in the row in front of me just happened to be Sakurai-san. Through every moving moment and breath-taking spectacle, his shiny bald head was there blocking my view. When it was all over, we spoke briefly about how great the concert was and how the next one would be Riho Sayashi's last Budokan performance, and then we parted ways and that was the last we spoke. Whenever I think back to that day, I see the Budokan, foregrounded by Sakurai-san's head.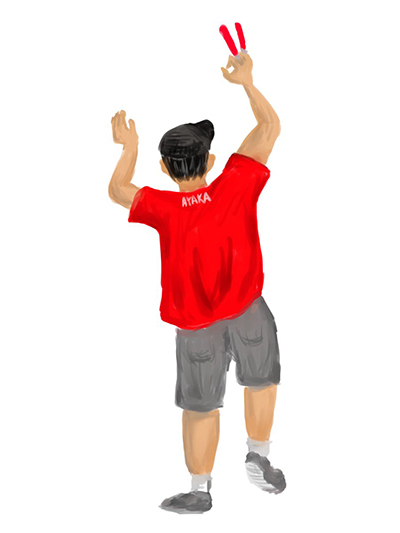 Sakurai-san is the reason I have been given this opportunity to speak about my "favorite" thing.
And while I knew I wanted to write something about the passion for idols that Sakurai-san and I both shared, as I was thinking what to write, I realized that on the one hand I like idols, but on the other, I like idol otaku, too.
Why are we so infatuated with idols? It's largely due to the face that these girls devote their youth to their activities as idols and bare their lives to all whenever they take to the stage. But just as each idol lives her life in her own way, the otaku who support them have their own ways of life, too.
With all the harsh criticism in the world, otaku seem condemned to a life in the shadows. Perhaps it's best that I don't say anything about them in a public space, for their sakes. But I can't help it, my thoughts go out to these nameless people who scream and cry and devote their lives to supporting idols.
In the vast sea that is the internet, words spoken by people nobody knows, recorded by people with no names, ebb and flow through a repeated process of copy and paste.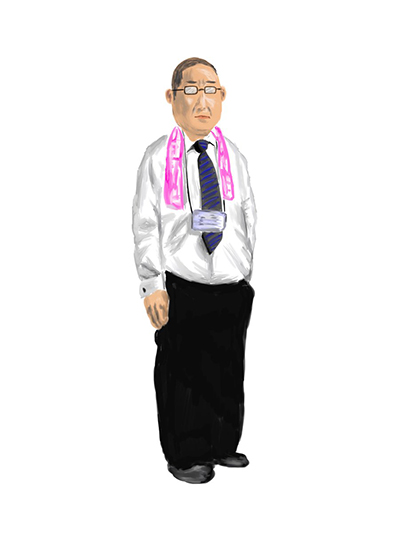 One day in 2008, an otaku sits down next to another otaku in a Yoshinoya restaurant after just having been to a Morning Musume handshake event. He can hear that the guy next to him is crying, so he looks over and the otaku sobbing into his gyudon says,
"I like Sayu (Sayumi Michishige) so much I don't even know what to do."
This is exactly what it means to be 'overflowing with emotion.' I wonder how many people in the world have shed tears for someone just because they meant something to them? It's easy to laugh at that guy and think his tears gross, but after you've laughed, perhaps you'll notice the sheer passion that inundated him to do so too. The very frank and awkward words of this guy resonate with otaku everywhere and it became one of the most famous otaku quotes in history.
Coincidentally, a few years later Sayumi Michishige became the face of Yoshinoya. At the time, Michishige was the leader of Morning Musume and a charismatic force that was leading the group to their second big break. Because of this, fans started calling the "yakitori tsukune-don" (barbecued chicken meatballs on rice) that Michishige was doing the PR for, "Sayu-don," and if you went to a store and asked "one Sayu-don, please," you would actually be served the yakitori tsukune-don. Tears were the secret ingredient with which many people with feelings for Michishige flavored their yakitori tsukune-don… perhaps that's not true, but the Michishige-effect made that product a hit, and that's a fact.
It's a legend that began with the tears of a nameless otaku at a gyudon restaurant. I wonder where he is and what he's doing now. In March this year there'll be a concert to mark Sayumi Michishige's return, so I wonder if he'll be there too.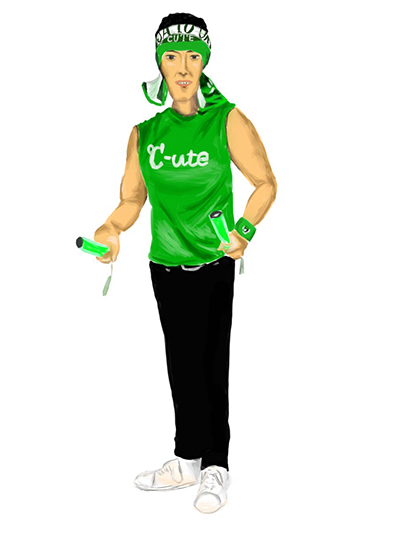 The second story begins in 2005. It was during Morning Musume's Hong Kong tour. Before the show there was this long line to buy concert goods, but as the concert was just about to start, five minutes earlier than what they originally announced a staff member called out, "Okay, that's it for today!" and they ceased sales.
Naturally, the fans that had been waiting in line didn't take it well. Several started to riot and broke through the partition rope, flooding the sales counter. There was one guy in particular who just couldn't suppress his anger, and at the end of his violent outburst directed at a girl at the counter he screams,
"Do you even know why I'm saying all this?! It's all for Konkon!"
"Konkon" is Asami Konno. It's an incredibly famous quote that perfectly captures both the passionate emotion of otaku that gushes forth in ways that regular people don't understand, and their adorable nature that makes them impossible to hate.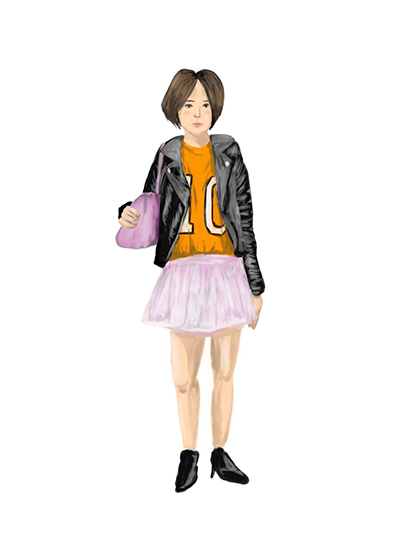 The final story comes from 2007, during Kaori Iida's fan club bus tour.
Only the day prior, Iida's marriage and pregnancy had been announced, and the fans all boarded the bus tour with somewhat mixed (dejected) emotions to say the least. Nevertheless, one of the members on the tour exclaimed, "Tanabata (the day of the Star Festival) is the only day in the year that Ori-hime gets to meet Hikoboshi. Us fans are also lucky that we got to meet Iida."
Hearing this one of the fans began to sob and said,
"Kaorin, I'm glad you found your Hikoboshi."
In the midst of the timing of the bus tour and the marriage announcement that was like a death sentence to the fans, these words went on to become something of legend.
I've mainly focused on famous episodes, but just like the famous picture "Otaku is beautiful," once you actually learn something about otaku you begin to see how great and thoughtful they are. And so the search for my favorite otaku quotes continues.
(All images are sketches of otaku done by Tsurugi himself.)
PROFILE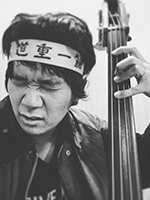 Mikito Tsurugi
Otoko no Hakaba Pro member. "Arakajime Kimerareta Koibitotachi he" bassist. He sold his soul to Hello! Pro at Akabanebashi crossing, becoming a Sayumi Michishige fundamentalist. Hobbies include sticker collecting.
Manga works include "Ano koro ~ Danshi kashimashi monogatari ~" (Eastpress), "Kokosei no Blues" (Ohta Books), "Shosetsu suiri," "MONOQLO," "MEETIA," and "Minna no gohan."
Twitter:
@tsurugimikito
PRESENT!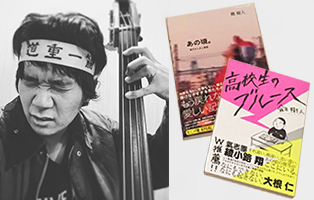 We have prizes to give away to
TWO
lucky readers! Enter now to be in with a shot at winning a book "Ano koro ~ Danshi kashimashi monogatari ~" or a "Kokosei no Blues" written by Mikito Tsurugi! Don't miss this chance to win! (*Those books are written in Japanese)
[Application Period]
Friday February 17th to Sunday April 2nd 2017 (Japan Standard Time)
Announcement of Winners
Wednesday 5th April 2017
The application period is now over. Thank you!
The lucky winners are...
"Ano koro ~ Danshi kashimashi monogatari ~"(あの頃。~男子かしまし物語~)
gagamel san

"Kokosei no Blues"(高校生のブルース)
Rice-chan san
(Please note, winners will receive an email directly from asianbeat. If you don not reply with a confirmation message within a week, you application will become invalid and you will not be able to claim your prize.)
This comment section is for readers to leave opinions and comments. Inappropriate comments may be deleted, so please remember to be respectful. Thank you!