Vol.30 Annabel - Finding My Musical Treasures -

Dōjin music: the fruits of a self-effacing passion
Have you ever heard of something called 'dōjin ongaku'?
The term combines the words 'dōjin,' meaning a group of people with similar interests and intentions, and 'ongaku'(music) – kind of like the music version of the dōjinshi (fanzines) that are sold at Comiket (Comic Market). Dōjin music is unique in that we make everything ourselves, from creating the music to turning it into a product as CDs. Then, at dōjin marketplace events like Comic Market and the music media-mix event, M3, we deliver our work direct to the listeners. My fascination with dōjin music is what got me into music in the first place.
It's quite common to see indie bands also selling their own self-made music, but dōjin music is not quite the same. If we can pretend for a moment that the CDs sold by indie bands have a 'yang' vibe, then dōjin music feels more like the 'yin.' Our approach is quite mild-mannered, like saying, "Okay, I've made this music, now is there someone out there who likes this sort of thing…anyone…?" And yet, when you do find a like-minded person out there who's interested, their enthusiasm is like a bullet being fired at point blank range, you can just talk on and on. Dōjin music is the crystallization of enthusiasm and passion. The dōjin marketplace events, where dōjin music is bought and sold, have a very different atmosphere, though. If you saw one, you would hardly think that all we sell is music CDs. The very sterile-looking venue hall is lined from end to end with sterile-looking desks, upon which we cram and pile our CDs and dōjin music fans line up in very mechanical lines to buy.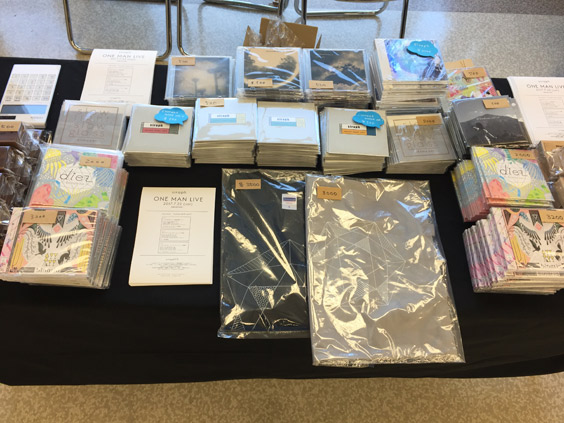 It's the future. It's sci-fi. Lately you hear how the music industry is struggling to sell CDs, or how some people don't even own the technology to play CDs anymore, but the sheer number of CDs that change hands in one day at these events is enough to make you think that any such rumors are completely fabricated. I was super excited when I went to my first one and saw how many people are buying CDs and how many are making them as well. Generally, most groups involved in making dōjin music are referred to as 'circles' (
saakuru
). Even a solo producer is called a 'solo circle' (
kojin saakuru
). And those who perform in a unit or a band, in the world of dōjin music, they're a 'circle.'
The processes through which different circles are formed are all different, but generally, they form through the coming together of people with the same interests. I too formed a circle with a likeminded individual I met online with the same musical tastes. The first thing you have to do after forming a music circle is to create music. In my circle, we have someone in charge of each stage of production, such as lyrics, composition, arrangement, and design; so once we have decided on the concept of the sound we want to create, everyone goes home and starts working on their individual roles. Once the music track is done we burn it onto a CD-R, put it in a hand-made package, seal it by hand, and the process is complete. At the moment we have so many people interested in our work that we can't keep up with demand, so we've now enlisted the help of a press factory, but in the beginning we would all get together and chat away through the night as we tried to put together hundreds of CDs ourselves.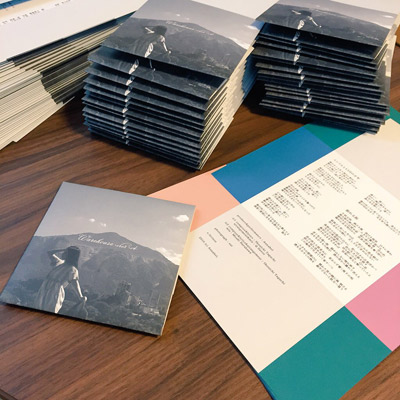 Self-producing, assembling everything by hand, selling your work yourself – it's like creating a mini record label and that's the fun of dōjin music. This is just an example of my experience, though; the form of activities and the music genres are all diverse. Electronica, pop, metal, noise, idol, ethnic music, etc. – just about anything you can imagine. With the popularity of VOCALOID recently, I feel that the number of 'DTM' (Desk Top Music) producers is growing fast. Perhaps we're heading into an age when we no longer buy CDs, but I hope that this amazing world that lets creators and listeners experience music in close proximity never ends. It's still relatively unknown throughout the world, but with the excitement and anticipation of finding more of what I consider my musical treasure, I look forward to pursuing dōjin music now and into the future.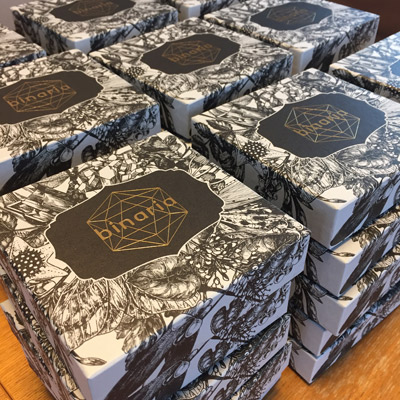 There's still so much that I want to talk about, but if I've managed to peak you interest, by all means, come and see a dōjin music market for yourself. Whether you're a creator or a listener, new doors await.
PROFILE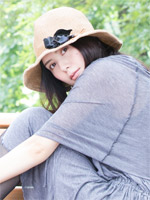 Annabel (アナベル)
Argentine Republic, Buenos Aires born singer and lyricist. In 2007, she formed the experimental duo, anNina, with composer, bermei.inazawa; their debut song, "Taisho a" (対象a) picked up as the ending theme song for the TV anime, "Higurashi no Naku Koro ni Kai" (ひぐらしのなく頃に解). Following her solo debut in 2009, she worked on theme songs for several visual works and games. In addition to her solo activities, she also currently collaborates with a number of groups and bands including siraph, anNina, and binaria, tirelessly devoting herself to her musical activities.
Annabel OFFICIAL WEBSITE:
http://annabel.jp
Twitter:
@A_nnabel
Instagram:
https://www.instagram.com/a_nnabel318/
Tumblr:
http://annabel-annabel.tumblr.com/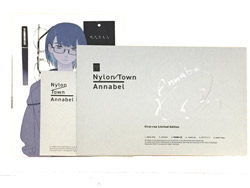 ONE lucky reader of asianbeat has the chance to win a special edition doujin CD "Nylon Town" autographed by Annabel! Don't miss this chance to win!
We're looking forward to hearing from you!
-Application period: Friday 17th November to Sunday 14th January 2018
-Winners announced on: Wednesday 17th January 2018
The application period is now over. Thank you!The lucky winner is ...あると san......Congratulations!!
(Please note, winners will receive an email directly from asianbeat. If you don not reply with a confirmation message within a week, you application will become invalid and you will not be able to claim your prize.)
External Links
This comment section is for readers to leave opinions and comments. Inappropriate comments may be deleted, so please remember to be respectful. Thank you!