[Information]The "KITAKYUSHU INTERNATIONAL MANGA COMPETITION" is now open!
A call for best 4koma manga from across the globe!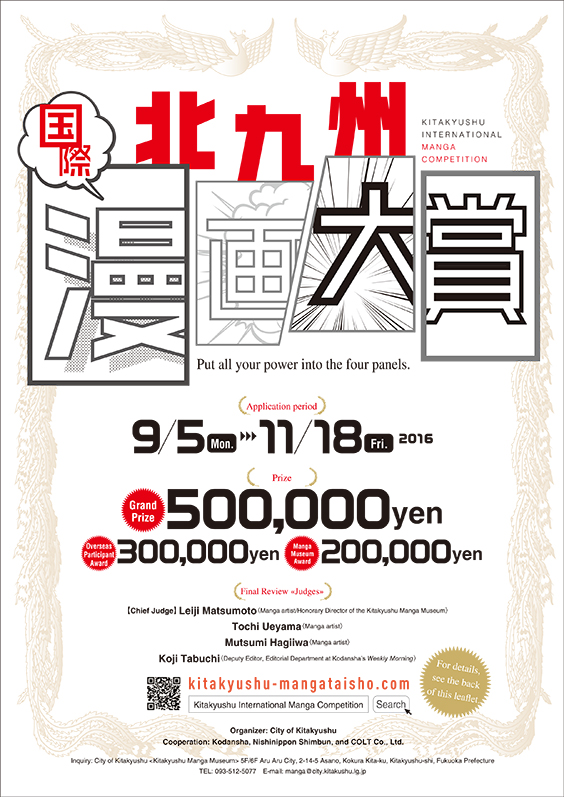 Promoting and dispatching manga culture, August 2016 marks 5 years since the "Kitakyushu Manga Museum" first opened its doors. Located in Kitakyushu City, the museum holds the "KITAKYUSHU INTERNATIONAL MANGA COMPETITION" as a means of championing the appeal and potential that manga has to offer to those inside and outside of Japan, while also aiming to share the culture of manga with as many people as possible.
Not limited to Japan, the contest draws a wide variety of different works from applicants all over the world. There's a staggering 500,000 yen available for the Grand Prix winner. Also the winner of the "TOKIWA Creator Award" will receive work support, which is a fantastic chance for anyone striving to become a manga artist in Japan! Whether you're active overseas, looking to work in Japan, or producing manga domestically, this is an open call to aritsts. It doesn't matter if you're a professional or amateur, the only criterion is that the submitted work is unpublished. The application period runs from Monday 5th September to Friday 18th November 2016 (14:00 JST), so make sure you enter in time and don't: miss-out!
Kitakyushu International Manga Competition Application Requirements
[Theme] Free (Create your manga under your favorite theme)
[Genre] Four-panel manga (Each applicant can submit a maximum of five strips)
[Work] Original, unpublished work of your own
[Qualification requirements] None (professional and amateur)
[Application period] From Monday, September 5, 2016, to 2:00 PM on Friday, November 18, 2016 (Japan Standard Time)
[How to apply] Please apply from the official website. >>
https://kitakyushu-mangataisho.com/
[Awards]
- Grand Prize (Grand Prix) 500,000 yen
- Overseas Participant Award 300,000 yen (Awarded to the excellent work in the submissions from abroad)
- Manga Museum Award 200,000 yen (The work determined by the judges to be showing the best possibility of manga)
- TOKIWA Creator Award: Providing work support under a project to integrate creators in Kitakyushu.
[Screening]
Initial screening: The organizer will conduct an initial screening.
Final screening: The judges will conduct the final screening of works passing the initial screening.
[Judges]
Chief Judge: Leiji Matsumoto (Manga artist/Honorary Director of the Kitakyushu Manga Museum)
- Tochi Ueyama (Manga artist)
- Mutsumi Hagiiwa (Manga artist)
- Koji Tabuchi (Deputy Editor, Editorial Department at Kodansha's Weekly Morning)
[Announcement of awarded works]
Awarded works will be announced on the official website of Kitakyushu International Manga Competition (kitakyushu-mangataisho.com) and the official website of the Kitakyushu Manga
Museum (www.ktqmm.jp) in the middle of January 2017.
Furthermore, winning entries will be posted in the Nishinippon Shimbun, a Japanese language daily newspaper. The City of Kitakyushu will distribute them in the form of a collection of works.
[Awards ceremony] An awards ceremony will be held in the middle of February 2017.
[Application method] All applications will be accepted on the internet. Fill out the application form and upload the data file of each work.
[Application rules]
- Each work must be a four-panel manga strip (one-page manga strip).
- Create and save each work in accordance the following data format guidance.
Number of pixels: Around 3,000 px × 4,500 px
JPEG format (in RGB or grayscale) *No works in CMYK format or 2-gradation (monochrome) will be accepted.
- Input your nationality and other necessary items into the form at the time of posting.
- Works contrary to the purpose of the contest may not be accepted,
e.g., those containing expressions promoting violence, slander, discrimination, obscenity, or offensive to others.
- Entries must not infringe on the copyrights, portrait rights, or other rights of third parties.
[Handling of copyrights] The City of Kitakyushu as the organizer will own the copyrights of all entries. All applicants will be deemed to have agreed to the terms of this contest upon submission of their works to the contest.
[Handling of personal information] Personal information on all applicants will be handled properly in compliance with the Act on the Protection of Personal Information and no personal information on any applicants will be used for purposes other than the Kitakyushu International Manga Competition.
[Inquiry] City of Kitakyushu [Kitakyushu Manga Museum]
Address: 5F/6F Aru Aru City, 2-14-5 Asano, Kokura Kita-ku, Kitakyushu-shi, Fukuoka Prefecture
Telephone: 093-512-5077
E-mail: manga@city.kitakyushu.lg.jp
A message from the Chief Judge

Leiji Matsumoto
(Manga artist/Honorary Director of the Kitakyushu Manga Museum)
The City of Kitakyushu has a history that produced many manga artists. The Kitakyushu Manga Museum opened in the City of Kitakyushu with the mission of transmitting the passion of current manga artists to future generations and inspiring young people to hold ambitions and follow them. The Kitakyushu International Manga Competition has been established for people who have a passion for manga and enjoy manga creation. We look forward to receiving your passionate works.
Related Articles
External Links