Enjoy anime songs at one of the biggest dance clubs in Kyushu♪ "ANISON NIPPON in bijou" will take place on 13th February 2020!

Anison in the club! Enjoy explosive, heart thumping sounds!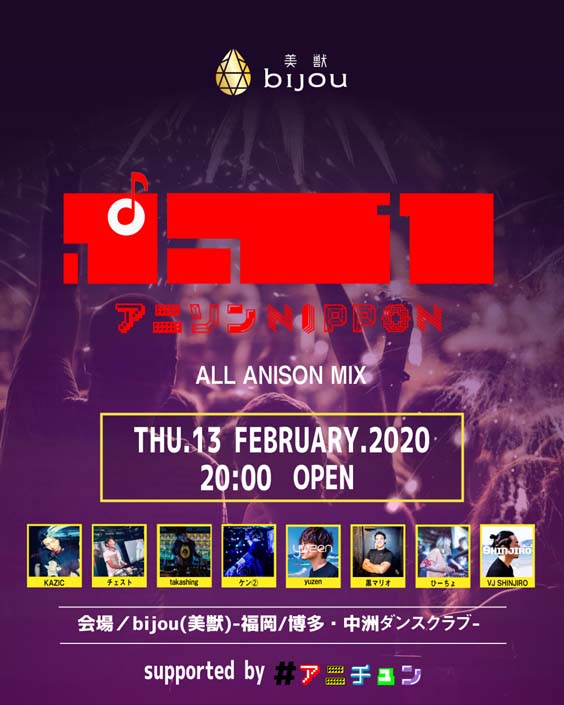 "ANISON NIPPON" launched last year and proved to be a big success with the public! This year, the anison DJ event will be held on Thursday 13th February at one of the biggest dance clubs in Kyushu! The venue is called "bijou (美獣)" and can be found in the Nakasu area of Fukuoka City! A total of eight anison DJs are scheduled to perform on stage at the event. The line-up includes KAZIC, チェスト (Chest), takashing, ケン② (Ken②), yuzen, 黒マリオ (Kuro-Mario), ひーちょ (hi-cho), and VJ SHINJIRO! Clubbers can expect non-stop anison! Listening to anison at outdoor festivals is tons of fun, but taking in the beats at a dance club is an entirely different experience. There is nothing like enjoying a unique explosion of sound in a club equipped with the latest audio and visual equipment! It is sure get your heart beating! Attention all fans of anison fans and music lovers out there... This is an event you should definitely check-out! (Editorial Dept.: Mofer)
ANISON NIPPON in bijou
- Date & Time: Thursday 13th February 2020, 20:00 - 27:00
- Venue: bijou (美獣) - La Papillon Bldg. 5F, 4-7-8 Nakasu, Hakata-ku, Fukuoka-shi JAPAN
- bijou Official Website (*Available in Japanese):
http://bijou-fukuoka.com/
*For information about the admission fee and event details, please check out the #ani-tune (CROSS FM) official website. (>>
HERE
!)
Related Articles
PRESENTS
All the info. on asianbeat's present campaign!