The Wait is Over! HUNTER×HUNTER #28

Togashi Gets to Work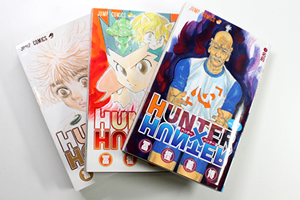 The next installment of HUNTER×HUNTER was finally released this month and I feel like I've waited a lifetime! In the last few years the rate at which the series has been progressing has been one book per year with the last edition released on December 25th, 2009, and the edition previous to that on October 3rd, 2008. There are rumors that weekly serialization will be reinitiated (as it has been on hiatus since June 2010) and #29 will apparently go on sale August 29th, but whether the rumors are true or not remains to be seen. The series first began serialization in Jump in 1998 but they've had a pretty awful track record since then going on break from weekly obligations a total of 79 times. By comparison, One Piece, which began serialization one year prior to HUNTER×HUNTER, has since managed to publish an impressive 62 volumes. With so many starts and stops the fans feel they've become emotional yo-yo's, constantly fluctuating between joy and sorrow. Plea slogans from fans like "Get to work Togashi" (Yoshihiro Togashi is the creator of the series) spread through the internet like a mantra, but it doesn't seem to matter how long he makes us wait, everyone continues to wait on baited breath for the next volume and the release of the latest installment in the series has certainly created quite the buzz.
The reason that I became a fan of HUNTER×HUNTER is the in-depth psychological descriptions of the characters and the fact that the storyline doesn't just focus on the battle scenes or get bogged down in the whole good vs. evil cliché that is so overdone in shonen manga. In saying that though, each character has their own fighting style and special moves and the main character gets stronger as he develops his skills and picks up new techniques, so it still manages to retain those elements that are so appealing to the child inside all of us.
Article by Mikey – Editorial Dept.