Happy New Year, everyone!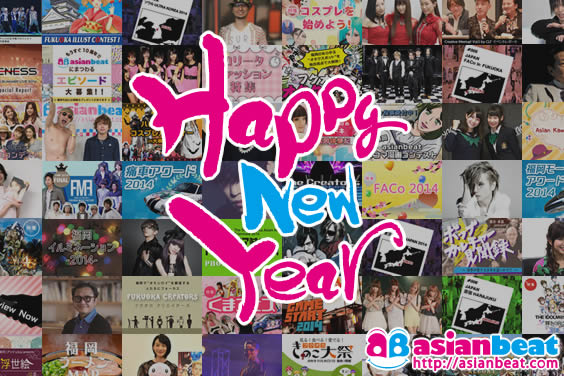 Happy New Year, everyone! We sincerely hope all of you were able to enjoy the beginning of the new year as much as we were.
If you remember, last year here at asianbeat, everyone in the editorial department made sure to keep their eyes and ears peeled for the latest information regarding hot pop culture trends, as well as for events and artist interviews.
To accompany the start of the new year, are a few new projects, such as the group leader from the recently re-named ANGERME, Ayaka Wada trying her hand at traditional Japanese art, "
Ukiyo-e
" and the popular Korean cosplayer AZA MIYUKO and her thoughts on:
AZA MIYUKO's "Doki-Doki (exciting)" Fukuoka Story!
, We will also be putting out "how to" feature articles for beginner cosplayers and the like here:
Cosplay wo hajimeyou! (Japanese only for now)
.
During the summer we had the chance to visit several cities including: Paris (
Japan Expo
), Bangkok (
Cool Japan Fukuoka, FACo in Bangkok
), and Hanoi (
asianbeat Vietnam Summer Festival ★KIRAKIRA NIGHT★
).
Upon visiting each city, we were able to meet a lot of people that were interested in Japan and even Fukuoka. In addition to this, we started the
Share with us! "Send in your asianbeat Stories!"
special feature and many of our readers sent in their touching stories about Japan and Fukuoka. We have really appreciated your support. It has not only made the start of this year a great one, but has motivated us to keep putting up new content.
Having been established in 2005, asianbeat will now be celebrating its 10th anniversary! We'd like to give thanks to all of the asianbeat readers out there, including those overseas that have supported us throughout the years. While we would like to continue focusing our efforts on the website, we would also like to play a more active part in creating ties between people all across the world.
Our motto for the year is "Youth culture has no boundaries" and we plan on continuing to bring you the latest information on Japan from Fukuoka, so please stay tuned!
We sincerely hope you continue your journey with us through 2015!
asianbeat Editorial Staff
Related Articles